Encountered While Apple While Upgrading iOS 9, What will You Do?
When upgrading iOS 9, you may encounter some unexpected situation such as white Apple. This issue is regarded as the most commom problems during the process of upgrading iOS 9. Also, it is the most difficult issue which can not be solved only by users themselves. When encoutering this problem, a blank screen with the logo of Apple will pop up on your iPhone after updating. And nothing will be showed up for a long time, which leads to users' worry about the safety of the device.
Suppose you can not solve this problem in a short time, what will happen? No one knows. According to the research, there is a great number of iPhone users who have operated the upgrading process that encountered white blank, so you are not alone if you also get into trouble with upgrading iOS 9.
How to Avoid Encountering White Apple While Upgrading iOS 9?
Firstly, you need to keep your iPhone from danger when using it. To be specific, pretect your device from dropping. You can at least buy a protective case to cover you device.
Secondly, you need to turn off your phone when you don't use it for system clear. And overuse of your battery and other unknow factors may cause white Apple. Once you noticed your iPhone is slowing down, you should turn it off for a while.
Thirdly, you need to pay attention to the latest iOS version and you need to constantly check for the update information.
All in all, if you really want to keep your iOS safe and successfully upgrade to iOS 9, you need to keep these advices in mind.
The most importantly, preventing is always much easier than repairing.
How to Fix White Apple while Upgrading iOS 9?
Now, we can find many ways that seems to have the power to solve this problem, now that you are reading this passage, I think you must haven't find the good solution to fix it. But you don't need to worry any more, here is a way to fix this problem, just keep reading this article and follow the clue.
As I mentioned above, users can not solve this problem themselves, so we need to introduce a third-party software to users. Many people thought highly of this iPhone Data Recovery because it is effective and functional. It is developed to help you upgrade your iOS device to iOS 9 without losing any data. Now, we will list the features as follow, you can check carefully and then make a decision whether try it or not.
Features of iPhone Data Recovery as below:
- Recover your iPhone data such as contacts, text messages, music, photos, videos, books, etc.
- Enable you to recover loss data without any quality damage.
- Allow you to make backup on your computer, and you can preview files with datails before transferring.
- ...
After introducing the above features, I believe that you have had a basic knowledge about this powerful software. As a matter of fact, if you want to manage your iOS device well, you just need to download this software. It's been said to be the best recovery software for iOS device.
With this software, you can recover the lost data as you want. If you don't want to recover all the lost files, you can pick what is useful and restore them on your computer. The whole operating process can be completed in batches.
Furthermore, it is compatible with all iOS device such as iPhone, iPad and iPod touch and so on. Here, we will provide a guide on how to fix white Apple while upgrading iOS 9.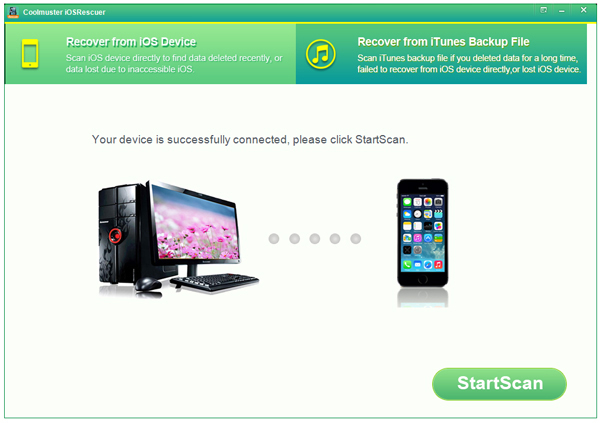 Steps: Fix White Apple Problem While Upgrading iOS 9 (Coming Soon)
Step 1: Download and install iPhone Data Recovery on your computer. After that, you should connect your iPhone to your computer by a USB cables.
Step 2: On the main interface, you need to click on "Fix iOS To Normal" and this program will detect your device, then click on "Start" to let your device to be detected.
Step 3: Click on Download because this program needs to download the latest version of your firmware in order to fix your device. Please wait patiently.
Last, it will repair your device after completing the download process. The repairing process will start right away and your device will be repaired in no more than 10 minutes. Just ensure that your device remains connected to your computer until the entire process being done.
Although here is an functional recovery software, you should know that it is no use crying after white Apple appears while upgrading iOS 9. Thus, you need to improve the awarance of prevention. In other words, you need to prevent this problem with daily management. Also, we now show you some suggestion to avoid this problem.
Add a comment