How to Free up Space/Storage on iPad Pro/Air/mini/4/3/2?
For a society of people who spend life stuck to their mobile phones and tablets, we sure can be naive about the security of our data sometimes. It is easy to forget that every time we send a text, browse the internet, watch videos on YouTube, or download apps from the Apple stores, a trail of personal data is left in our wake. If every move that you make on an iPad results in a flood of essentially meaningless system files, a routine clean is the only way to ensure that your device is able to perform at its best. Fortunately, it is easier than you might think to free up space on iPad by deleting junk cookies, app downloads, photo and music cashes, and temp internet files.
With the help of third party app Coolmuster iOS Cleaner or iOS Cleaner for Mac, making room for extra space on the iPad is simple and takes just a couple of minutes. This handy little tool delivers 100% security, so you can rest safe in the knowledge that deleted files (even sensitive or personal ones) can never be recovered by intruders or invaders. The Coolmuster iOS Cleaner can be used to safely erase all kinds of junk files, from unwanted photographs to duplicate copies of iTunes albums, browsing data, old app system files, and more. It takes just three easy steps to free up space on iPad using this tool, so give your device a new lease of life today and clear it of unnecessary junk.
The following three step guide will show you how to free up space on iPad using nothing but the Coolmuster iOS Cleaner tool. The entire process should take no longer than a couple of minutes, and once it is complete, you will find that your iPad runs much smoother and faster. Whilst it is perfectly natural and normal for devices of this nature to become clogged up with junk data over time, if you want them to keep performing at their best, you do need to give them a helping hand from time to time – the Coolmuster iOS Cleaner tool is a quick and easy way to do this.
Steps to Get More Space on iPad by Clearing iPad Storage
Step One: Download and Launch Coolmuster iOS Cleaner
The first step is to download the Coolmuster iOS Cleaner software from the buttons above. The app should automatically launch once it has been successfully installed. Once the launch interface has appeared, link your iPad to the computer using a USB cable. Find the QUICK CLEAN function, and then browse through the list of junk file options that it presents to you.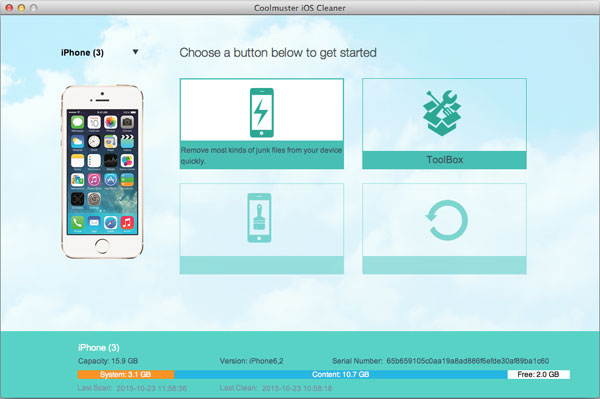 Step Two: Choose which temp files to delete
At this point, the interface should list all of the junk and temporary data files which can be successfully erased without causing any harm to your iPad. You need to check the blue boxes next to the different categories of junk file which you want to remove and hit scan.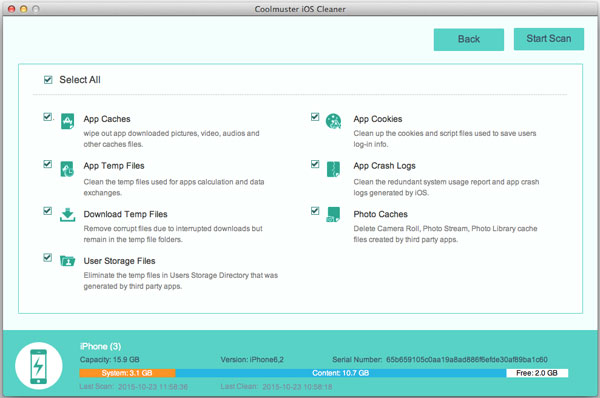 Step Three: Confirm the clean, and wait for it to finish
Now, the cleaning tool will once again display a list of all relevant junk files, and give you a second chance to browse through the data that you have selected for removal. The final step is to press the CLEAN button, and wait for the Coolmuster iOS Cleaner tool to erase all of the selected junk files and caches.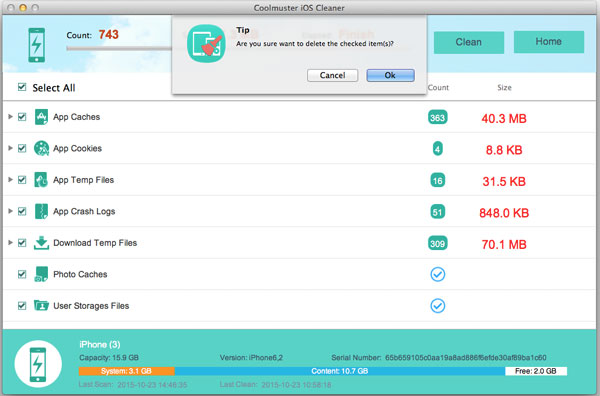 Related Articles: