There are lots of reasons why you might want to get all voice memos off your iPhone. For example, you may work in a creative industry, and use your iPhone to jot down any ideas that you have during the time you are aware from your computer. Naturally, you would then wish to transfer the voice memos into a file on your PC, which could be accessed any time, and which would not take up any memory on your phone. Luckily, there are various ways in which this can be achieved. However, they are not all as efficient as they could be. If you want to move a large amount of voice memos from your iPhone to your personal computer, and you want to do it quickly and easily, you need the help from a third-party program.
With the help of Coolmuster iPhone Data Recovery, you can move data around in three simple steps. This app provides users with a quick and easy method for extracting voice memo, and almost any kind of data like Photos, videos, music, contacts, notes, voice memos, camera roll, calendars, etc. from iPhone backup record in iTunes. It takes just minutes to install and set up, even less time to select the files, and mere seconds to complete the movement from one device to another. Plus, it is not just great for transporting important voice memos. The Coolmuster Data Recovery tool offers a range of useful features, such as the ability to recover, extract and back up iPhone data in an instant.
This is a guide to using these three steps to help you learn how to extract voice memos from the iPhone. Please note it supports all iPhone models, including iPhone 14/13/12/11/X/8 Plus/8/7/6. We will set Windows version as example, if you are running Mac OS X, you can try out the Mac version which runs perfectly on Mac OS X.
Read More:
Recover Contacts and Text Messages from iPhone SIM Card
How to Recover Deleted WhatsApp Chat History on iPhone
How to Get Voice Memos off iPhone with iPhone Data Extracting Software?
This software does not require a user to connect the iPhone to the computer via USB because it can extract the iPhone voice memos from iTunes directly. Therefore, if you have ever synced your iPhone with iTunes before, this iPhone Data Recovery can extract everything from iTunes without any effort.
Step 1: Launch the software and scan your iPhone backup files
first, all you need to do is download and install the Coolmuster Data recovery app on your personal computer. This can be done by simply following the instructions on screen, and will only take a minute. Launch the program and it will show all your iTunes backup files in this computer. Just select the one of your iPhone and then hit "Start Scan" to begin to scan for files on the iPhone backup record.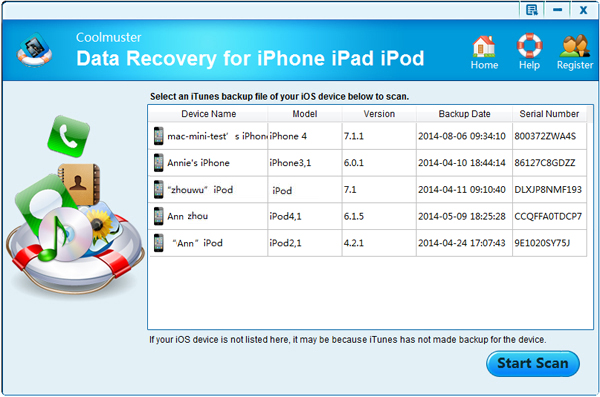 Step 2. Scan and preview your wanted iPhone voice memos
Coolmuster iPhone Data Recovery will scan and divide all of the data in classifications – SMS messages, Contacts, Photos, calendars, voice memos, etc. This will make it easier to find the data once it has been moved. Choose the "Voice Memo" category and preview all the memos in details.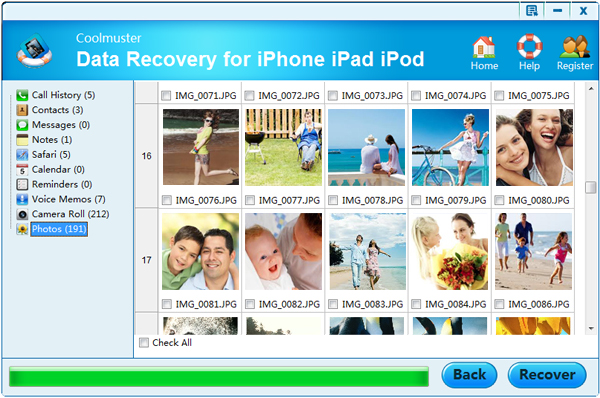 Step 3. Start to get voice memos off your iPhone
Next, select the RECOVER function, and the voice memos will be extracted from the iPhone backup files in iTunes to the computer. Once they have been moved to the PC, you should be able to play them as you would any kind of audio file.
In essence, Coolmuster iPhone Data Recovery offers a complete backup, transfer, and extraction service – all in one fast, easy to use third party app. If you have any concerns about the safety or security of the information on you iPhone, do not let the worst happen, because you now have the power to protect it. It is time to take your iPhone data into your hands.
Related Articles:
[Solved] How to Recover Deleted Photos from iPad? (2023 Update)
How to Recover Deleted Contacts from iPhone with Ease? (4 Easy Ways)
How to Recover Formatted Data from iPhone 14/13/12/11/X/8/8 Plus/7/6/5
How to Restore Contacts from iTunes Backup to iPhone Easily?
[Fixed] How Can I Get Pictures Off A Broken iPhone?
How to Recover Deleted Photos from iPhone 14/13/12/11/Xs Mac/Xs/XR/X/8?