How to Delete iPod touch App Cookies Easily?
Cookies are simple small text files that contain information which allows a server to remember all pages and all activities you have undertaken in a particular website. While there are cookies which are harmless and store only browsing information, others store username and passwords. Hackers can capture this and use it to have access to your online account. In order to prevent this, you need to know how to delete iPod app cookies. Since the browser is known to keep the cookies as small text files, the only way you can remove them is via the browser settings. Before you select any of the settings, you need to know that websites today can allows you to manage cookies and inform you how they collect information from your browser.
Majority of websites will not function properly without enabling cookies therefore the experience will not be the same as when the cookies are enabled. If you are looking for a third party application that will enable you to clear cookies from your iPod apps and works with Mac computers, then you need to use the Coolmuster iOS Cleaner or iOS Cleaner for Mac. This is a free downloadable application that is designed to be a Windows or Mac based iOS cleaning tool which has the ability of finding and cleaning different types of junk files and private data, such as app caches, app cookies, app temp files, app crash logs, downloaded temp files, photo caches, user storage files, and all crash logs, etc. from Apple devices like iPod touch, iPads (iPad Pro/Air/4/mini/3/2) and the iPhones (iPhone 6S/6S Plus/6/6 Plus/5S/5/4S).
With powerful functions, Coolmuster iOS Cleaner is user-friendly yet. Just read the following step by step guide of how to clean app cookies from iPod touch with this handy software. This time, we will set Mac version of the iPod touch data cleaning software as example. Windows users can take the similar operations when they need to delete iPod app cookies on PC.
Removing App Cookies from iPod touch Step by Step
Step One: Launch application and connect your device
Start by downloading the shareware, install and launch it. Connect your iPod touch to the Mac computer using the available cable. Once the application is up and running, you can choose the correct mode which is named the "Quick Clean".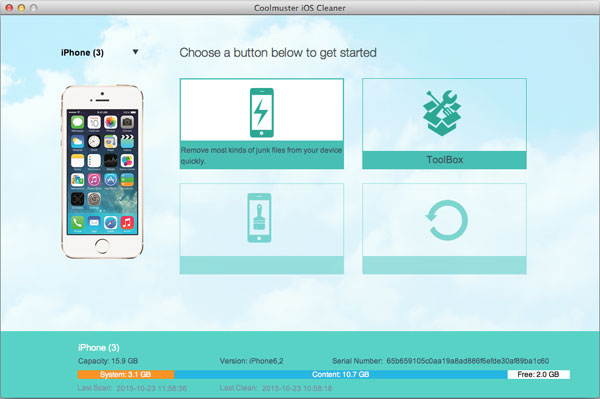 Step Two: Select categories and scan device
In the new window, all categories contain the files you can clean off by this tool. Categories available include app caches, app temp files, download temp files, user storage files, app cookies, app crash logs and photo caches. Just choose "App Cookies" and click on the "Start Scan" button to allow the application to scan your device.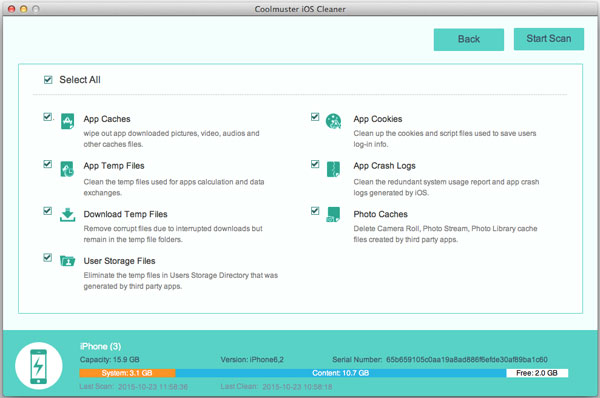 Step Three: Start to delete iPod app cookies
Finally, select the scanned out app cookies you need to clean from your iPod touch and begin the erasing job by clicking the "Clean" button. Once you select ok, the application will delete all app cookies found in the iPod touch.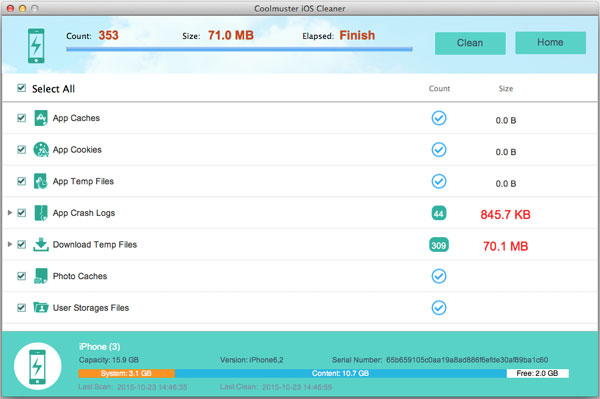 After the 3 steps, you have successfully deleted all app cookies on your iPod touch permanently. Just eject your iPod touch and check how much space you have saved in it.
Related Articles:
How to Clean iPhone App Crash Logs