How to Optimize the Performance of Your iOS Devices?
The iOS devices like iPad, iPhone and iPod, as well as their iOS foundation are designed to accumulate data every time that you use the device. Whilst this is normally quite a useful process – it lets you log in to websites instantly and remember passwords – a lot of unnecessary information also builds up and this causes the iOS run slower than before. Some users use the most awkward method to restart the system, but it only works for once and next time you will find the iOS still runs slowly. To solve the problem, you have to find out the main reason why your iOS becomes slower and slower. Well, the slow performance is mainly caused by the using of too much memory of your iOS devices.
So all you need to do is free up the memory space on your iPhone, iPad or iPod. Coolmuster iOS Cleaner or iOS Cleaner for Mac is an one-stop iOS cleaning utility that comes with powerful Quick Clean and Deep Clean functions for your choice to erase junk files, including photo and music caches, temp internet files, junk cookies, app downloads, and more from all iOS devices like iPad, iPhone and iPod. This software is ideal for anybody who worries about the security of their data, because it erases files using a process which makes them irretrievable. So, contact lists, photos, messages, and other important files can never be recovered and used by anybody else after removal. Plus, it happens to work really fast too.
Let's go down to the task! Just connect your iOS device, no matter iPhone, iPad or iPod, to your computer with USB cable and download the iOS Cleaner to the same computer by clicking the following button.
Simple Guide on Improving iOS Performance to Make iOS Run Faster
Step 1: Connect iOS device to computer and run iOS Cleaner
Use Apple provided USB cable to connect your iOS device to the computer where has the iOS Cleaner installed. The iOS cleaning program will detect your iOS device and show its memory status.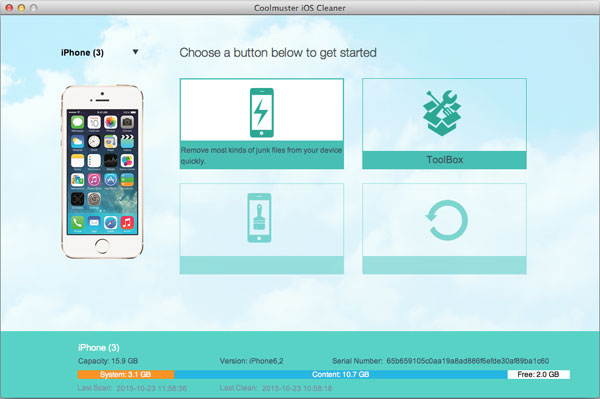 Step 2: Scan and choose the files to delete
Choose the option of "Deep Clean" and iOS Cleaner will show you a new window, from where you can turn on the buttons of Active Apps and iOS Tune-up and click "Start Scan" to scan the contained files on your iOS device.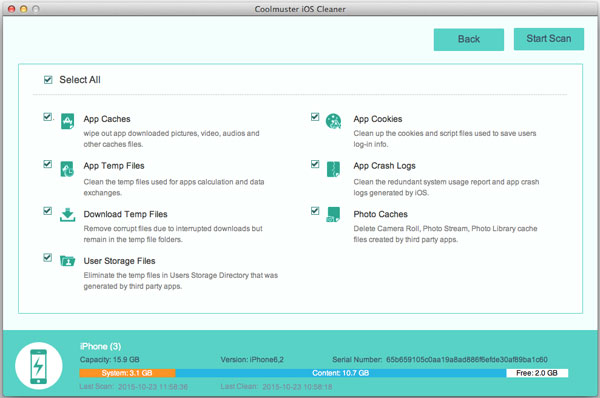 Step 3: Start to clean your device to improve iOS performance
All active apps and iOS Tune-up will be scanned out soon. Now, what you need to do is clicking the "Clean" button to start erasing them from your iOS device.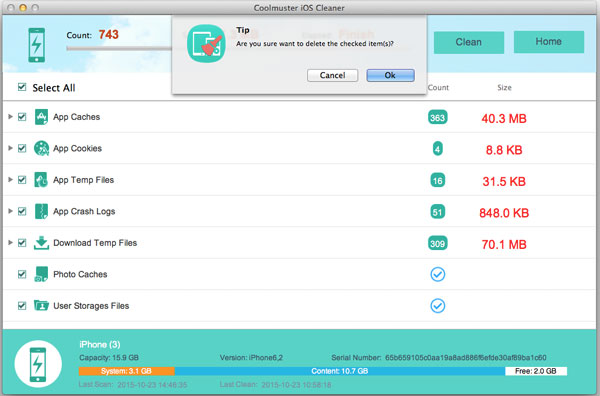 You may ask- why should I use the Coolmuster iOS Cleaner tool? This question will answer itself once the removal process has finished and you are once again enjoying a smooth iDevice which can keep up you.
Related Articles:
Delete Download Temp Files from iPad
Delete Safari Cookies on iPhone 6/6 Plus
Extra Bonus: Other useful tips to speed up iPhone/iPad/iPod
1. Power off your device. Seldom will you power off your device actually, unless it runs out of power or you need to force a power off when it is not responding. But here you can power off your device and restart it so as to speed up iPhone/iPad/iPod in slow operation.
2. Reset Network Settings. Sometimes when your iPhone/iPad/iPod is running slower and slower, it is actually due to the bad network conditions or incorrect network settings, especially when you are downloading certain files like apps, photos, and etc. Under such circumstances, you can disconnect the Wifi and then reconnect it. If your device still runs slow, just reset network settings by following the path of Settings > General > Reset from your iPhone device.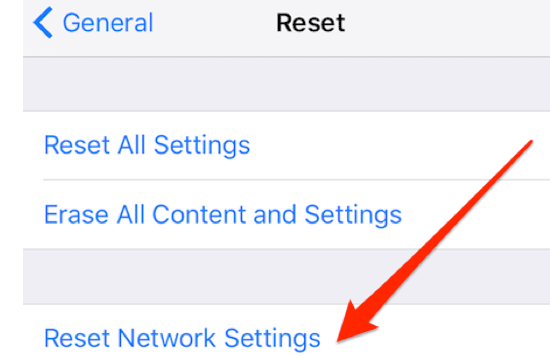 3. Update all apps to the latest version. Generally speaking, the latest apps are equipped with better performance and advanced features. Some apps may not goes be compatible with your iOS system especially when you have updated your iOS system. Therefore, it is of great significance to update all apps to the latest version.

And to its final analysis, the major cause for a slow iOS device is mainly because that you have saved too many junk files on your iPhone device. So timely cleaning up useless junk files from iPhone/iPad/iPod plays an essential role in optimizing a slow iOS device. Also, uninstalling those unused apps from iPhone/iPad also contribute to a faster iOS device.
Related Articles:
How to Erase Crash Files from iPhone