How to Delete Photo Caches from iPod touch?
As far as you know, you take a picture with your iPod touch and iOS saves it to your memory storage inside your Photo gallery. But the process is much more involved than that. Syncing photos onto your iPhone, iPad, or iPod, iTunes with either Photos or even iTunes will make your device create a Photo Cache folder that stores pics that are optimized for display on which ever device you're using. If you have only a few photos on your iPod Touch, then this is not a really serious issue. But the more space your photos take up in your memory, the larger your photo cache folder gets to compensate for the various optimizations for all those pictures. You'd better get rid of these iPod photo caches as soon as possible.
This is the beauty of Coolmuster iOS Cleaner or iOS Cleaner for Mac. Third-party software that you can download for free onto your PC or Mac. This app allows you to manage and erase all junk and private files from your iOS device without the risk of losing any of your important data. It is even able to find and access the invisible junk data, including app caches, app temp files, app cookies, app crash logs, downloaded temp files, photo caches, user storage files, etc., categorizes all these files and allows you to wipe any selected files from your iPhone, iPad or iPod Touch to free up space. Connect, preview and clean. That's the only 3-step process needed for you to perform the iPod photo caches eraser.
To clear your iPad's photo caches, first download the Coolmuster iOS Cleaner onto any PC or Mac laptop/desktop. Then, connect your iPod Touch to this computer via USB cable. Then, just follow these three easy steps. Please note the following guide is based on Mac version of the iOS Cleaner, but the operations are almost the same for Windows version.
Getting Rid of iPod Photo Caches with iPod Photo Caches Eraser
Step 1 - Get started with Quick Clean
Launch iOS Cleaner while your iPod touch is connected to your computer. It will automatically scan your iDevice and display your device's storage capacity along with four, large action option icons. Click the option labeled "Quick Clean".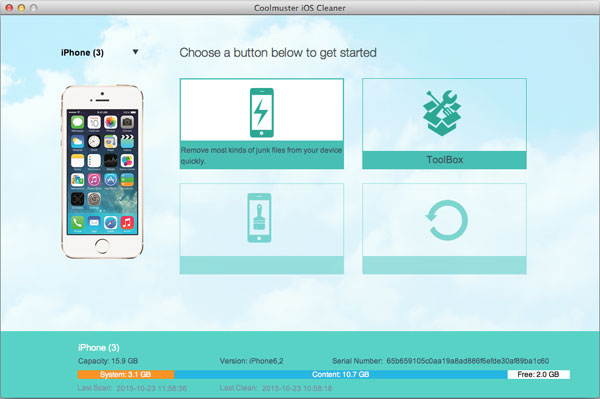 Step 2 - Choose iPod photo caches to delete
When you enter the Quick Clean mode, you will be shown all the removable file types on your iPod ranging from app caches, user storage files, etc. Select the box next to the file type labeled "Photo Caches" and then click the button "Start Scan".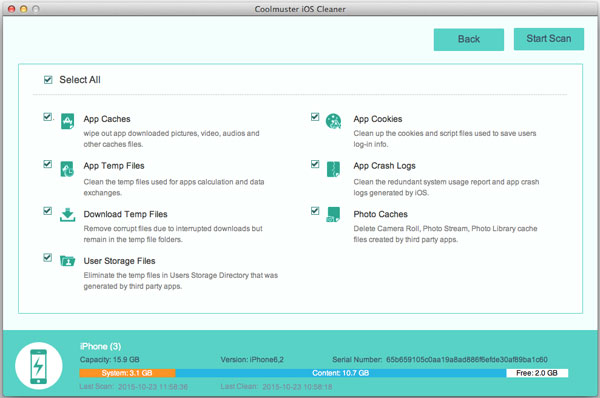 Step 3 - Start to delete photo caches from iPod
At this point, iOS cleaner will display all the photo cache data. Tick the boxes next to the files you want to erase from your iPod touch and then click the button marked "Clean". Then, just click "OK" in the confirmation pop-up window that follows and iOS Cleaner will wipe those photo cache files from your iPod touch.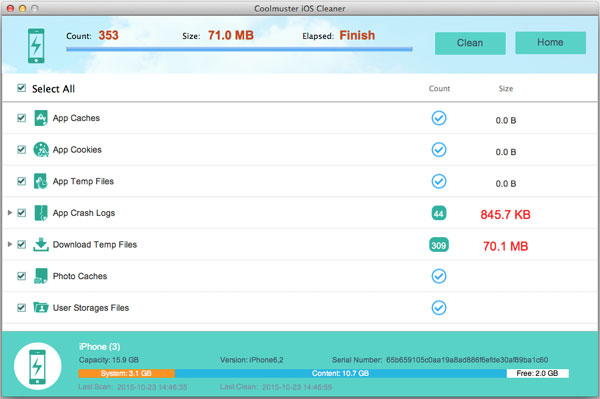 See? It's quite convenient for you to delete photo caches quickly on your iPod touch with the help of this program. Besides iPod touch, this program also enables you to remove photo caches on all iPhones and iPads, like iPhone 6S(Plus), iPhone 6(Plus), iPhone 5S, iPhone 4S, and iPad Pro, iPad Air, iPad mini, iPad 4, etc.
Related Articles: