How to Restore iPhone Files after iOS 12 Update
iOS 12 was launched recently to keep up with the demands that regular users of an apple mobile product had. iOS upgrades, more often than not, seem to burden the users with an abysmal amount of data loss. Contacts, messages with important details in them, pictures on your phone of loved ones are only a few things that might go missing in the process of upgrading the OS.
Related: How to install iOS 10.3
Word on the go is that the transfer from the earlier file transfer system is being replaced with APFS (Apple File System). This can apparently overwrite the data that is already placed in the system at the same point of time increase memory space for the user with more efficient distribution and cataloguing systems. One can go back to the earlier version of the Operating system, but there are no guarantees about the existence of lost files there as well.
Honestly, it is highly recommended that users have some or the other form of backup present whenever a software update is being performed. In a lot of scenarios, it is entirely possible for new coding in the update to vanish your files in a jiffy. To avoid sticky and sad situations like this, backups through iCloud or iTunes are a must!
- How to Backup iPhone/iPad/iPod to iCloud
- Easily Backup iOS Devices with/without iTunes
If you want to manually do all of it, find a working internet connection and use the back-up now feature on your device. iTunes, on your Mac, is capable of backing up important things as well! You will, in any case, have to use the space provided judiciously. Remove things that you do not need or do not want. This increases your cloud storage efficiently. If you have the money, get yourself some extra storage space on the iCloud. None of this will matter if and when you lose all the data.
Guide: How to Recover Data on iPhone after iOS 12 Update
What can you do if you have lost precious data because of the upgrade? Do you cry out loudly in despair and dismay? Or do you give up all hopes and sizzle in your sorrow about how you will not get any of those valuable things back? NO. Whatever you do, do not believe that downgrading or going back to your old operating system will definitely get back the lost data. It isn't efficient and it does not deliver a hundred percent success rate. Use our simple and easy to follow method in all instances of a data loss on your apple device and you will be raving about it to everybody you know! This Coolmuster iOS Data Rescuer is all you need, which allows you to easily recover data on iPhone no matter you have a backup or not.
1. Download the right version of this software and then install it on your computer after finishing the specifications.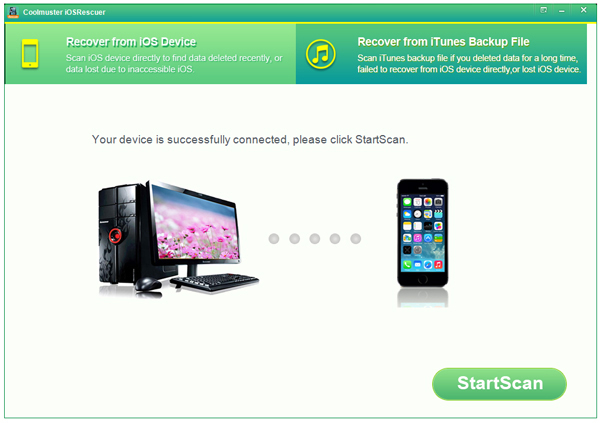 2. Connect your device to the computer with a cable and select the right recovery mode and hit the StartScan option to continue the process.
3. This software will automatically scan the device and look for all the files, including the ones you thought were lost!
4. Look at all the data, browse through them, and then tick out the files that you want to recover from iPhone. Then hit the Recover option to begin the process.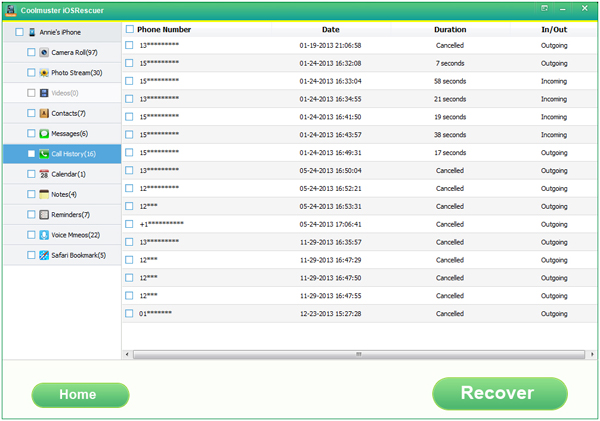 5. On the promo dialogue, hit the OK option to continue the process. Now, just wait patiently for the process to get completed within a little while.
With Coolmuster iOS Data Rescuer, it is this easy to recover all of the things that you lost and were being morose about. Coming from experience, it has not failed a single time to deliver. It eases your guilt as well as gets your stuff back from the underworld!
Related Articles:
How to Restore Missed Calls on iPhone