How to Easily Restore Kik Photos on iPhone?
Kik is an instant messenger application that can be downloaded onto your iPhone 7/7 Plus/6s/6s Plus/5s/SE and can be used to send pictures and videos. However, have you ever accidentally deleted or lost your Kik messages from your iPhone? But no need to stress and worry, because those photos can be retrieved and you might get the detailed guide in this article.
Problems You Might Meet to Recover Kik Photos:
There are many reasons as to why you would need to recover Kik photos from your iPhone. Perhaps the Kik photos you are trying to recover stands for a happy memory of your life or etc.
But the problem is, accidents happens everywhere, including accidental deletion of iPhone files and data lost caused by updating iOS software on the iPhone. The other problem is that when trying to recover photos from Kik, you will find that the Kik app does not save the photos on it's servers. It leads to an unpleasant user experience because there is no saved copy of the users photos unless it is saved onto their phone. But no need to get frustrated, there is a way to retrieve your Kik messages.
Also Read: How to Recover Kik Chat History from iPhone
Best Solution: How to Recover Kik Photos from iPhone
There are a few ways you can try to get your Kik photos back, and the easiest method would be to go online and search for a software called iOS Kik Photos Recovery to help you. The iOS Kik Photos Recovery is a downloadable software to recover your Kik messages, photos, chat history and many other files back onto your iPhone easily.
With this software, you will find it is just a piece of cake to recover Kik photos from iPhone. The user interface is very easy to understand, and aside from needing to download the software to your computer requires nothing else. This software has the ability to retrieve your deleted data from third-party apps, such as Kik.
Steps to use this software:
- Once you have downloaded the software on your computer, you need to plug your iPhone into your computer with a USB cable and then click to open up the program on your computer.
- Different recovery modes will appear on the startup screen, you need to decide which recovery mode best suits your situation. Let's take the "Recover from iOS Device" mode for example.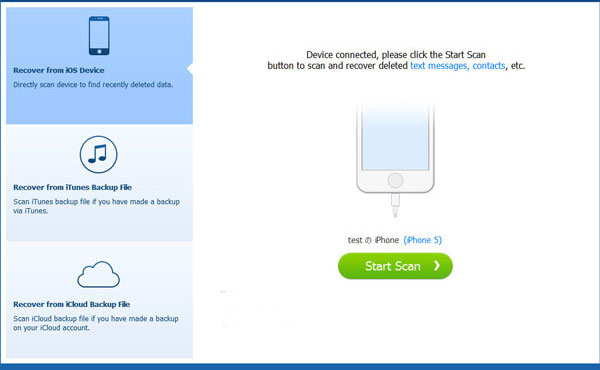 - Click Start Scan button and a window will then pull up with all of the available files that you can transfer. You can simply select the files and messages you would like to transfer and disregard the ones you do not wish to transfer.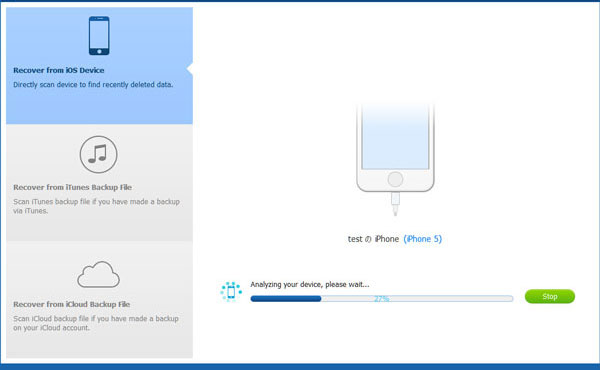 - Once you have selected the files and messages that you would like to transfer, you simply click on the Recover option button to begin the process.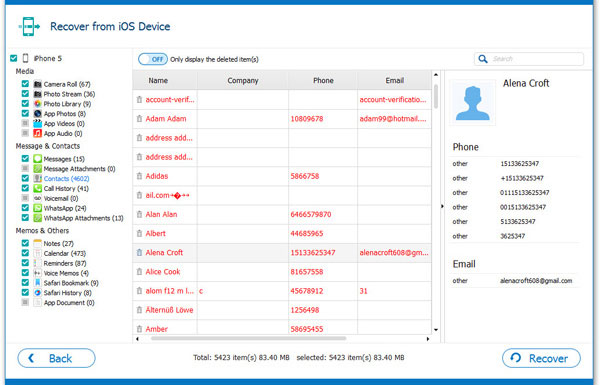 Now, all you need to do is wait patiently for the process to get completed within a little while. Fairly simple process, right?
Words in the End:
iOS Kik Photos Recovery software recovers the lost data on your iOS device, including the Kik photos. This easy-to-use software eliminates all of the problems and hassle with attempting to recover your lost data from third party applications. Its excellent program interface and simple operation will ensure users has good users experience and make users easily recover lost data from a third party app. Best of all, as long as your device is running iOS operating systems, you can always use the software as your best data recovery assistant!
Related Articles:
Recover iPhone Contacts without iTunes Backup