Guide on How to Restore iPhone as New
It has just been a few years since iPhone came into market but it has gained widespread importance in the recent years. Life without it seems to be impossible. This phone by Apple Inc. has the latest technologies. It is desired by those who do not have one and cherished by those who own one. It has many features such as camera, tablet PC, multiple keyboards, etc.
However, like other smartphones, iPhone also has its own glitches that could result in phone crashing and information being lost. When this happens, the process of restoration can be done to clean the device of the data. Let us broadly understand why and how you should restore your iPhone.
Related: Things to Do After Getting A New iPhone
Why should you restore your iPhone?
There are many reasons as to why do you need an iPhone restoration. Some of these however, may be difficult to avoid. Some of these reasons are:
- Crashing: Sometimes your phone might stop working the way it should. Crashes can occur if you open a lot of programs at one time. This way the RAM gets full and the phone might hang leading to the software crash. This might also have been caused due to some unauthorized downloads. To repair such damages, you need to restore your phone to its original factory settings.
- Upgradation: Sometimes, there is a new iOS software update and your phone doesn't upgrade on its own. In such conditions, some smartphone vendors recommend you to restore your phone and the new operating system gets automatically installed on your iPhone.
- Replacement: In case, you are looking forward to sell your current iPhone and buy a new one, it is always advised to restore it. This is because the person, to whom you sell your phone, might get an access to your email accounts, passwords, photos etc. So it is the best to clean your data before selling your phone.
User Guide: How to Easily Restore iPhone as New
Here are all the different ways to do it. Some of them, like the first one using iTunes is really simple. We wouldn't really recommend you to go for the manual one as the iTunes one is really simple and one that can get the job done in no time.
- By using iTunes: This is the simplest way. For this, you need to do the following:
1. Connect your iPhone to your PC via a USB and then iTunes should launch automatically. The name of your iPhone would appear.
2. The main window of the iPhone will consist of two windows at the middle. Click on the "Restore" button.
3. You will get a warning message to confirm your request. You need to again click on Restore and your restoration will begin.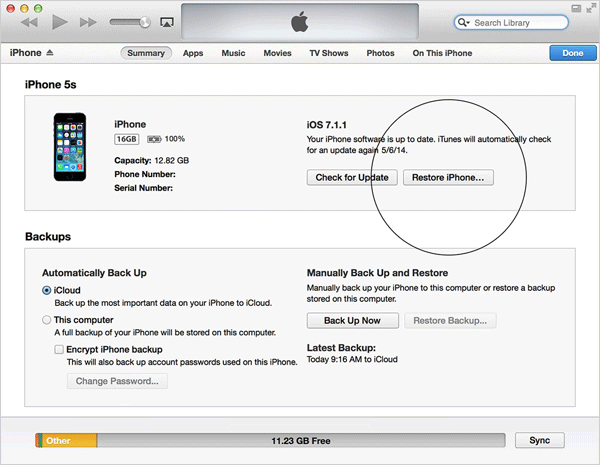 - Manually restore iPhone: For those who get a difficulty in iTunes restoration can go for this procedure:
1. Download the iOS IPSW file for your iPhone from Apple.com.
2. Open iTunes on your Pc and connect your phone to it.
3. Hold the Shift key and then click on "Check for update button".
4. A dialog screen will appear asking you the location of the IPSW file. Set the location of the file.
5. iTunes will now use the file to update your phone.
Also Read:
* How to Restore Missed Calls on iPhone
Words in The End: Things to remember while restoration
There are some things that you need to do before starting to restore your iPhone to get the best results:
You need to back up your data before restoration and then you can retrieve it back after the restoration is over. Here, you are suggested to have a try of this Coolmuster iPhone/iPad/iPod to Computer Transfer (Windows/Mac) software, which allows you to easily back up anything from your device to the computer.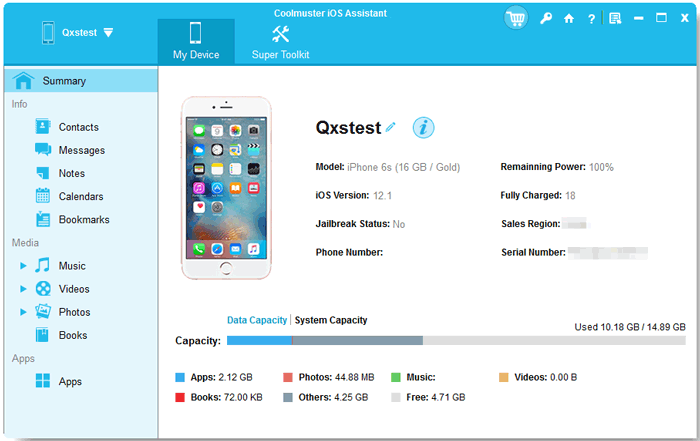 Also, keep in mind to use a good internet connection and try not to interrupt the restoration process. You are all set now. Happy Restoring!
Related Articles: