How to Restore iPod from Backup
There are several possible ways to restore iPod from backup. The most popular two are restoring it from an iTunes backup and an iCloud backup. Let us have a step by step look at how it's done! Also, you can learn the quick fix to iPod data recovery without a backup after reading this passage!
Part 1. How to Restore iPod from Backup
Part 2. What if Losing iPod Data without Backup?
Part 1. How to Restore iPod from Backup
Solution 1 - Restore iPod with Backup from iCloud:
Here is how you can restore all the data on your device in simple steps.
1. Turn on the device. If you've already configured the device, you must delete all the content to follow these steps and restore it from backup.
2. Follow the configuration steps on the screen. Click restore from an iCloud backup.
3. Log in to iCloud.
4. Select a backup. Select the one that suits you. After selecting the backup, the transfer will begin. Update your iOS version if prompted (if you do not see the steps on the screen to assist with the upgrade, this is what you can do).
5. When prompted, log in to your Apple ID account. You can just select the apps you would want to restore.
6. Wait till the progress bar states that the process is completed. This can take from as much as an hour to complete. If there is no internet connection, the progress will be paused.
7. Now, everything is done. Start your device and do what you want. Frequently try to connect to the Wi-Fi and to allow the process to complete.
Related: How to Sync iOS Devices with iCloud
Solution 2 - Restore iPod with an iTunes backup:
2.1 Restore iPod from Backup with iTunes

If you have an iTunes backup, you can restore it easily too. Here are some of the steps that you can follow.
1. Open iTunes on your device.
2. Connect to your computer with a USB cable. Follow the steps on the screen to continue.
3. Select your iPod touch when it appears in iTunes. If the device does not appear in iTunes, this is what you can do.
4. Select your iOS device in iTunes.
5. Now you will see an option called Restore backup. Select it. If a message indicates that the software is too old, this is what you can do.
6. Check the date and size of each backup and select the one that suits you.
7. Click Restore. Now, you need to wait for the backup to complete. If prompted, enter the password encrypted back up.
8. Select a copy to restore.
9. The device will automatically restart. Wait for it to synchronize with your computer. You can sign out once the synchronization is complete.
Related: How to Backup iPod/iPhone/iPad to iTunes
2.2 Restore iPod from Backup without iTunes
Actually, to restore your iPod from iTunes backup, you can also rely on this Coolmuster Data Recovery for iPhone iPad iPod and its Mac Version. With this software, you can easily restore iTunes backup files to iPod without launching iTunes on the computer. Moreover, it enables you to recover all different files to iPod, be it contacts, messages, photos, videos, apps and many more. Best of all, various generations of iPhone, iPad and iPod devices can be perfectly supported by this all-in-one tool.
- After downloading the right version of this software, link your iPod device to the computer via the USB cord. Then, all related backups will be arranged on the main interface as pictured in the below.
- Select the right backup of your iPod device and then hit the StartScan option to continue the process.
- Then all files will be detected and displayed on the next interface. You can choose the wanted files by ticking them out. Finally, hit the Recover option to restore these files and save them on the computer.
Now, wait patiently for the process to get completed within a little while. After that, transfer the recovered data to your iPod. Till now, you have successfully restored iPod from backup without iTunes.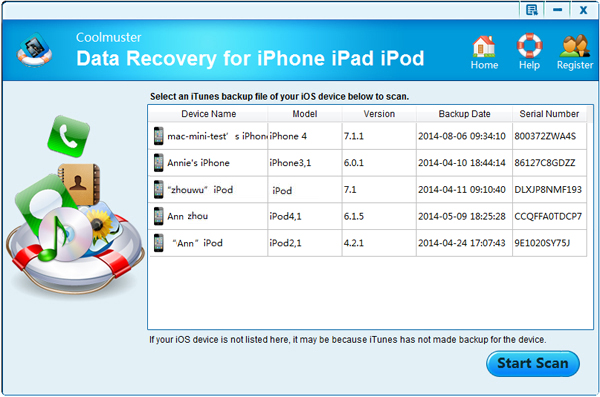 Related: How to Recover iPad Files without iTunes Backup
What if you lose iPod data without a phone backup?
Coolmuster iOS Data Rescuer helps you do all that you wanted with your iPhone. From backing up all the data, media, contacts and even apps you have to ensuring that you can free up storage space on your device, do it all. Here is how this software can even help you if you lose your iPod data. It is the perfect software to recover lost files in this case, whose main features are shown in the below:
1. It straightforwardly recovers data from all the apple gadgets.
2. Extracts iTunes backup and restores lost files.
3. You can preview exactly what you desire before recovering it.
4. You can back up the iOS data on your PC.
Learn More:
* iPad File Recovery without iCloud Backup
* Recover iPhone Contacts/SMS without iCloud
Step-by-step guide to use it to restore iPod:
You can recover any file that you have lost before in a simple few clicks.
1. The iDevice needs to be connected to the PC.
2. Scan it for missing data.
3. The iTunes backup needs to be scanned for your device.
4. Select and recover the data by previewing it.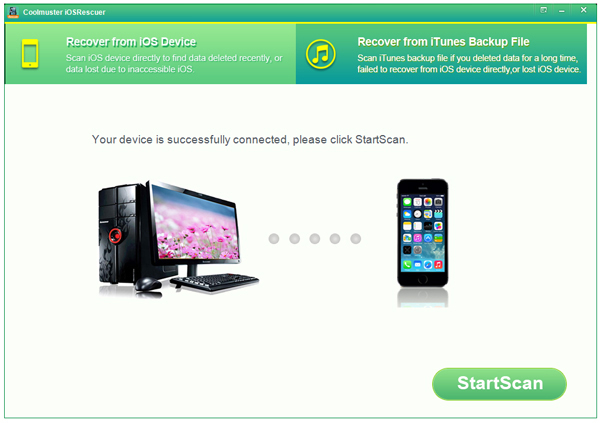 That is all that you need to do to listen to your favorite music. It's fast and it's easy if you have this Coolmuster iOS Data Rescuer software with you.
Related Articles:
Simple Guide on How to Recover Lost Data from iPad