How to Restore iTunes Library after Computer Crash
It is natural to feel as if your world is collapsing around you when your computer crashes. After all, your valuable photos, songs, videos and other kinds of data are at a risk of getting wiped out forever while you helplessly stare at your computer. Generally if you manage to re-start your computer and find that your iTunes Library still exists, then you're very lucky because that is not a frequent occurrence. So what do you do when your computer crashes and you realize that you have lost your iTunes Library as well? You try to restore it.
You can do that by using third-party software application or using an external storage device - both of which have been discussed in this article.
Solutions: How to Restore iTunes Library after Computer Crash
1. Using Coolmuster to solve your problem
The Coolmuster iOS Data Rescuer is a software that allows you to easily manage your data among your Apple devices and between your Apple product and your computer. Using it is not only time saving, but also user friendly and this combination is what makes it the favorite third party software when it comes to navigating iOS for thousands of Apple users.
It will help you have a better control over your devices as well as iTunes Library. Within a few seconds and a few clicks, it will be possible for you to get back and kick start your iTunes Library in case your computer has crashed. Another advantage is that you don't have to worry about losing the content that you didn't buy from the official iTunes Store.
And this software is quite easy to use. Just follow the below steps:
Step 1: Download, install and launch the right version of this software on your computer.
Step 2: Connect your Apple device to the computer. It will identify the device immediately and take you to the main user interface.
Step 3: Now, on the main home page, choose the mode of "Recover from iTunes Backup" to continue the process.
Step 4: After that, select the files that you want to restore from iTunes library and hit the Start option to continue the process.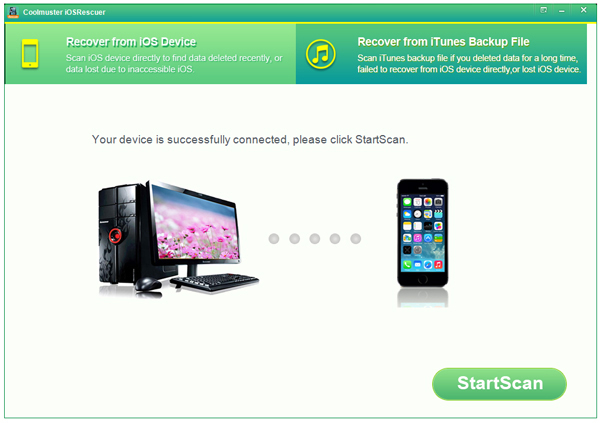 Related: Guide on How to Refresh iTunes Library
2. Restoring iTunes Library from a Backup
There are several advantages of carrying out a manual backup of your valuable data and one of them is that in the unfortunate case of your computer crashing, you can still restore your iTunes Library. All you have to do is follow the instructions given below
Step 1: Close iTunes and the hard drive or the flash drive on which you backed up your data must be connected to the computer.
Step 2: Open the folder where you have saved your data.
Step 3: Copy the iTunes Library that you backed up and now go to the "My Music Folder" on your computer and paste it over there. If another one is already there, then a pop-up window will ask you if you wish to have it replaced. Select the 'Replace' option.
Step 4: Now you have to launch iTunes.
Step 5: You will now see a dialogue box on the screen. Click on "Choose Library".
Step 6: Now detect and identify the iTunes Folder that has been copied from the hard drive or the flash drive. You can now use that library.
As you can see, one major flaw with this method is that you need to have your data backed up on an external storage device before your computer crash. So using Coolmuster iOS Data Rescuer for restoring the iTunes Library in case of a computer crash is a much easier option.
Related Articles:
How to Easily Undo A Restore on iPhone