Easy Way to Restore Viber Chat History on iPhone/iPad
Why Do You Need to Restore Viber Chat History on iPhone/iPad?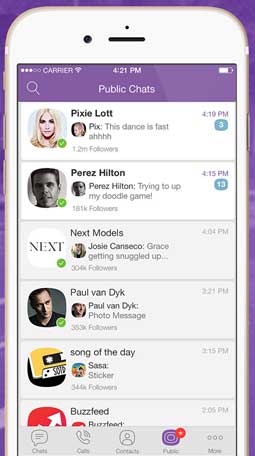 Viber is an instant messaging app through which you can share free pictures, videos and audio messages with other Viber users. It is immensely popular and you might have installed it on your iPhone or iPad. And sending messages is not only a means of communication but a medium to exchange useful information.
Can't Miss: How to Restore Deleted SMS from iPhone Xs Max/Xs/XR

The information in Viber chat history may contain data which you want to preserve for it is from a friend, a loved one, or a business partner. In some case, accidentally deleting the Viber chat history may be disastrous. For example, you deleted the Viber messages on your iPhone/iPad, however, later you have realized that you need them for some works that can't be completed without these messages. In this case, it becomes important to restore your Viber messages on your iOS device.
Problems you may meet when restoring Viber chat history on your device:
Sometimes, it is not easy to restore data that you have lost on your device. Because the Viber app doesn't provide a backup and restore functionality, so you are not able to restore the messages directly from Viber itself. If you have not saved your messages elsewhere, retrieving deleted messages from Viber can be very difficult. Even when you are trying to restore your Viber chat history, the restored Viber messages may no longer be in a supported format if the exported format was different. This may make it difficult to read or see or hear them.
Related: How to Recover Kik Chat History from iPhone
Guide: How to Restore Viber Chat History on iPhone/iPad
To avoid such difficulties, it is always recommended that you take the help of a software to do the restoring job for you. A highly recommended example of such software is the iOS Viber Chat History Recovery program, which is perfect for these kinds of situations.
It is a professional data recovery software and one of the best of its kind you will ever find. It is specially built to help users solve the common of problem of losing data. Whether your lost data includes, messages, chats, calls, files and other important kinds of data, this software has it all covered. You can use it for your iPhone, iPod and also for your iPad, thus making it a highly versatile software. Its interface is also very easy to understand and use, so you will have no problem with it at all.
This software has received highly positive reviews from customers and has left them satisfied. The efficiency of this software is so good that you will keep coming back to it to help you recover your data.
Step-by-step Guide to Recover Your Viber Chat History:
- First of all, make sure that all you backed up all your required files on iTunes or iCloud.
- Now install this amazing software and launch it. You don't need to connect your iPhone or iPad for it to detect the backup files on your iTunes or iCloud.
- Once it has detected the backup files, you can click on the backup file you want to restore and ask for "Scan Now".
- Once this scanning is completed, the files will be categorized by types such as messages, calls etc.
- Choose your Viber messages which you want to recover and click on Recover. This will save the messages on your computer where you can view them easily.
Thus, this software provides an easy and safe way to recover deleted Viber messages and also helps save a lot of time.
Related Articles:
How to Recover Lost Kik Photos from iPhone