How to Remove Images/Pictures from PDF File?
PDF documents are read-only and can not be altered typically. However, it is a quite normal demand to delete needless or wrong elements from a PDF file, especially some images or graphs. Well, many users know how to add images to a PDF file but do not know how to delete images from PDF. Do not panic! This article is a step-by-step guide to tell you how to remove pictures from PDF files.
Tips: Before we show you the PDF Image Remover, we would like to recommend you another useful tool, Coolmuster PDF Image Extractor or PDF Image Extractor for Mac, which is a must-have tool for PDF users who have the requirement to extract images from PDF file for other use. It will preserve the good quality of the images in the PDF and support batch extracting. You can add these extracted pictures to your PowerPoint slideshows, photo collage or reuse them for any other purposes without restrictions.
You may also like:
How to Add Music to PDF File via Adobe Acrobat?
How to Add Stamp to PDF Document Easily?
Download the free trial version of the PDF Image Extractor to have a try.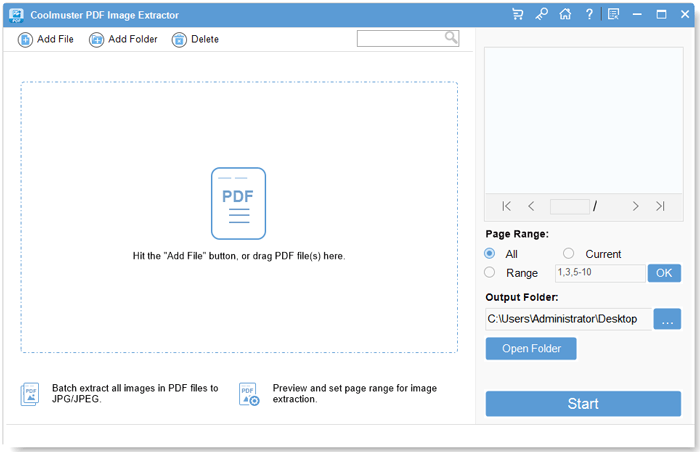 How to Delete Images from PDF with Adobe Acrobat?
Now, we will show you how to remove images from PDF by using the PDF creation software, Adobe Acrobat. It allows you to edit PDF text, images, object, etc., whether you want to change their positions or just delete them all. Below are the detailed steps:
Step 1. Open the PDF document from which you want to delete images in Adobe Acrobat
Step 2. Go to the "Tool" menu, choose the "Advanced Editing" option and then select the "TouchUp Object Tool".
Step 3. Click the image you want to delete and you will see there is a gray bounding box around this image.
Step 4. Simply press the "Delete" key to remove this image, or you can right-click on the image and choose "Delete" from the pop-up menu.
Step 5. Repeat the operation on other images you want to delete until you have removed all the images you want.
Step 6. Navigate to the top "File" menu, click "Save" from the drop-down menu to save the new PDF file with all your unwanted pictures removed.
Note: That is about how to use Adobe Acrobat to remove images from PDF files. If the placeholder box of the image still remain, you can firstly use the TouchUp Object Tool to choose the outline of the image, press Delete to leave the image without border. Then, select the image and delete it.
Related Articles:
How to Secure PDF Files with PDF Encryption
How to Create PDF Files on Mac OS X Handily
Add a comment