How to Clean up Memory on iPad
When you buy an iPad, in that instant you are probably the happiest person in the world. But as time flies you will realize how much data you have accumulated in your dear old tablet, causing it to slow down. At this point, you certainly need to clean up some data. Well, there are also other instances when your iPad memory needs some cleaning.
Related: How to Speed up A Slow iPad?
Why should you clear iPad Memory?
You really do not have a lot of space on your iPad. Unlike other tablets that come with expandable memories, iPads do not. So, if you are nearing the capacity of your iPad, it is time that you need to clear up your iPad space. Unfortunately, that is easier said than done.
Technically, there are about three situations that you are likely to encounter, which will prompt you to clear your iPad memory via:
- You are selling your iPad
- Your iPad has become slow
- You are unable to download anything
Well, if you are going to use that iPad and you want it to function for as long as it was supposed to, like everything else it needs maintenance ie cleaning its memory. You can go ahead and do that yourself, however it is likely you might end up erasing something that was essential, which could affect the functionality of your iPad. You wouldn't want to delete something mistakenly. Unfortunately, if you delete something on your iPad, there is no way to get it back - unless of course, you take the help of a third part software.
More Articles You Might Want to Know:
How to Uninstall Apps on iPhone/iPad
How to Clean Corrupted Media Files
Easiest Way - How to Clean up Memory on iPad
It is highly recommended that you use a third-party software which will discern the storage and clean only unnecessary data and junk. FREE Coolmuster iOS Cleaner or Coolmuster iOS Cleaner for Mac software is designed for this exact purpose. It is a freeware and the only Mac based iOS cleaning software. Junk files, app cookies, caches, temp files, crash logs and user storage files can be effortlessly erased. Coolmuster offers three levels of data cleaning depending on your needs. It performs permanent deletion so that no software can recover the data. And if you do mistakenly delete a file you need from your iPad, do not worry.
It will help you select those files as well. Plus, since you can delete the iPad selectively, it ensures that you do not make much mistakes.
Below are the steps to clean your storage files:
Connect your iPad and run iOS cleaner: When you launch the iOS cleaner with your iPad connected, you will see four options viz: "Quick Clean", "Deep Clean", "Toolbox" and "Restore".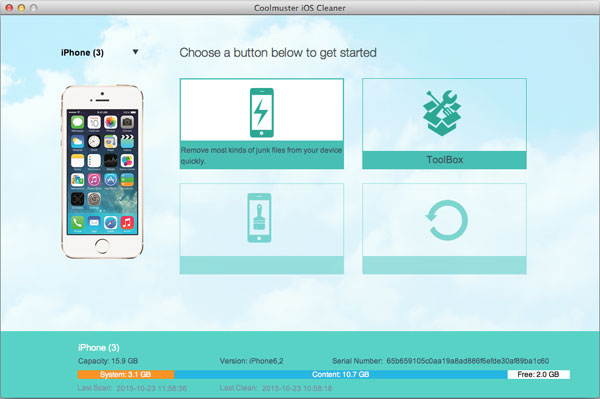 Choose the files that need to be deleted: When you click on "Quick Clean", it will tell you what kind of files will be scanned. You should then click on "Start Scan", which initiates scanning and once it is complete the different kinds of files will be displayed and you can pick which ones you want to delete.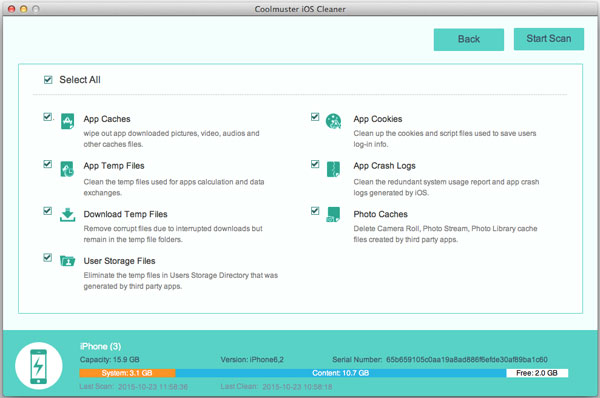 Erase your files: Select the files which you want to delete and click "Clean". The iOS cleaner will now delete all the files that you have checked and the space cleared will be displayed.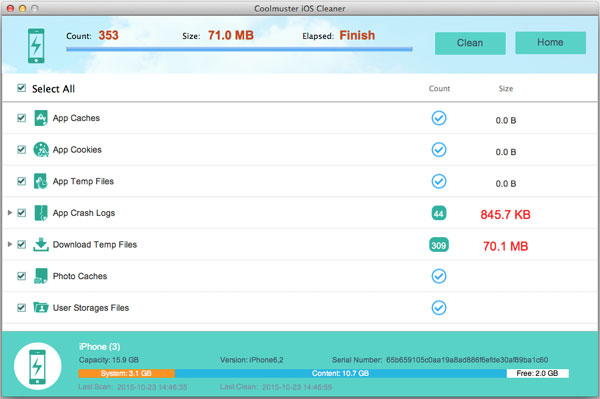 More Useful Tips to Clear iPad Memory:
Now that you understand how essential it is to keep your iPad memory clean let us look at some tips for the same.
1. Disable photo stream and don't join other people's photo stream either.
2. Delete unwanted apps.
3. Backup your photos to dropbox or Google+.
4. Clear Safari cookies and cache.
5. Run a cleaning software regularly.
6. Remove unwanted music files, documents and data.
7. Delete old messages.
8. If you have HDR, you should delete photos.
Related Articles:
Guide on How to Clean up iPod touch