Simple Way to Clear iPhone Safari Cache
We know you feel amazing when you get your new iPhone. That beautiful baby runs smoothly and fast! However, as some time goes by, you might not feel the same way about your phone. You might feel that your phone is not refreshing quickly or that storage space has decreased.
Related: Things to Do After Getting A New iPhone
This may happen because the cached files are using up more space on your phone that you would think. Sometimes, apps may also not be able to refresh themselves because of cached data that is interfering with their performance.
Cache files can always be found on your iPhone. For example, Safari will store cache files to save information about the sites you visited so that you can easily get back to those sites again. While this might make your browsing activities faster, those cache files are eating away at your precious storage space. You would be probably having an iPhone of 64 GB at the most - unless you own the new iPhone 7 - and you know that you would want to save some space.
More Useful Articles:
* Delete Multiple Photos on iPhone
What can I do about this?
When such problems arise, you can always rest assured that Coolmuster iOS Cleaner for Mac software will love your problem. A Mac-based cleaning utility, it is a freeware that can detect and delete all junk files from your iPhone. The entire process of removing these cache files are carried out easily, efficiently and quickly. It ensures the privacy and safety of your personal information and also creates more space on your device enabling it to run faster and smoother, just like it used to when it was new. By the way, if you are Windows user, this Coolmuster iOS Cleaner is for you!
This program helps you manage all the files easily across devices in simple steps.
User Guide to Easily Clear iPhone Safari Cache
Step 1: Download and launch the installed software on the computer and then connect your iPhone to it through the USB cable. Your screen will now give you four different cleaning options. To clean up your phone, click on the "Quick Clean" option.
Step 2: Once you select the "Quick Clean" option you will be taken to the next window where files such as app cookies, photo caches and all other removable files will be displayed. Once you've selected the ones you wish to remove, go to the top right corner and click the "Start Scan" button.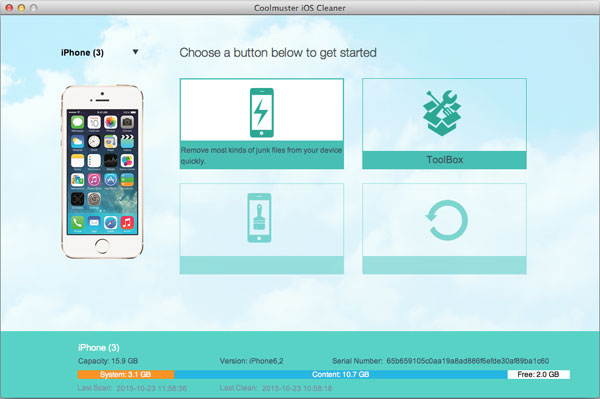 Step 3: Now the software will scan your iPhone and show the scanned out data in details like count and size. One advantage that this program gives you is that you can pause or skip the scan for certain data categories if you wish.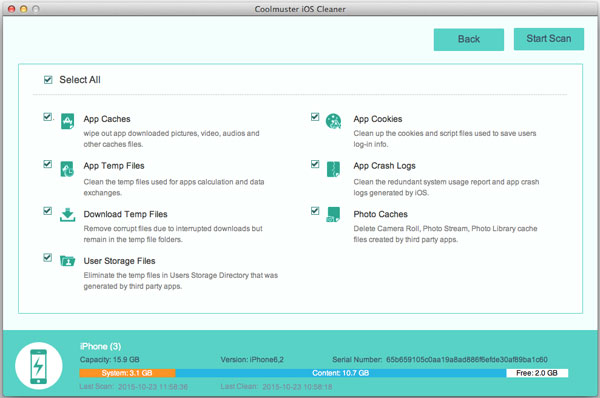 Step 4: Select the junk files that you want to wipe out and click on the Clean button. A pop-up window will come up asking you if you're sure you wish to delete the checked items. Just click OK and now your device will start getting cleaned.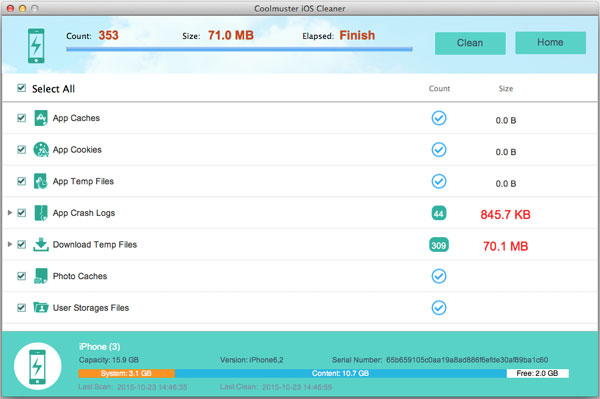 The process will now be completed and post completion, you will be informed about the data that was erased and how much space you have now created.
Advantages of clearing iPhone Safari Cache:
Security is one of the top most reasons for clearing iPhone Safari cache as not clearing them will help the next user look in to the sites that you had visited. Also, it becomes difficult to open certain sites where, the loading time is too long. In such cases, clearing the safari cache will also be helpful. Coolmuster iOS Cleaner for Mac software just makes it all simple.
Related Articles:
How to Uninstall Apps on iPhone/iPad