How to Delete Photos on iOS Permanently?
When people buy iOS devices, they can take advantage of a wide range of opportunities. Many of which involve using these devices to take lots of pictures of their family, friends, events, vacations and other activities that people want to record for fun memories. In some cases, these devices can become so full with photos that they can easily become overloaded. When this occurs, the individual will often need more space so that they can continue its usage. Therefore, one of the first things that they may want to do is delete all of the photos, after they have been transferred to another medium. Deleting this photos one by one can take time so people will need to pick and choose the best ways to accomplish this task.
When an individual decides to delete all of their photos from one of their iOS devices, they may need a software application that can assist them with accomplishing this task. Fortunately, there is software available that can make this job much easier, which is more commonly called the iOS Photo Eraser. It has been designed with deleting various kinds of information in mind, including contacts, albums, videos, music, notes, passwords, reminders, messages and other personal data from iPad, iPhone and iPod. with the use of iOS Photo Eraser, people do not have to be concerned about the recovery of their deleted photos because they will be erased permanently, nothing can be found or recovered.
In some cases, an individual may simply need to free up space on iOS device so that it can be used for new photos. Again, with the use of iOS Photo Eraser, this is not a problem since this product has the capability of compressing files like photos. In addition to compressing photos, users will also have the capability of clearing any private data that is associated with the files that they install. In the following part, we will show you step by step on how to delete photos on iOS 11/10/9/8/7.
Easy Way to Remove All iOS Photos with iOS Photo Eraser
Step 1. Connect your iPhone/iPad/iPod to computer
First of all, download the iOS eraser tool on your computer, install and launch it. Then, connect your iPhone, iPad or iPod to your computer via a USB cable. After the connection, the erasing tool will detect and display the connected iDevice automatically.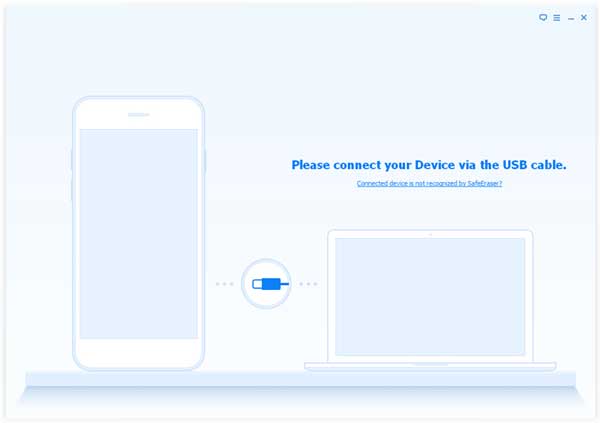 Step 2. Preview and select the photos you want to delete
To delete photos on iOS 11, iOS 10, iOS 7, iOS 8 or iOS 9, you should click "Erase Pricate Data" mode and eneter "Photos" section on the left directory tree to bring up the photo deleting window. Just preview them carefully and choose the photos that you want to delete.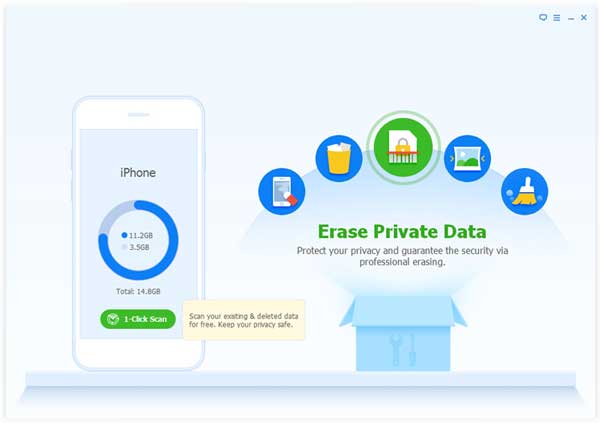 Step 3. Start to delete photos on iOS
Once you select all your unwanted pictures, you can click on "Erase Now" button and type "delete" on the box to confirm your action. Then, this program will start to remove all the selected photos from your iOS device. You should not disconnect your iPhone, iPad or iPod before the photos erasing job ends.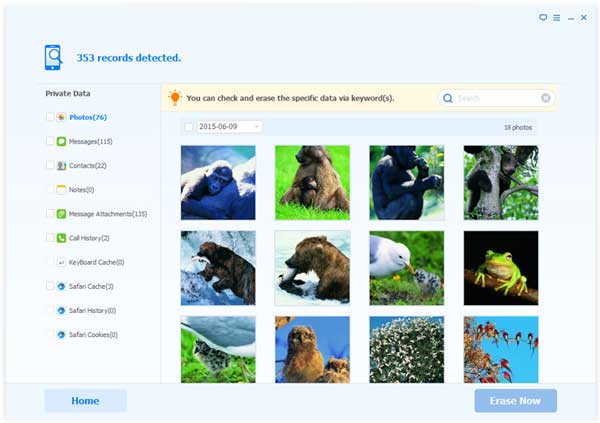 Note: iOS Photo Eraser supports all Apple models running iOS 11/10/7/8/9, like iPhone X/8 Plus/8/7 Plus/7/6S/6S Plus/6/6 Plus/5S/5, iPad Pro/Air/4/mini and iPod touch 5.
Related Articles:
How to Clean Private Data from iPad