iPhone is Overheating - How to Fix it?
Here is the thing about overheating phones - if you are not careful about it, your phone could even burst. While that is an unlikely phenomenon, it is one of the exact reasons that Samsung has had to recall most of its Galaxy Note 7 smartphones. You need to ensure that your battery does not overheat. The question is, how do you do that?
(Tips: If you are an Android user, you can read this tutorial to fix an overheated Android phone!)
You need to know how to fix overheating phones and we bring some of the easiest ways to do it.
Useful Tips to Fix Overheating iPhone
iPhones work on the same philosophy of smartphones though it is considered to be a top notch product. Still it has many common problems encountered by similar devices. iPhones are known to get overheated and cause concern in the users. The main cause of overheating can be high processor and RAM usage or increased bandwidth exchange through internet. We are going to give some useful tips which will prevent overheating and help you identify the problem causing it.
* To Begin, Switch Off
The first thing to do when your phone is getting overheated is stop using it. Restart or switch off the phone completely. Then turn it on again and see if the problem persists.
* Determine Battery Drainage
You can make an idea about which apps are responsible for overheating by checking the battery status. For that you have to go to iPhone Settings and then select Battery. There you will see the apps listed along with their percentage of battery consumption. Consumption of both 24 hours and last 7 days are displayed. Uninstall any app which shows high usage of battery to check the overheating problem.
Learn More:
- How to Monitor Battery Performance on iOS 8/9
- How to Improve Battery Life for iPhone/iPad
* Turn Off iPhone Functions
Sometimes the problem of overheating is caused by some functions of the iPhone. Disabling the functions can solve the issue of device heating up.
- If you leave the Wi-fi enabled after leaving the internet zone, your phone can be heated. It always searches for new signals and may heat up the device.
- Bluetooth is also known to cause problems of overheating. They tend to search signals of nearby devices making the iPhone hot.
- The Location Services found in the Privacy option of iPhone Settings can be the culprit. It always tracks your location using GPS and consumes phone CPU making it overheat.
* Uninstall Recent Apps
Overheating can be caused by some apps that you installed recently. Check which apps you have downloaded in past few days and remove the suspicious ones. Then see if the problem continues. If you want to permanently erase unwanted apps from iPhone/iPad, just rely on this Coolmuster iOS Data Eraser.
Related: How to Uninstall Apps on iPhone/iPad
* Clean up Useless Junk Files
You should know that when you are using your iPhone to download files, watch videos, listen to music or simply transfer files, the corresponding cache files will also be generated and saved on your device. And the accumulation of these useless junk files will surely impede the operation of your device and lead to high temperature of your device. Therefore, it is of paramount importance to clean up useless junk files at regular times. Here, you can rely on this Coolmuster iOS Cleaner (Windows/Mac) software to easily clear unwanted files from iPhone.
Within 1-2-3 step, you can easily clean up your device with this software:
- Open the installed software on the computer and then get your iPhone connected to the computer via the USB cord. Choose the Phone Clean mode to continue.
- On the main interface, enter the right file tab to preview more detailed file information and then select the wanted files by ticking them out.
- Finally, click on the Clean option to clean up unwanted junk files from iPhone in one click.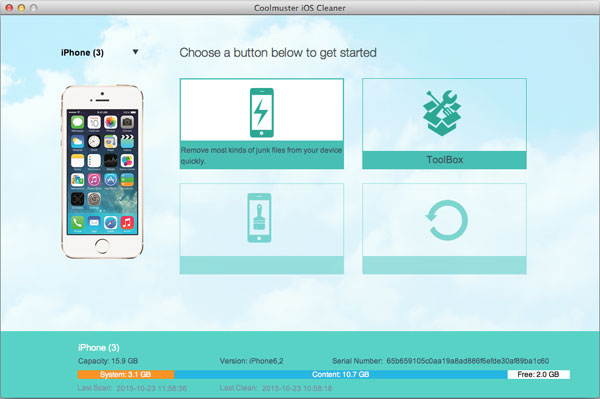 * Update the OS
Overheating issues of iPhone can sometimes be solved just by updating your iOS version to current one. Updates are released to fix bugs and problems and are known to take care of iPhone overheating.
Extra Bonus: General Tips to Fix Overheating iPhone
There are some tips you can abide by to stop your iPhone from overheating.
- Do not leave the phone in direct sunlight in exposed areas. It is better to keep them under shade and way from harsh sunlight.
- Sometime iPhones get hot during charging. Remove the charger and switch the power off on the wall outlet. Also use original charger all the time to keep your device safe.
- Do not play or engage in activities like watching videos for long hours. They eat up a lot of processor power and make your phone overheated.
Following the above tips will solve your problem of iPhone overheating. If it still persists, then you may need to wipe all data on iPhone and set it up again. Sometime the devices are faulty and should be taken to the service center if your phone is always hot.
Related Articles:
What if iTunes Can't Recognize Your iPhone?