Simple Guide on How to Delete iPod Backup
Hi, I get the error message "iTunes could not back up the iPod because the backup was corrupt or not compatible with the iPod. Delete the backup for this iPod, then try again." How do I delete the backup? Thanks. - From Apple Community
When you decide to give up your old iPod device, you need to ensure that all private data are also gone once and for all. And permanently deleing all data on iPod is not enough, you also need to fully erase all backups. Also, there are many other cases when you want to delete iPod backup due to various reasons, like the one mentioned in the above. So, here comes the problem - how do you delete iPod backup?
To remove iPod backups, you need to know whether the backup data is created through iTunes or iCloud or the computer, since the ways could vary to the different cases.
Solution: How to Easily Delete iPod Backup
1. Delete iPod Backup Created via iCloud
If you have already saved the backup data on iCloud, just follow the below tutorial:
- Open iPod and go to Settings app.
- Tap on iCloud and Storage option to go on.
- Select the backup you would like to delete.
- Tap on Delete Backup to begin the backup deleting process.
- Finally, just wait patiently for the process to get completed within a little while.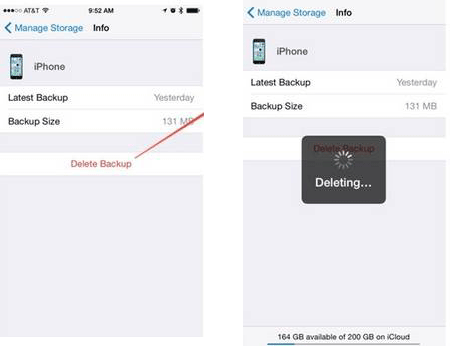 Related: How to Free up Storage on iCloud
2. Delete iPod Backup Created via iTunes/Computer
- Open iTunes on the computer.
- Go to iTunes > Preferences from the menu bar.
- Navigate to the Devices tab to preview the backups list.
- Select the right one and hit the Delete Backup option.
- On the promo dialogue, click on the OK option to confirm your action.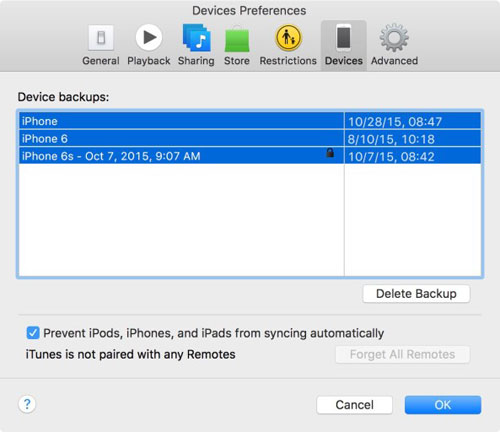 Words in The End:
As you can see, deleting backups created via iTunes or iCloud can be a little troublesome. So why not use a more professional data manager to backup iPod and make it easier to delete iPod backup? This all-in-one Coolmuster iOS to Computer Transfer (Windows/Mac) software allows you to easily back up all files to computer within 1-2-3 steps. And if you want to delete iPod backup, just navigate to the computer disk where your iPod backup is saved and delete them in one click.
Related Articles:
How to Easily Clean up iPod touch