How to Easily Manage iPod Photo Storage
Managing your photos and storage is a necessary evil. You really don't want to lose out on your memories and those hilarious memes you downloaded from 9gag. But you need to understand that the iPod doesn't have an unlimited storage option. So optimizing the memory and clearing the storage becomes very important.
Reasons for managing iPod storage may be:
Making space for more pictures so you don't end up being unable to click new ones when the time comes. This is important for proper functioning of your device. More the storage, the slower the processing becomes. The device space is not extendable unless you pay a hefty sum for the same. So if you're looking for a reasonable option, keep freeing up the storage from time to time.
Tutorial: How to Easily Manage iPod Photo Storage
Delete your pictures manually from time to time. You need to keep doing this so you can monitor the space availability by yourself. If you want to still keep these photos and they are important for you, just create a backup on your computer device or mobile device and then clear this stuff up from the iPod. There are many online tools available for compressing these files to a smaller Mb size so you can still keep the files but the size will be lesser so there's more space available.
Here, this Coolmuster iOS Cleaner for Mac software is a revolutionary tool for not only enhancing your iPod device performance but also clearing all the junk files that take up unnecessary space on your phone. So from temporary downloaded files to app caches, app crash logs, cookies, radio device history, iTunes history, you can clean all this up using a simple cleaning process. Moreover, you can also ensure your privacy on the apple device as this tool clear up all your browser history, call logs, caches and iOS notifications.
More than photos, it is the temporary files that take up your device storage. So in order to deal with this, the Coolmuster iOS cleaner will clear up all the temporary files, junk files, and caches and give you access to at least 40% of free space by just a single click. From private information to obsolete and old lying messages and notes, you can free them all from your memory using this simple tool that further enhances your device performance and speeds up your device.
Note: if you are Windows user, this Coolmuster iOS Cleaner is for you!
And this software is quite easy to use. All you need to do is wait patiently for the process to get completed within a little while:
- Open the installed software on the computer and then link your device to the computer via the USB cord.
- Different modes are arranged on the main interface for your inference. Choose the Quick Clean mode to continue the process.
- Now, all file folders are displayed and you can choose the files that you want to delete from your device. Then hit the Clean option to begin the data cleaning process as needed and wanted.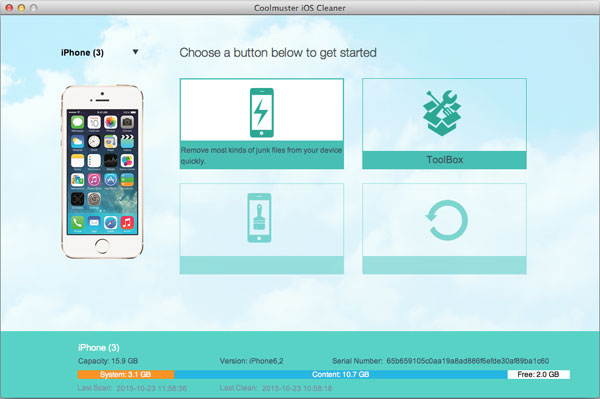 As mentioned before, in order to retain your precious files and photos, or videos and other files, you can also use a backup software to store these files on your computer device and that is made possible by the Coolmuster iOS Data Manager (Windows/Mac) software. This tool helps you view an organized list of your files in various formats and views and helps store all the old data on your computer device at just one click. Here are the steps for using this app.
Step 1: Install the software on your device.
Step 2: Connect your computer device to your iPod or iOS device.
Step 3: You will see a whole list of files and folders displayed on the computer screen and you can select the file type by selecting what you want by clicking on the left side of the screen.
There is also an option for searching the files directly on the top of the screen so you can just type in the file name on the search bar.
Step 4: After this, you can click on the export button.
Related Articles:
How to Delete Facebook Messages on iPhone