How to Copy Apps between two LG Phones?
If an individual changes ownership from one LG device to another, one of the first things that they may need to do is look for the best ways to transfer their apps to new LG device. By using an easy solution to transfer an app, the owner of the phone will not be required to spend a lot of extra time reinstalling apps and recovering the information that has already been entered in. For instance, some people may lose the information that they have entered for their personal profiles and they will have to recreate it from the beginning again. Another reason for transferring apps between LG phones is when an app is being recommended for a specific purpose. This recommendation may be from a friend, family member and even a co-worker. So, to make it easy, they will simply share the app that has already been installed.
Even though transferring apps from one LG to another LG is done everyday, most people may not know the actual process until they have been given the right instructions or the best software tools to get it done efficiently without experiencing problems. To make things easy, a simple transfer tool named Coolmuster Mobile Transfer (Windows) or Coolmuster Mobile Transfer for Mac is highly recommended to transfer apps between LG Android phones, no matter the apps are social type, working-assistant type, or game type. You can easily have these applications copied to your destination LG phone once you purchased Mobile Transfer and follow the instructions carefully. In addition, it also enables you to transfer contacts, photos, videos, music, eBooks and more between different OS like iOS, Android and Symbian.
How to use Coolmuster Mobile Transfer to share apps between two LG phones like LG Optimus, LG G2, LG G3, LG G4, etc.? In the below instruction, we will take Mobile Transfer for Mac as example to show you how to sync apps in between LG devices.
Easy & Safe App Transfer between LG and LG (LG G2/G3/G4/Optimus)
Step 1. Launch Mobile Transfer on your computer
After you have downloaded and installed Mobile Transfer for Mac on your Mac computer, launch it. You will see the main interface of Mobile Transfer for Mac as below. You should select "Phone to Phone Transfer" among the 4 modes available.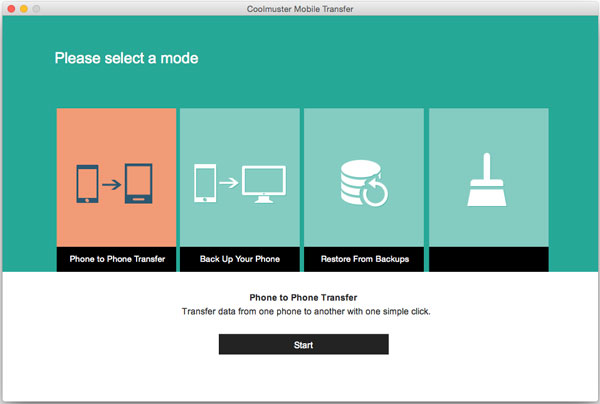 Step 2: Connect two LG phones to the Mac
You will be asked to connect both your old and new LG devices to the computer with USB cable. With few seconds, those two Android phones will be detected and listed in the interface. Transferable data is also categorized on the top.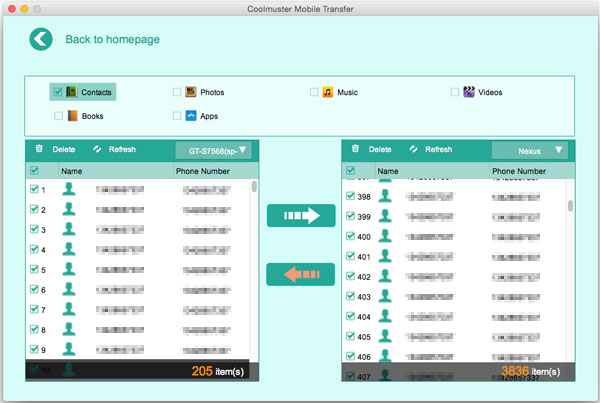 Step 3. Copy apps between two LG phones
Apart from copying apps, you can also transfer data like contacts, eBooks, music, videos and photos between the two phones. Choose all the data that you want and after finishing it, click the left or right arrow and within few seconds, all your LG apps are saved successfully in your new LG phone.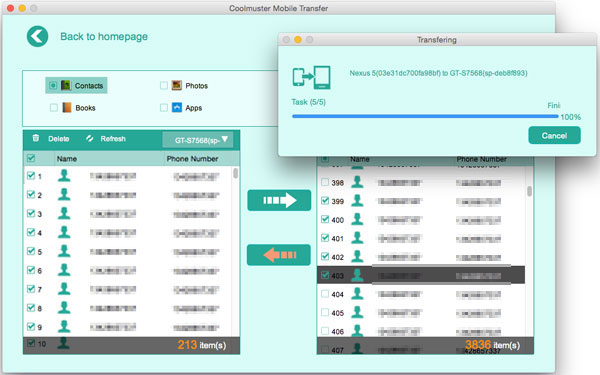 Note: To avoid losing data, you can backup LG data to computer frequently with the Backup & Restore function provided by Mobile Transfer.
Related Articles:
Transfer Content from iPhone to Nexus 6