How to Copy Contacts/SMS from Sony to HTC?
Over the years, mobiles phones have become a big part of everyday life. Most people will not depart from their homes without their wallet, car keys and their mobile phones. All of which are items that they will need to assist them throughout the day. While the mobile phone may have been a luxury for the first group of people who purchased them, this is not the case for people today. This is because people are currently using these mobile devices for all kinds of essential activities. Therefore, they are not only attached to the hip of people all over the U.S. and around the globe, they are a necessary convenience for both business and personal needs. With this being the case, people who change from one mobile phone to another must have a plan to make the switch.
The switch includes copying contacts and SMS messages from your old phone to the new phone. In this article, we will set Sony and HTC phones as example, telling you how to use Sony to HTC Transfer to copy contacts and text messages from Sony Xperia Z5/Z4/Z3 to HTC One M8/M9/Desire. Of course we only list some certain phone models from Sony and HTC, actually Mobile Transfer can works with all devices running with Android OS. Coolmuster Mobile Transfer is a application that people can use to transfer files from one mobile device to another, including contacts, SMS, photos, videos, music, apps and so on. It can also backup and restore HTC and Sony phones, which is quite useful if you are worry about losing data from your phone.
Read More:
* Transfer Text Messages between HTC and iPhone
* How to Transfer Data from HTC to Samsung?
As I mentioned above, Sony to HTC Transfer is not only a phone to phone transfer, but also a backup & restore tool to transfer your phone data to computer for backup, and restore the backup files back to your phone. Are you interested in this powerful program? Just click the following download button to try out this program for free.
Guide to Transfer Contacts & Text Messages from Sony to HTC
Step 1. Connect Sony and HTC phones to computer
Download and then Launch Sony to HTC Transfer on your PC or Mac machine. Connect both Sony and HTC devices to the machine via USB cables. Once these cables have been connected, the user will see the primary interface displayed in picture format.
Step 2: Enter Phone to Phone Transfer
From the primary interface, the user should click on the icon and the message below that says "Phone to Phone Transfer". After selecting this icon, the user will see a new window opened that gives them several options for transferring files, which includes Contacts, Photos, Music, Videos, Apps, eBooks, Apps, etc.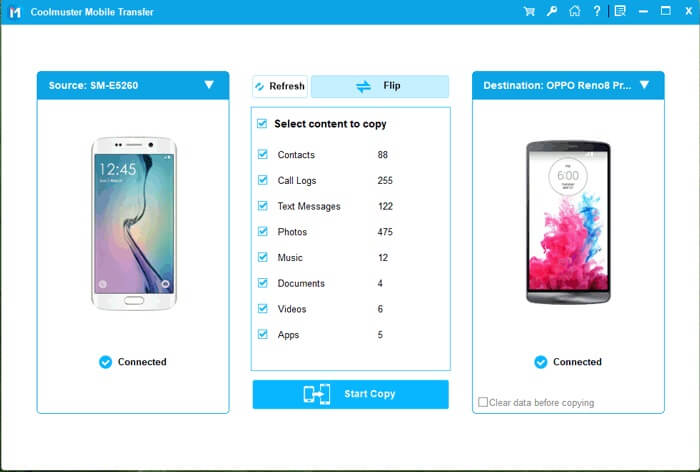 Step 3. Transfer contacts and SMS from Sony to HTC
The user should select the files that they want to transfer by selecting each type (i.e. contacts and SMS). When the selections have been completed, the transfer process can be initiated by clicking on the transfer arrow.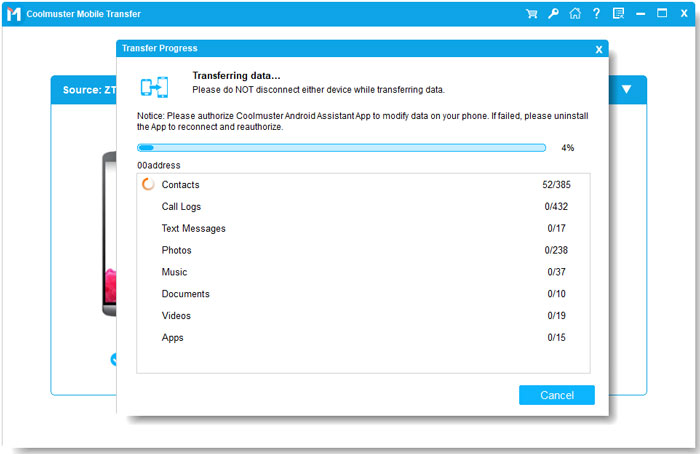 Related Articles: