How to Copy Files between LG and Samsung S8/S7?
Besides iOS, Android phones own the most market share in the mobile phone market. Actually since its inception, it attracts more and more people's eyes because of its unique characteristics. Android phones are everywhere, such as Samsung, HTC, LG, Sony, Huawei and so forth. However, when it comes to transfer data from one Android phone to another one, it may make some users puzzled, especially for contacts, text messages and some other large sized files like videos and videos. Today, we would like to introduce you an alternative to Wi-Fi and Bluetooth functions - the simplest solution to transfer files from Android to Android directly, which set LG and Samsung as examples.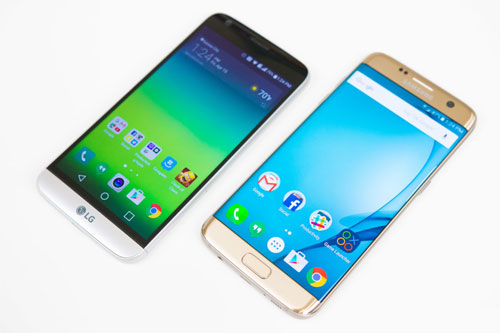 Have you decided to purchase a new Samsung Galaxy S8 and give away your old LG phone? If so, you'd better read the following guide in case of losing your important files on your LG device.
Part 1. Best Way to Copy Files from LG G6 to Samsung Galaxy S8
Part 2. How to transfer LG Data to Samsung Galaxy S8 with 1-Click
Part 1. Best Way to Copy Files from LG G6 to Samsung Galaxy S8
Samsung and LG phones are both equipped with Android system. The fastest way to copy files between the two phones are using professional transfer software. Coolmuster Mobile Transfer (Windows) or Mobile Transfer for Mac is specially used for transferring files between Android and Android, Android and iOS, Android and Symbian and iOS and Symbian.
Let's learn the main features of Mobile Transfer:
Everything can be transferred by the program, including text messages, call history, e-books, contacts, photos, music, videos etc.. Apart from this, Coolmuster Mobile Transfer can backup all of your data including your media, files, apps, SMS and contacts in just a few clicks and gives you the option to restore from your backups. Using the Mobile Transfer makes life so much simpler, preserving files without their original quality during and after the transfer.
Just a few clicks ensures that you can transfer data easily and save all your precious files, so that they never get lost. Before you read the guide, you can click the following button to download the Mobile Transfer first.
Read Also:
Copy Data from iPhone 7 to Samsung Galaxy S8
Copy Contacts from LG to Google Nexus
Part 2. How to transfer LG Data to Samsung Galaxy S8/S7 with 1-Click
Step 1. Open Mobile Transfer and connect your phone
After downloading and installing, launch the Coolmuster Mobile Transfer on your computer and connect your Samsung and LG phones to the same computer. The transferring program will show the two phones and all your files in the window.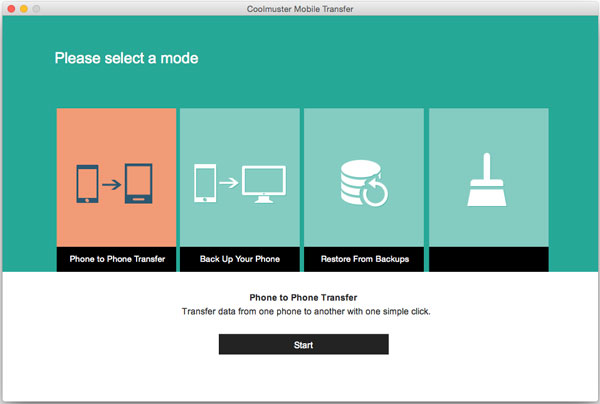 Step 2: Select your wanted data to transfer
Select the files you want to transfer. You can choose to transfer contacts, text messages, photos, videos, music and call history by using this program. Just tick the box in front of the files you want to transfer.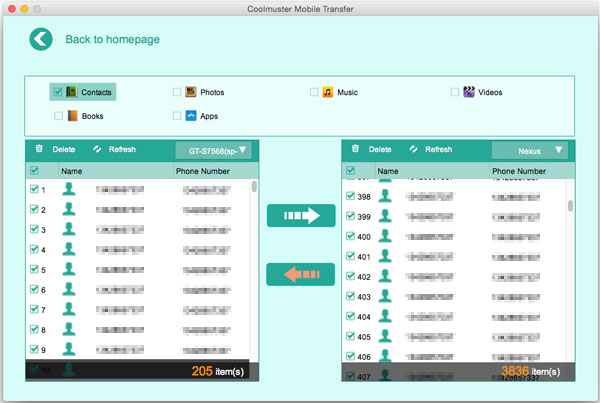 Step 3.Transfer data between LG and Samsung S8/S7
Finally, click direction key to begin the transfer. A dialog comes out to show you how many files will be transferred and a progress bar tells you how much data has been transferred. Please do not disconnect the two phones while transferring.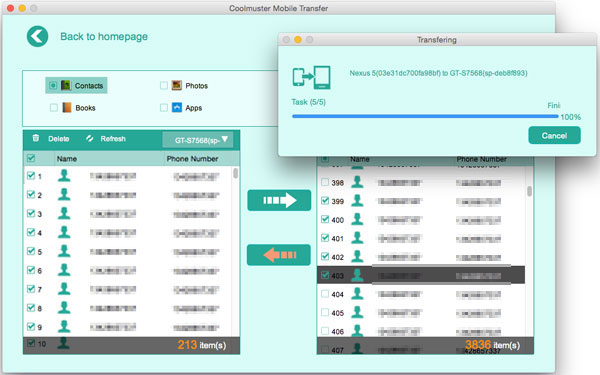 That is the easiest way I can figure out to transfer data between LG and Samsung phones, you may also want to use it to transfer files between more devices, it will be full of fun.
Related Articles:
Data Transfer from HTC to Samsung