How to Copy Motorola Text Messages to LG Phone?
There are many reasons for the SMS transfer between a Motorola phone and a LG phone. For example, if your Motorola phone starts showing any signs of malfunction, for example freezing or virus detection, and wish to take it for a repair service, you may transfer your important data, such as text messages to your other device like LG mobile phone. Or, if you would like to maintain an accurate record of your text messages, between your business and personal phone, you may need to transfer the messages from the Motorola to the LG phone.
Although more and more people have the need to perform data transfer between two mobile phones, few people know how to make the transfer easy, especially when they encounter different problems during the transferring process. Well, it is time that you got data transfer software. There are some of them on the market, for example, Motorola to LG Transfer, among many others. They are third-party solutions to any mobile data transfer. It is regarded as the best and easiest to use phone to phone data transfer tool, which has the following features:
* Transfer contacts, SMS, photo, videos, music, apps and more from Motorola Moto X/Moto G/Atrix/Charm/Droid to LG G2/G3/G4/G5/Optimus, and vice versa. All major LG and Motorola smartphone are supported;
* Allows for backing up of content and restoration any time. You can back up just any file; contacts, SMS, audio files, photo, videos, apps whenever you need;
* Support overall Android, iOS and Symbian devices, including Samsung, HTC, Google, iPhone, iPad, Nokia and so forth.
Are you interested in:
Data Transfer between Samsung and Nexus
Data Transfer between Sony and Motorola
This program is easy to handle. All what you need to do is just connecting your LG and Motorola phones to computer and the rest job can be done by the program in minutes. Now, you can click the following buttons to download and install the Mobile Transfer to get ready.
Easy Way to Copy Text Messages from Motorola to LG G5/G4/G3
Step 1. Open Motorola to LG Transfer
After installing the software, connect both phones using USB cables simultaneously. Launch the program and the primary interface automatically pop-ups.
Step 2: Click on Phone to Phone Transfer
Select the Phone to Phone Transfer on the primary interface. You automatically enter a new window displaying all transferable files; photos, videos, contacts, SMS and apps among others. Highlight the "SMS" category.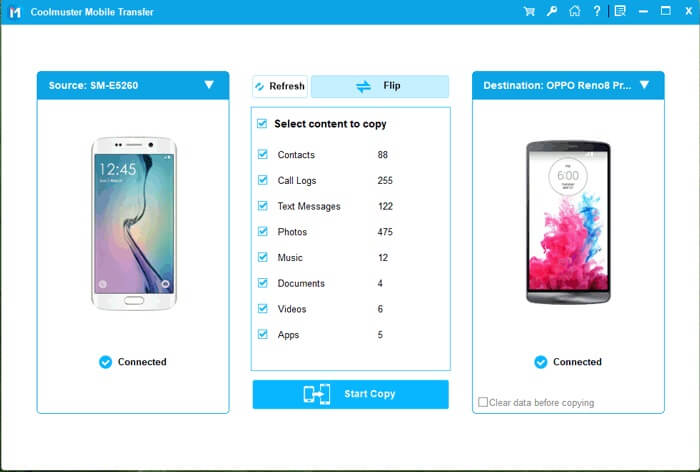 Step 3. Begin the transfer selectively
Select the text messages you wish to transfer from the Motorola phone. Click on the Start Transfer button to start the transfer. The process starts automatically, with a progress bar showing what is being transferred. Upon completion, a dialog box pops up to show you the success of the process.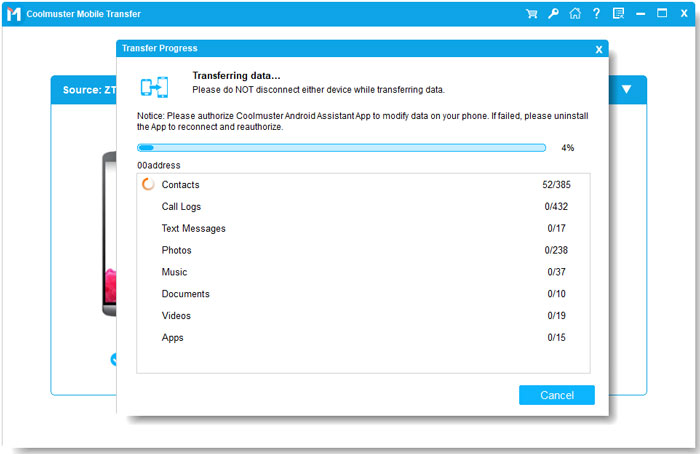 By the way, you can also use the Coolmuster Android Assistant to copy text messages from Motorola to LG.
Related Articles:
How to Copy Apps between Two Sony Devices