Nokia to Ericsson: How to Copy Nokia Calendar to Ericsson?
Smartphones have become very affordable today therefore you will find users having two or more devices at one. This is usually brought about by different deals offered by mobile network providers therefore ensuring that the smartphone owner is able save. Apart from that, you will find that people will want to have two or more smartphones in order to separate personal contacts and business contacts. This helps to ensure that one can switch off one smartphone especially the business one in the evening while at home relaxing. The other one with personal contacts will be on therefore allowing family member to contact them in case of emergency. In such a case, you will find smartphone users transferring calendar details between Nokia and Sony Ericsson or Xperia smartphones in order to have a back up and easy access.
There are various methods available on the web for you to move data between Nokia and Sony phones, but the task of changing calendar events from your Nokia phone to the new Sony Ericsson phone unquestionably will make you upset. Don't panic! A professional Nokia to Ericsson data transfer program named Nokia to Sony Transfer can sweep away your worry with only one click. Not only copy calendar from Symbian Nokia to Sony Ericsson, in addition, it also provides the help of moving contacts, text messages, music, videos, apps, photos and more between two mobile devices, even if they are the different carriers and manufacturers.
Quick Guide on How to Copy Calendar from Nokia to Sony Ericsson/Xperia
Nokia to Sony Transfer is compatible with Apple, HTC, Samsung, Nokia, Motorola, LG, HTC and ZTE devices. There are the basic steps about copying nokia phone calendar to Sony Ericsson below and the trial version of the transfer program is free to download. Now, let's start to learn how to transfer calendar from Nokia to Ericsson via Nokia to Sony Transfer.
Step 1. Install and open the Nokia to Ericsson transfer program
Once you have installed the Nokia to Sony Transfer, you need to launch it from the desktop by double clicking on the icon. In order to transfer calendar details between a Nokia and Sony smartphone, you need to select the Phone to Phone Transfer mode.
Step 2. Connect your Nokia and Sony phones to computer
Connect both smartphones on the computer via the respective USB cables. When activated, both smartphones will be displayed on the program interface left and right panels. At the same time, different categories of your phone data will be available.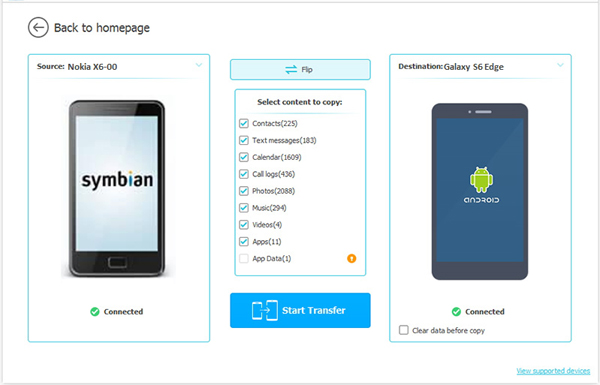 Step 3: Copy Nokia calendar to Ericsson immediately
Select data and then click on Start Transfer to begin the process. Here, you should choose "Calendar" option only and uncheck other file types. Once the transfer process is complete, exit the application as you like.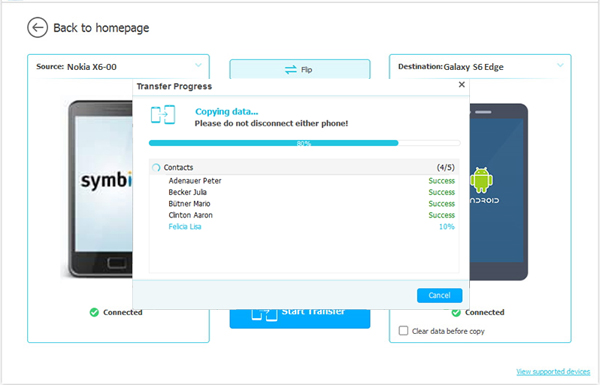 Nokia to Sony Transfer is really helpful for you to switch Nokia calendar to Sony phone directly and easily with zero quality loss. Just free download and give it a try. The Nokia to Sony data transfer tool will never let you down.
Related Articles: