How to Copy Photos from Google Nexus to Samsung?
Nowadays, Samsung is obviously the most popular Android smartphone manufacturer. More and more users choose to buy a Samsung phone to take place of their own phone. If you have recently moved on to a Samsung phone, there could be a few hitches while transferring photos or for that matter data from your old phone to the new Samsung one. You can use Samsung's Smart Switch app, with which the process is much quicker and simpler. All you need to do is install the app in your Samsung smart phone as well as the Google Nexus device and press Export to Galaxy Device, from the source device. While you do so, you would need to keep the app open in both the devices. Now select the data and hit transfer. Transfer time will depend on the size of the photos you are transferring.
However, Smart Switch has some compatibility issues and only support a few Nexus models. Certainly you can copy and paste your Nexus phone data to Samsung mobile one by one manually, but it is troublesome and time-wasting. To cater for the above mentioned problems, Coolmuster Mobile Transfer or Coolmuster Mobile Transfer for Mac was developed. It is an easy to use tool that can be downloaded and installed on PC and Mac. It lets you transfer not only photos, but also videos, contacts, SMS, call logs, notes, calendar, music and more between Google Nexus 10/9/7/6/5/4/3 and Samsung Galaxy S7/S6/S5/S4/Note 5/4/3. You can also back up your files in Mac and you can choose the ones you wish to. In the worst case scenario, where you lose your data, you can always restore the data through your backups without breaking much sweat.
Mobile Transfer also supports other Android devices, as well as Apple devices like iPhone, iPad and Symbian Nokia. To transfer photos from Nexus phone to Samsung using Coolmuster Mobile Transfer, proceed as follows:
Transferring Pictures/Photos from Google Nexus to Samsung Galaxy
Step 1. Run the Nexus to Samsung transfer tool
Download the Mobile Transfer program and install it on your laptop or computer. Use two USB cables to attach both of your Nexus and Samsung phones to the computer or laptop that you just installed the program.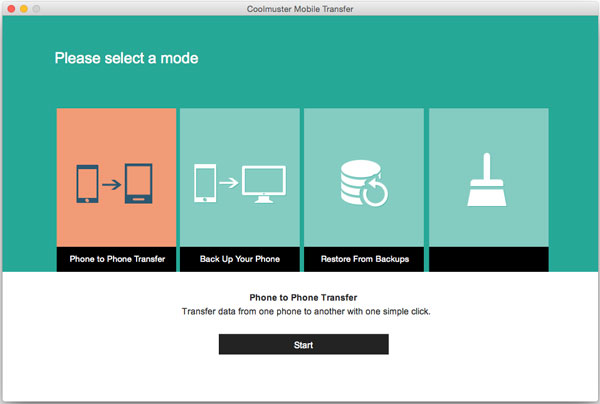 Step 2. Enter phone to phone transfer window
Once you run the Mobile Transfer, you will see its screen with several different modes listed here. Just choose the "Phone to Phone Transfer" option and the program will display both of the two devices after detecting them.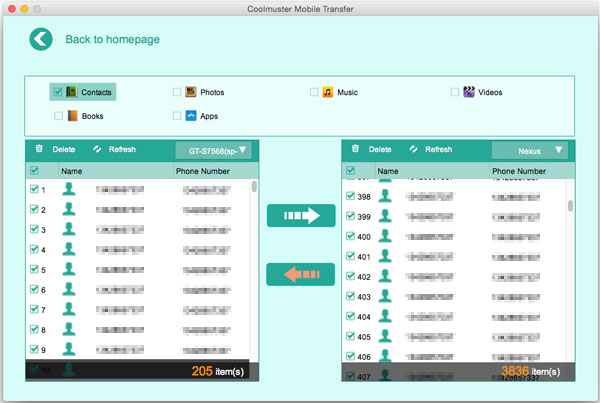 Step 3. Copy photos from Nexus to Samsung
Notice that the menu above the two devices show the files to be transferred. Check the item "Photos" you want to transfer and click the right arrow or left arrow to transfer the files. A menu will appear showing the progress of the transfer.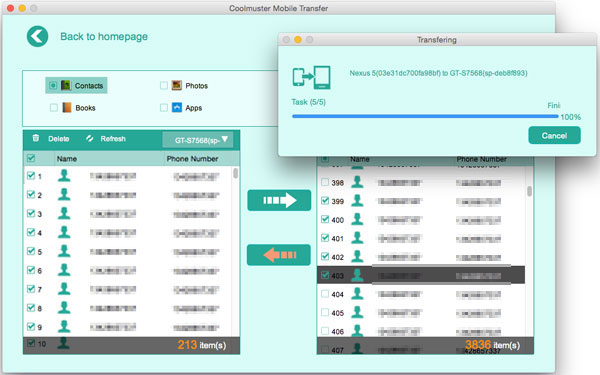 Now, after the transfer is done, connect your new device to the computer and back your files up. All the files will be scanned and backed. You can choose to backup specific files or the entire data.
Related Articles:
How to Transfer SMS between LG and iPhone