Copy Photos/Videos from Motorola to iPhone X/8/8 Plus/7/6S/6

Just because someone has media files on their Motorola phones for a long time, this may not be the only place that they need to be stored. For example, you buy a new iPhone 8/8 Plus, to replace their Motorola phone so they will need to transfer all of their media files to the new iPhone so that they will not lose anything that they want to keep. Or, you may want to keep a copy of their media files on iPhone so that they will have a duplicate copy of all of their photos and videos. There are more other reasons for transferring photos and videos from Motorola to iPhone.
But here comes the question: How to perform the media transfer between the two phones? We all know that Motorola and iPhone are running different operating systems - Android and iOS. Well, don't worry about the complex transmission process, you will find it easy to accomplish the transfer with the help of an easy-to-use program - Motorola to iPhone Transfer. It is a powerful phone to phone transfer tool that allows you to:
1) Copy and paste media files, including photos, videos, music and apps from Motorola Droid, Atrix, Moto X, etc. to iPhone X/8 Plus/8/7/7 Plus/6S/6/5S/5.
2) You can transfer contacts and text messages between any two phones effortlessly.
3) Enables you to transfer files from phone to computer for backup, and even restore your phone from computer.
Media Transfer from iPhone to Google Nexus
Data Transfer from Old Android to Galaxy S8
With one click, you can successfully clone media files you selected on your Motorola phone to your iPhone. Below is the tutorial about how to copy photos and videos from Motorola to iPhone by using Motorola to iPhone Transfer.
How to Transfer Photos/Videos from Motorola to iPhone X/8/8 Plus/7/6S/6?
Step 1. Connect Motorola and iPhone to computer
Download the Mobile Transfer from the links above, and install it to get ready. Connect 2 USB cables to each device (Motorola phone and iPhone) and their desktop or laptop computers. Launch Mobile Transfer and choose "Phone to Phone Transfer" option from the primary interface.
Step 2. Preview files before transfer
When each device has been connected properly to the desktop computer and the laptop, they will see a screen that shows all of the files that can be transferred (i.e.text messages, contacts, media files and etc.) and option that allows the user to initiate the transfer.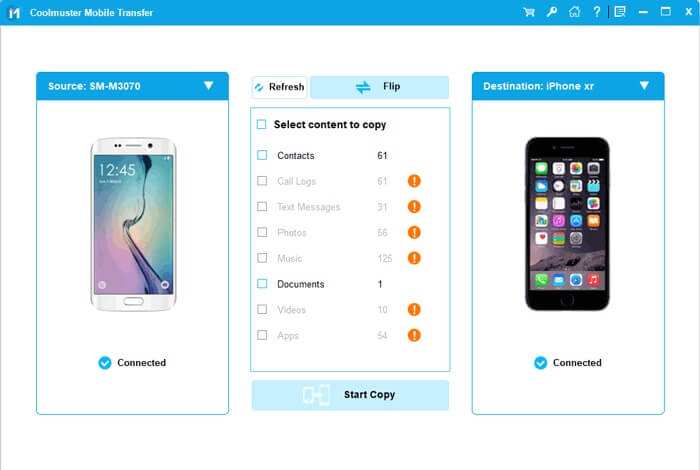 Step 3. Copy photos/videos from Motorola to iPhone
Tick off the Photos and Videos categories if you only need to transfer photos and video files from Motorola to iPhone. To initiate the transfer process, you can click the Start Transfer button in the middle of the interface.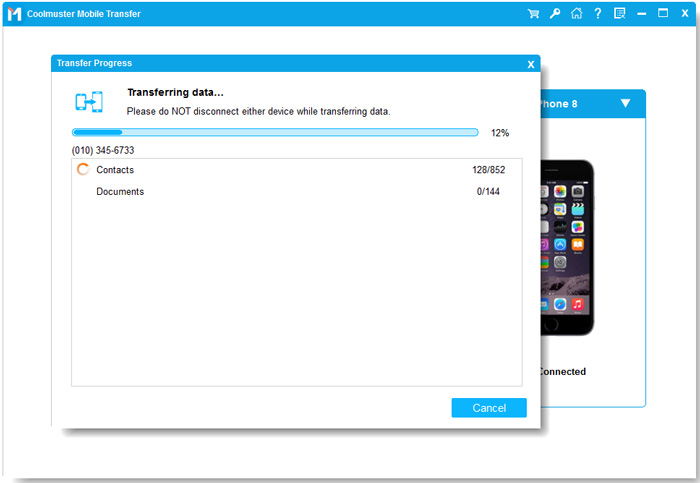 When transfer completed, you can eject the two phones from the computer and check the transferred photos and videos in your iPhone.
Add a comment