Data Transfer between Two LG Phones (Optimus G2/G3/G4)
Thanks to various useful components in a smart phone, users are able to capture photos, videos, save contacts and receive text messages from friends with a small phone. Data and information is important but as you continue adding more to your device, the storage capacity will reduce. If you have owned two LG phones at the same time, you can transfer something from one LG phone to the other in order to reduce the storage burden. However, if the two phones are not compatible, users will opt to transfer the data and information from one LG phone to the computer, then transfer the same data to another LG device from the computer. This is quite time consuming as you will have to plug-in, unplug, connect again and then transfer.
Why not finish the transferring task through the help from an additional tool? Here, we introduce an overall phone to phone transfer program helping you move everything when you switch from one phone to another. The Coolmuster Mobile Transfer (Windows) or Mobile Transfer for Mac features with the magic power to transfer phone data, including contacts, photos, videos, SMS, music, ebooks, apps and others from one phone to another, no matter they are running Android, iOS or Symbian. You can also use this tool to backup content from your phone to computer with ease therefore preventing data loss in case your device becomes damaged. All this is achievable through a one-click transfer process. You can restore the backed up data to another device.
This article aims to solve the problem of transferring files from LG to LG by using this Coolmuster Mobile Transfer. Please be patient and take some minutes to read the following guide. Let's start with the Mac version of the software.
How to Move Data from Old LG Phone to New LG Phone?
Step 1. Launch the best phone to phone transfer tool
Download the LG to LG data transfer program - Coolmuster Mobile Transfer, and install it. After installation, run it. Then, you can see the primary interface like below. Four different modes are displayed here. Choose "Phone to Phone Transfer" and click "Start" button to move to the next step.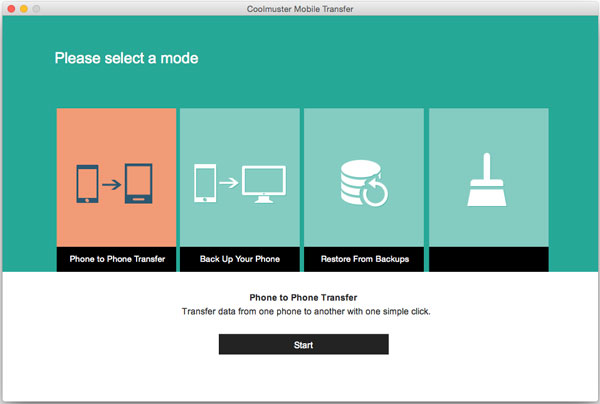 Step 2: Connect your two LG phones to the computer
Connect the two LG phones you need to transfer with the Mac via two USB cables. Mobile Transfer for Mac will detect them automatically and show them on the interface, one on the left and the other on the right. Categories of the transferable files are listed on the top menu for your selection.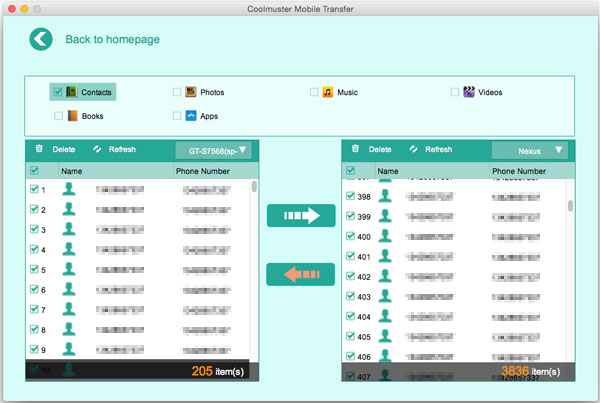 Step 3.Transfer phone data from LG to LG
You can open these categories like "Photos", "Videos", "Music", "Contacts", "Apps" and "Books", choose to whether copy all or part of your phone data and mark them one by one. Finally, start the transfer process by clicking the left or right arrow.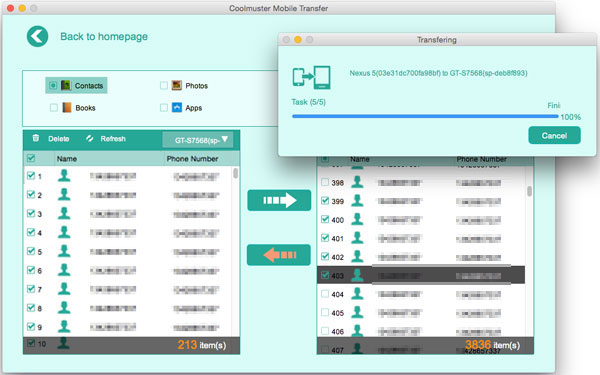 See? It is the most convenient way to transfer data between two mobile devices. You can copy all the contents freely and safely with zero quality loss.
Related Articles:
Transfer Contacts from Samsung Galaxy S4 to S5