Guide for Data Transfer between Samsung and Nexus
Samsung Galaxy and Google Nexus are two of the most popular smartphone series today. Many people switch phones between the two brands, or have both of them at the same time. Therefore, more and more users will need to transfer data from Samsung to Nexus, or from Nexus to Samsung. You will not find any means to directly move files from phone to phone. Maybe you try to sync the calendar on both phones. But there is no way to do it. Also files do not match and the events on calendar are missing. Other data types are not either transferable or there are errors while trying.
You wouldn't really want to spend hours transferring data. Plus, what if the data gets corrupted? This is why you need a reliable option so that all the data you need remains safe always. And one of the perfect ways to do it is to store it over another software in your PC. The best software to transfer any type of content from phone to phone is now available. And Coolmuster Mobile Transfer (Windows) or Coolmuster Mobile Transfer for Mac does exactly that. It is able to:
* Transfer seamlessly between Android to Android and soon between Android and iOS, Android and Symbian, iOS and Symbian to and fro without restrictions.
* Easy to use software with simple steps to transfer contacts, SMS, photos, videos, music, apps, etc..
* Backup all your important data and entertainment files directly on a computer.
* Use the backup files to restore your phone when any accident occurs.
* Erase phones professionally with the data being destroyed beyond any recovery.
Learn More:
How to Transfer Photos from Nokia to Samsung Galaxy S5?
How to Transfer Text Messages from Android to Android?
Then, how to use Coolmuster Mobile Transfer to transfer data between Nexus 10/9/7/6/5/4 and Samsung Galaxy S7/S6/S5/S4/Note 5/4/3? Here is how you can use this program to do its full effect, in a few easy steps.
How to Transfer Samsung Files to/from Nexus Phone?
Step 1. Launch Coolmuster Mobile Transfer
Download the program and install it to your laptop or computer. Using two USB cables to attach both of your Samsung and Nexus phones to the computer. Launch the program and you will see a screen similar to the picture shown below: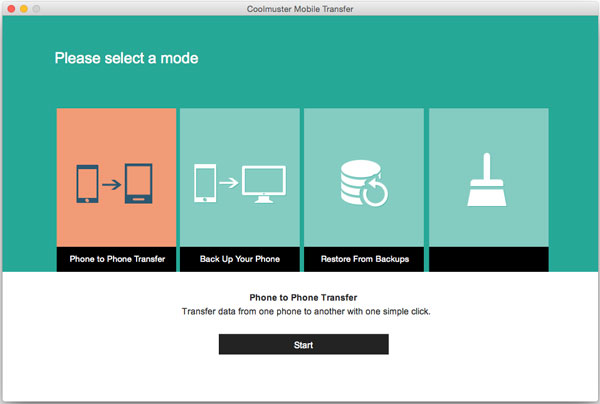 Step 2: Open Transfer Page
There will be several modes listed on the screen, choose "Phone to Phone Transfer" and the program will display both of your phones after detecting them. The top line of the program window shows the content type you can share between the phones.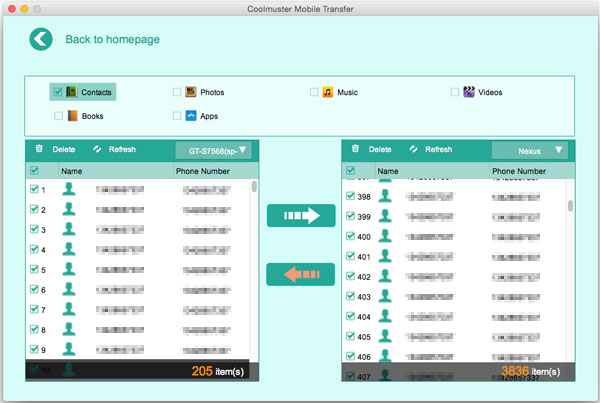 Step 3. Begin the Transfer
Select the files you want to transfer by checking or unchecking the boxes as per your requirement. For example, if you select to transfer music, then you can choose which songs to transfer or just move the whole directory. After that, you should click the right or left arrow to begin the transfer.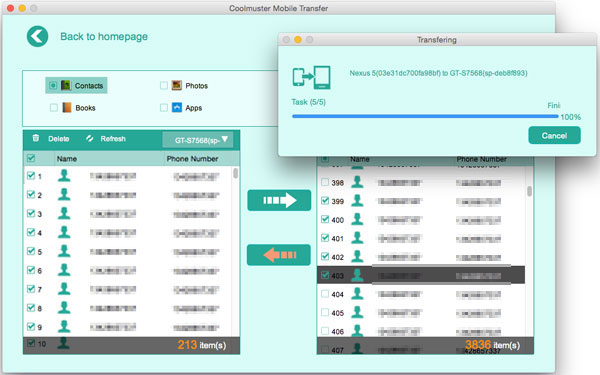 You have to click OK again to confirm the action on the pop up dialog box. That's all that you need to do.
Related Articles:
How to Copy Apps between Two Sony Devices