Data Transfer between Samsung and Sony
You've bought a new Samsung phone, but your old Sony phone, has your client list and the presentation your boss sent you last week. When you buy a new phone, the first thing that comes to your mind is, transferring all your data from your old phone into your new one. You want to make sure you don't lose your highly valuable data because you have a new phone now. Various problems are encountered during transfer of data. The media card may not be recognized by the new phone, or the system of the new phone maybe incompatible with your old phone.
Coolmuster Mobile Transfer (Windows) or Mobile Transfer for Mac, is an app that facilitates in the transfer of content between two phones by a simple click, whether they run with iOS, Blackberry, Symbian or Android. Nearly everything, from text messages, call history, e-books, contacts, photos, music, videos etc can be transferred from phone to phone very easily. One of the key features of Coolmuster Mobile Transfer is that it lets you take a backup of your phone to your computer and then lets you restore it back to your device at your convenience.
Coolmuster Mobile Transfer can make the entire process a lot easier when it comes to transferring data between two of your devices and all it requires is a few clicks to get the job done. A 3-step guide of using Coolmuster Mobile Transfer written in the below to show you how to transfer you data between Samsung Galaxy S6/S5/S4/Note 4/3/2 and Sony Xperia Z5/Z4/Z3 without a hassle.
How to Copy Data between Samsung Galaxy S6/S5 and Sony Xperia?
Step 1. Open Mobile Transfer and connect your phone
Launch the pre-downloaded Coolmuster Mobile Transfer on your computer. Connect your old phone and new phone, here the Samsung and Sony phones, to the computer with the help of two USB cables.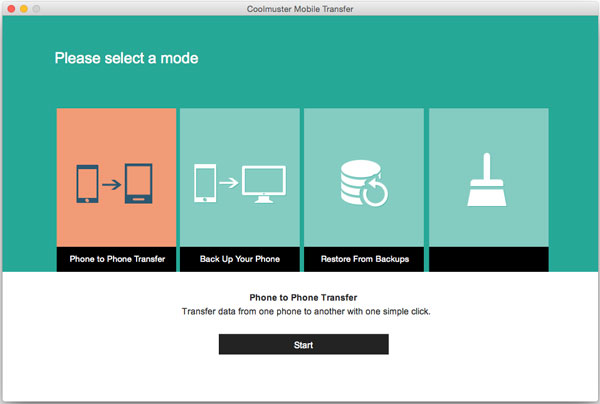 Step 2: Choose Phone to Phone Transfer
Once you launch the Mobile Transfer, different options will be provided to you. Select the option "Phone to Phone Transfer" and you will be directed to a new window, with your two phones and all files for transfer.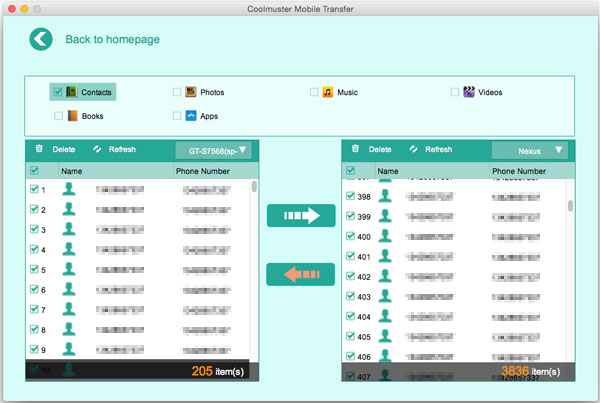 Step 3.Transfer data between Samsung and Sony
Select the file types to be transferred, namely "Photos", "Videos", "Music", "Contacts", "Apps", "SMS", "Call Logs", "Books", etc., then, click direction key to begin the transfer.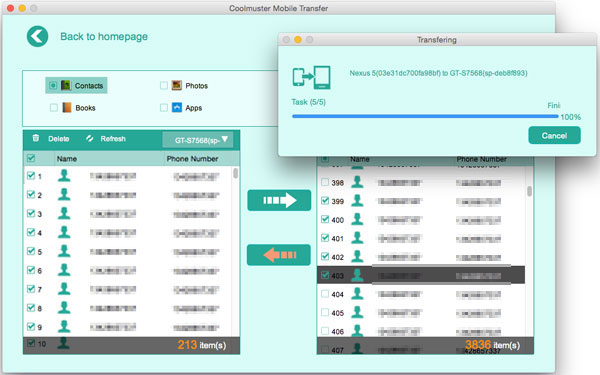 A progress bar will show the amount of data transferred. Above are all what you need to do to complete the transfer easily.
Related Articles:
Data Transfer from HTC to Samsung