When switching from an old Motorola phone to a new one, you need to transfer your valuable data from the old phone to the new phone, too. There are those apps that help us in our daily lives and leaving them behind is hard, especially when they are in an old phone. Such apps have very important files and precious documents that we wish to share over phones. However, there are some problems cannot be ignored when performing the Motorola apps transfer, battery drain is one of those. This is caused by apps that need updates when being transferred from one phone to another. The apps start by downloading rogue stacks of data in the background therefore affecting the battery life of the phone.
Phone peripheral manufacturers have therefore come up with many tools that makes migrating and backing up of files easy. A good example is the Coolmuster Mobile Transfer. This is an app that helps in file transfer between phones through Windows and Mac platforms safe and sound. This is irrespective of the phones' operating system, be it Android, iOS, Symbian or Blackberry. You can transfer almost anything for example, contacts, SMS, music, photos, eBooks, videos, apps and many more. In addition, Mobile Transfer enables users to create a backup on computer and restore data in their phones whenever they want. Here, you can selectively move all their important content to computer for backup and recover them anytime when the phone data is lost.
Coolmuster Mobile Transfer is fully compatible with all Motorola phones, such as Motorola Atrix/Charm/Droid, etc.. Now, it comes with free trial version for users to have a try before purchasing. However, for those intending to use the trial version, there are only 5 items that can be transferred. You need to get the full version in order to transfer additional items between phones. Ok, follow us to see how to export apps from old Motorola to new one with Coolmuster Mobile Transfer.
Share Motorola Apps with Another Motorola (Motorola Atrix/Charm/Droid)
Step 1. Open Mobile Transfer and connect your devices
Upon installing the Coolmuster Mobile Transfer on your computer, launch it and connect both the old and new Motorola phones to the computer using USB cables simultaneously. A primary interface of the program will pop up.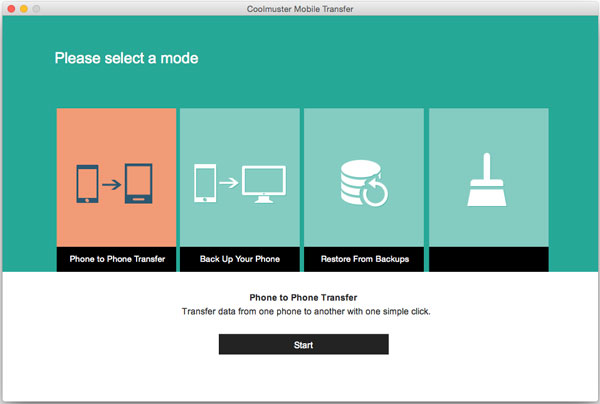 Step 2: Click on "Phone to Phone Transfer"
On the main interface, there are 4 different options. Select "Phone to Phone Transfer" where new window pops up with your two devices and files that can be transferred for example, Music, Contacts, Apps, Photos, etc. are displayed.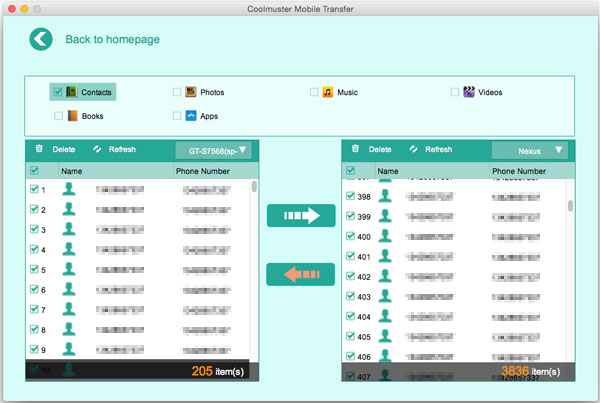 Step 3. Begin the apps transfer between two Motorola phones
Select the "Apps" you want to be transferred from the top line. Proceed to clicking the left or right arrow to start the selected apps transfer. Choose "OK" on the prompt dialogue box to start automatic file transfer and progress on how much data has been transferred will be shown.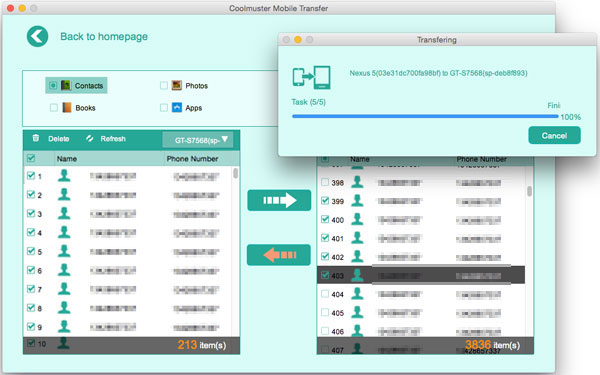 With a neat UI and practical features, you must be interested in the Coolmuster Mobile Transfer. Now, you can start to transfer data from old phone to new phone with this app.
Final Words
Using Coolmuster Mobile Transfer, you can transfer your apps from old Motorola phone to the new one at once. Thus, you can enjoy your new mobile phone without any hassle.
Related Articles:
Transfer Content from iPhone to Nexus 6
Transfer SMS between LG and iPhone
5 Easy Ways on How to Transfer Photos from iPhone to Huawei