How to Export LG Photos, Videos & Music to Another LG Phone?
Mobile devices have become affordable over the years therefore allowing users to possess more than one mobile phone at the same time. In order to ensure that you don't lose your photos, music and videos on your LG smartphone, you can transfer them to another LG device to act as a backup. You can browse the internet and get to download photos, videos and music on your LG phone, and there are times when people download funny memos as well as take videos of their cats doing something funny. One can share the content with others users who have LG devices, too. However, the phones may be incompatible in terms of hardware where one may be having an older version of Bluetooth or may using NFC only. This will prevent the phones from detecting each other.
If you are looking for a third party app that will allow you to transfer content between LG phones with ease, then you need to use the Coolmuster Mobile Transfer or Mobile Transfer for Mac application. This is a program developed to help users transfer content, such as photos, videos, music, apps, contacts, as well as eBooks, from the device whether old or new to another device via a Windows or Mac computer. Using the application, you don't have to worry about data loss as you can selectively transfer the content you want. In addition to LG Android phones, it also supports over 2000 plus devices running Apple, Android, Symbian and Blackberry OSes. Brands supported include Samsung, HTC, LG, Motorola, Sony, Huawei and ZTE among others.
3-step guide of how to use the Coolmuster Mobile Transfer to transfer photos, videos and music between two LG phones, including LG Optimus/G2/G3/G4. Just use it once yourself, then you will know why I recommend this software so much.
Follow Us to Sync Videos/Photos/Music from LG G2/G3 to LG G4
Step 1. Launch application and connect devices
Launch the application and then connect your LG devices to the Mac computer using the USB cables. You need to ensure that USB debugging is enabled on your Android devices. All you need to do is navigate to settings then developer options and there you can enable USB debugging by checking the box beside it.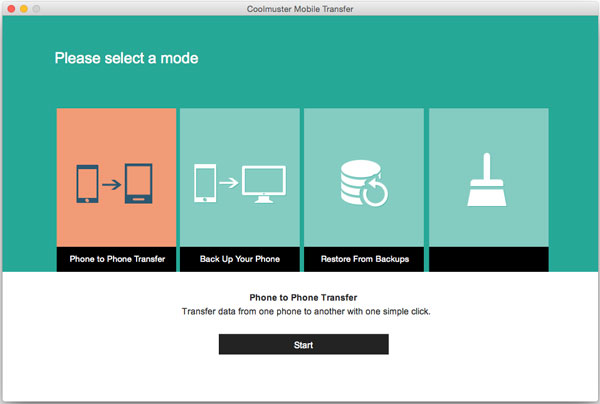 Step 2: Select Phone to Phone Transfer mode
On the application window, select the "Phone to Phone Transfer" option and you will be directed to the next window. The two connected LG mobile phones will display on the program window, one on the left and the other on the right.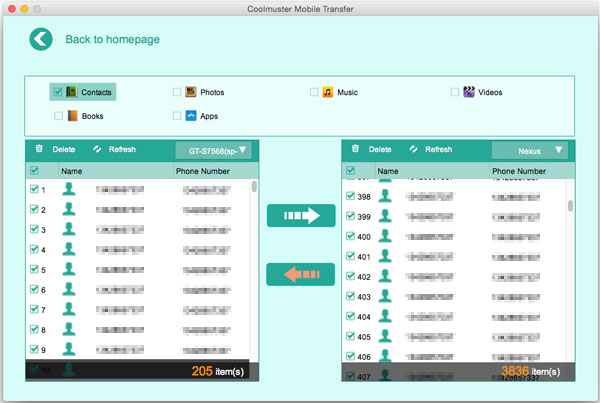 Step 3. Transfer videos/music/books from LG to LG
Select the appropriate category, here you should choose "Photos", "Videos", "Music", and then check the data you want to transfer. To begin the transfer, you should click on the left or right arrow. Select "OK" to transfer the files.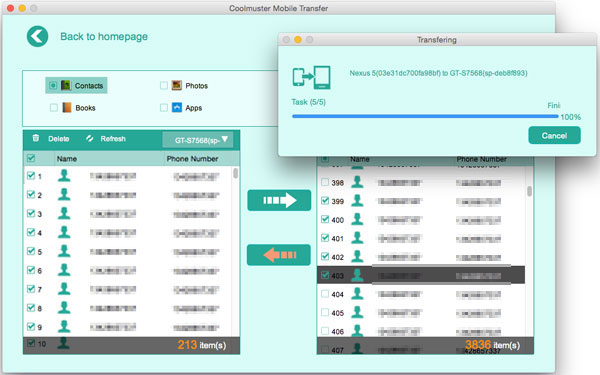 A progress bar will appear showing you how much you have transferred.
Related Articles:
Transfer Contacts from Samsung Galaxy S4 to S5