If you have recently got a BlackBerry Playbook, you may want to load Android-based applications on the new gadget for enjoyment anytime and anywhere you want. We all know that it is quite easier to download applications via an Android device than a BlackBerry because of the openness of Android OS. This is an easy thing to download and install apps on an Android phone or tablet, even for those with little experience dealing with mobile technology, and there are various ways in which it can be achieved. We set Samsung Galaxy S4 as an example, the first involves navigating to the Home screen, and opening up the All Applications function. Then, select the Play Store button, and click on the magnifying glass icon in the top right corner. If you are a new user, you will need to register for a Google account before you can do this.
No matter you want to give away your old Android tablet and switch to the new BlackBerry Playbook, or just wish to move the whole database to the BlackBerry for continuous using. You must be aware that Android and BlackBerry are totally different operating systems so that you must draw support from third-party data transfer tool to perform the apps transfer between the two tablets. Do you want to transfer apps from Android to BlackBerry in an easy and safe way? Then, the Android to BlackBerry Transfer tool is going to tell you how to achieve that.
How do I use Android to BlackBerry Transfer to transfer apps in clicks?
With the Android to BlackBerry Transfer program at hand, transferring apps from Android phone/tablet to BlackBerry Playbook can be simplified as 3 steps - connect two tablets, choose Apps and click START to begin the transfer. Apart from apps, Phone Transfer can also copy contacts, SMS, photos, videos, music and more files as well. It supports almost all Android, iOS, as well as Symbian devices. Just read the following tutorial to learn how to get Android apps on BlackBerry Playbook within 3 steps.
First of all, please free download the demo version of the Android to BlackBerry Transfer to get ready:
Simplest Way to Sync All Android Apps with BlackBerry Playbook
Step 1: Launch Android to BlackBerry apps transfer tool on your PC
After you download the Android to BlackBerry Transfer on your computer (here we set Windows PC as an example), install and launch it to bring out its primary interface, from which you should choose "Phone to Phone Transfer" and click START button to enter the phone transfer window.
Step 2: Connect both the Android and BlackBerry tablets simultaneously
Use two USB cables to link your Android phone/tablet and BlackBerry Playbook to the same computer at the same time. As long as the connection is successful, you can see they are shown as "Source" and "Destination" devices on the program window. If their positions are wrong, you can click "Flip" button to switch them.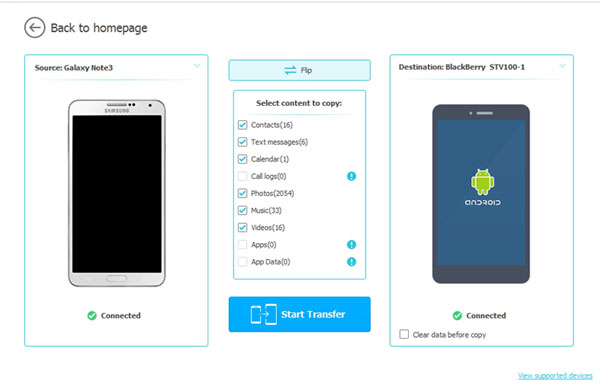 Step 3: Start to copy apps to BlackBerry Playbook from Android
The data on the "source" (or Android) will be transferred to "destination" (or BlackBerry). They are music, photos, contacts, videos, apps and other files. If you only want to transfer apps, you can only check the option of "Apps" and then click the "Start Transfer" button. After that, all apps will be transferred from your Android device to BlackBerry Playbook completely.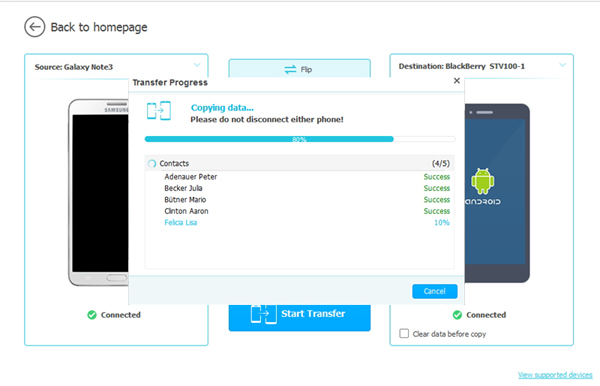 The quicker you can get what you want, the faster you can be entertained, and the more enjoyment you will get by changing from your Android device to BlackBerry Playbook. Could you need more motivation to try Coolmuster Phone Transfer?
Related Articles:
Transfer Data from Android to iPhone 6
Transfer Data from Samsung Galaxy S10 to Note S20
Top 7 Phone Transfer Apps Help with Phone to Phone Transfer