How to Get iPhone Apps on Android Phone/Tablet?
You may have first found a really good addictive game app on the iTunes App Store some time ago and downloaded it onto your iPhone 6 Plus/6, iPhone 5S/5C or iPhone 4S/4. But you may not have had enough money to afford an iPhone 5 or 6 (or you had an iPhone 4 and could afford the next generation of iPhones this year). You were, however, able to afford a high-end Android phone. You may even be switching to a different mobile carrier and their Android options were more affordable and more to your liking than an iPhone was. Does that mean you have lost the ability to play that game ever again? Not exactly so. Many people decide to pick out a data transfer to help getting iPhone apps on Android for playing.
The problem with this method is that some phones and tablets that run on Android are incompatible with the particular third-party software you are using. If there is no software that works with both your new Android phone and an older iPod, then you may have to solely rely on that iPhone to access that app after all. Luckily, there is a new available transfer program that works with both Apple products and Android platforms. It's called iPhone to Android Transfer and it works across both platforms to allow access to all your data. This third party software allows you to transfer not only apps, but also contacts, text messages, images, photos, music, videos and more from one device to another without any loss of quality in your data.
iPhone to Android Transfer supports all iPhone models available, including iPhone 6/6 Plus/5S/5C/5/4S/4/3GS, as well as Android devices like Samsung, HTC, LG, Sony, Motorola, etc. It's also compatible with the latest updated versions of iTunes, Windows and Mac OS. This makes it one of the few transfer programs that offer true versatility in content transfer available on the market. Now, you can free download the demo version of the iPhone Apps to Android transfer tool:
Simple Approach to Play iPhone Apps on Android Device
Step 1: Download and run Phone Transfer
To get started, install and run the iPhone to Android Transfer on your computer. Feel free to use this software and don't worry because it is 100% clean. Once get it launched, the primary interface will show up on your computer desktop. Now, you can directly choose the "Phone to Phone Transfer" to continue.
Note: Install iTunes on your computer to make sure the program can work normally.
Step 2: Connect iPhone and Android phones to the computer
Connect your iPhone and Android phone with the same computer via USB cables. After then, they will be detected by the program and displayed in the main window, one is "Source" and the other is "Destination". If you want to change the places for the two devices, you can click "Flip" button in the middle of the two phones.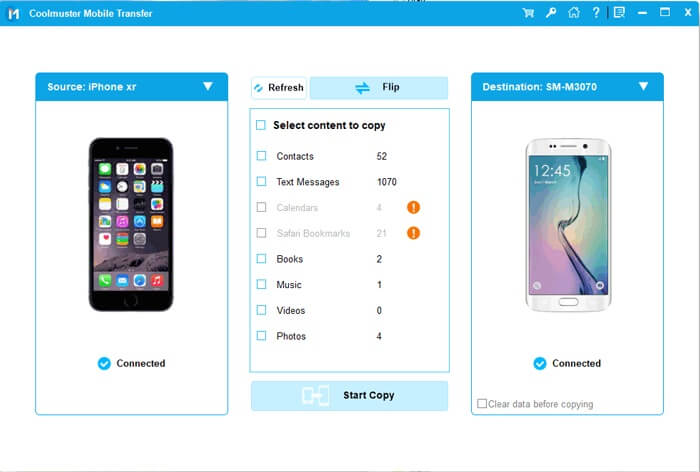 Step 3: Transfer apps from iPhone to Android device
Besides transferring apps, you are also able to copy contacts, music, calendar, text messages, videos and photos. If you only need to transfer apps, you can remove the marks before the other items except "Apps". Then, click the "Start Copy" button to copy apps from iPhone to Android phone or tablet.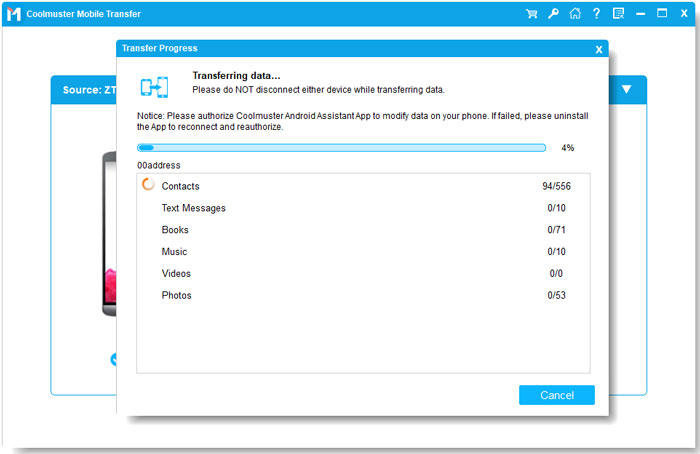 When the apps transfer progress is over, you can eject the two devices from the computer and play iPhone apps on Android device right now. With iPhone to Android Transfer, you can enjoy quick and safe phone to phone data transfer from now on.
Related Articles:
Copy Contacts between Samsung and iPhone