When the modern digital revolution began back in the early 2000's, the first harbinger of what was to come was the iPod. The iPod had been the first true digital device that people were using in conjunction with the internet to download content. First music, then - as smartphones took off - apps and games. But with the proliferation of Android phones and tablets, people using apps across many different platforms. And since people spend a good amount of money on their content and may still enjoy it to this day, they often wanted a way to access it whether or not they have and iPod or an Android phone. For example, you may have stored many interesting apps on your iPod, but now you want them moved to your Android device. Many people think that is impossible because apps are untransferable, especially between two different operating systems.
Not necessarily. Most Android phones have third-party software that you can upload onto your Mac desktop or laptop or which ever platform you originally access iTunes from. This will enable you to transfer files from your iTunes account onto that new Android Platform. But only if you already have it downloaded onto your Mac in the first place and transferred it from there onto your iPod. If you downloaded something directly onto your iPod, you may have to seek out other third party software to allow you to transfer data from your iPod onto your Android phone or tablet. Luckily, there is a new available transfer program named iPod to Android Transfer, which works with both Apple products and Android platforms. It can help you to:
* Transfer not only apps, but also photos, videos, music, contacts, SMS, apps, etc. between iPod and Android;
* Move everything to your target phone or tablet without any quality loss;
* Supports all devices that are running with iOS, Android and Symbian operating systems;
* Manage, edit, add, delete contacts and send text messages from computer to phone are enabled by the software;
* Be compatible with iPod touch/Shuffle/Nano/Classic and Android devices including Samsung, HTC, LG, Sony, etc.
In addition, using iPod to Android Transfer application is surprisingly easy. You first download the software onto your Windows or Macintosh computer. After completion:
Tips & Tricks to Transfer Apps from iPod touch/Shuffle/Nano/Classic to Android
Step 1. Launch iPod to Android transfer software
Launch the program after you download and install it on your computer. You will see a window pop up with 4 mini-windows included. Just choose "Phone to Phone Transfer" to continue.
Step 2. Connect your iPod and Android with computer
Plug your iPod and your Android phone into your desktop or laptop via USB cables. This iPod to Android data transfer tool will discover them immediately and display them on the main interface. The two phones will be detected and shown as "Source" and "Destination".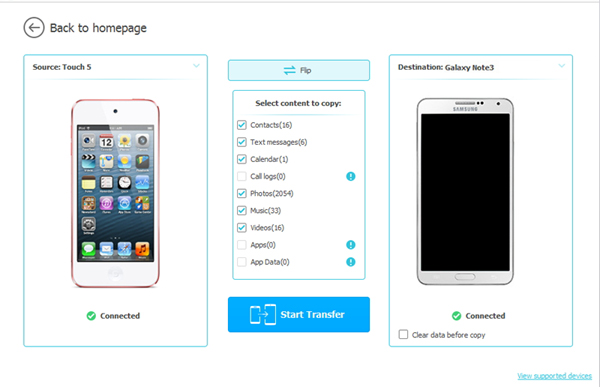 Step 3. Transfer and play iPod Apps on Android
You then select which data you wish to transfer by ticking off the appropriate boxes (here is "App"). Finally, simply click "Start Transfer" to begin the transfer process. As long as you keep both devices plugged in, the transfer process should commence and finish quickly. Then just click "OK" after transfer is complete.
You should be able to use all of your old iPod apps on your Android device. This demonstrates the power of this new technology from iPod to Android Transfer. Now your can feel free to enjoy "Words with Friends" once again.
Related Articles:
How to Transfer Music from iPod to Android
Transfer Contacts between Android and iPhone
Transfer Videos from Mac to iPad? (Step-by-step Tutorial)
Recover Deleted Videos from iPhone 14/13/12/11 with or without Backup