How to Transfer Contacts from iOS to Android 4.4 KitKat with 1 Click?
As mobile product system, or to say, mobile phone system, Android 4.4 is to show us a new and more smart phone functions firstly. It provides mobile users with new dial-up interface and function of intelligent telephone tip. It has lower demand for the system hardware and brings a new icon, the lock screen interface, animation starting and the color scheme. In addition, the Android 4.4 also optimize the multitasking process and improve the response ability of touching operation. We can say the Android 4.4 KitKat now is the best version that provides the best performance. Thanks to the latest Android 4.4 KitKat, Google Nexus 5 gains a big selling point and many iOS users got an idea in their heads: switch from iOS to Android 4.4 KitKat!
Well, it is a piece of cake to change a phone, but how to switch the contacts between two mobile phones running with different operating systems makes people confused. It is a heavy work to type the hundreds of contacts and phone numbers one by one manually. What's worse, the size of the SIM cards in iPhone and Android phone are different, which means you can not insert the SIM card from iPhone to Android phone directly. Get frustrated? Don't worry. Here we recommend a contacts transferring tool named iOS to Android Transfer, which can help you transfer all contacts with overall contact information from iOS to Android 4.4 KitKat.
In addition to contacts, iOS to Android Transfer can also copy text messages, photos, videos, music, calendars and call history between iOS devices like iPad, iPhone, iPod and Android devices like Samsung, HTC, LG, Motorola, Sony Ericsson, Google, Huawei, ZTE and so on. Everything can be transferred without any quality loss and you never need to worry about your information leaking and device damage. Download the free trial version provided in the below on your computer and give it a shot. In the following part, we will show you how to use the Phone Transfer to switch contacts from iOS to Android.
Note: We will use Windows computer as an example. If you are using a Mac, you can follow the same operations.
3 Steps to Complete Contacts Transfer from iOS Devices to Android 4.4 KitKat
Step 1. Run the iOS to Android Contacts Transfer program
At first, install and launch the contact transfer tool on your computer. iTunes should be installed in advance to make sure the program can be used normally. After that, you can get the phone transferring interface. Just choose Phone to Phone Transfer mode and enter the phone transferring window.
Step 2: Connect both iOS and Android devices to the computer
Then, connect your iOS device and Android phone with 4.4 KitKat to the computer at the same time with two USB cables. The contact transfer tool will detect them automatically and show them in the primary interface. iOS device on the left and Android KitKat on the right. Meanwhile, you can see all the transferable files are listed.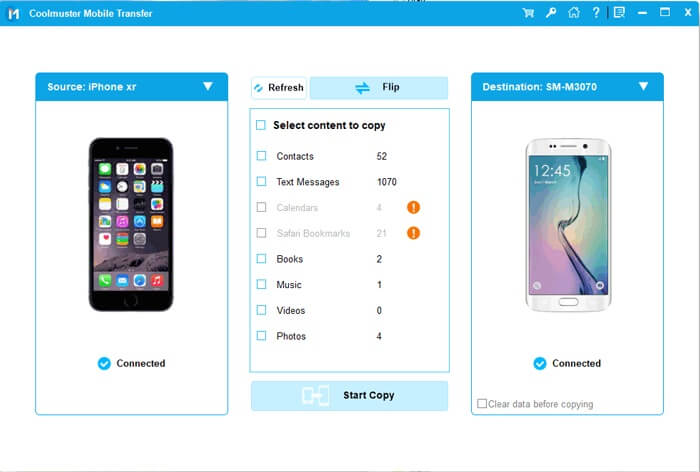 Step 3. Copy iOS contacts to Android 4.4 KitKat immediately
You can click "Flip" button to switch the position of the two devices. To transfer contacts from iOS to Android 4.4 KitKat, you need to check the "Contacts" only and uncheck other files at the same time. Then, click "Start Transfer" button to start the contacts transferring process. Disconnect the two devices when the transfer is complete.
Related Articles:
Copy Contacts between Samsung and iPhone