iTunes Books for Android - Transfer iTunes Audio Books to Android
Presently, one of the most exciting and fascinating tools that you can die for is the audiobooks. There is no better feeling than having an application reading out a book loudly for you rather than carrying a book in your bag at all times. Most book readers, however, use the iTunes to buy and store their books making it hard for Android users to enjoy these benefits. That's because few people knows how to transfer iTunes audio books to Android since Apple is known to use sophisticated applications to ensure that the content stored remains untouched and unpirated. Unluckily, there is no iTunes books for Android application developed to precisely eliminate the protection and security within the iTunes audiobooks, and due to this, it can be an uphill battle trying to figure out an app that can help.
You May Like:
Transfer iTunes Apps to Android
Transfer SMS to Samsung S9
Irrespective of the protection in iTunes audiobooks, there are a couple of applications that can help as outlined below. The following apps can help you read iTunes audiobooks in your Android smartphone.
Part 1: Four Apps that Enable You to Read iTunes Audio Books on Android
Part 2: How to Convert Audio Books from iTunes into MP3 Files
Part 3: How to Transfer iTunes Backup Files to Android Devices
Part 1: Four Apps that Enable You to Read iTunes Audio Books on Android
1. iSyncr Android
iSyncr Android is a useful solution that helps users transfer the content they want to their Android phones. Users are only required to install a desktop application client to connect with the iTunes for installation purposes instantly. After doing this, you will have the capability of installing the Android client application and then copy the info you need. Typically, you can search for all the audiobooks that you need with your Android phone on the iTunes application.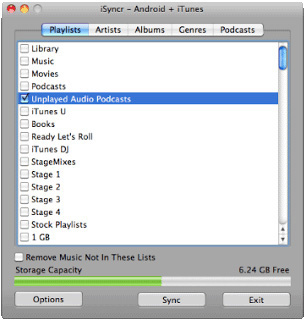 2. iTunesForAndroid
iTunesForAndroid enables you to carry out the same thing described above, and it is recommended that you adhere to the steps outlined. The steps are easy to understand and follow at all times. The application is available for free, and you will only be needed to install an Android client for it to function correctly.
3. Easy Phone Sync
Easy Phone Sync makes it faster and comfortable for users to transfer the audiobooks. This aspect is achievable because the app features a very dependable and reliable tool that can be used at all times. The application also offers fantastic results and defined interface. There is a premium and free version of this app, but both apps function quite well and provide a reliable experience.
4. DoubleTwist
DoubleTwist is yet another viable solution that enables you to read iTunes audiobooks on your Android phone. DoubleTwist overpowers the other apps mentioned above due to its easiness of use as well as the dependable results that do not stop to appear. You will indeed be overjoyed by how the app functions and its results are awesomely good.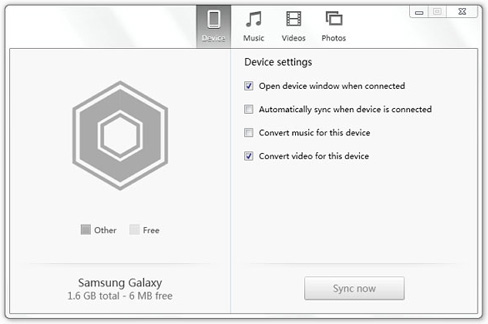 As seen, it is reasonably exciting and easy to carry out this, and the results are more than remarkable. In some situations, this app may take some time to have the job done due to the audio at hand. However, you have to trust this application as it offers you the best possible results you can attain anywhere.
These are the apps that you require to transfer iTunes audiobooks to Android phones in a proficient manner. Irrespective of unavailability of official tactic to read audiobooks in Android platform, the above apps can help you accomplish the task.
People Also Want to Know:
How to Transfer Music from Android to iPod
How to Transfer Photos from Samsung Galaxy to iPad
Part 2: How to Convert Audio Books from iTunes into MP3 Files
Listening to an audiobook is the perfect way to relax during the busy days. In your regular life, most of you probably stare at the personal computer for a prolonged period. This aspect can be a problem to your eyes leaving you with little or no energy to read a hardcopy book. Nevertheless, as opposed to reading a hardcopy book, you will only be required to close your eyes when listening to an audiobook from the comfort of your desk. The sound from an audiobook can bring you to a new world experience where you undergo a variety of feelings. In simple terms, an audiobook is similar to listening to a story.
You will be needed to look out for AAC to MP3 audiobook converter when converting audiobooks in iTunes to MP3 formats so that you can enjoy the MP3 files on your Android device directly. The app works perfectly by importing the audiobook from iTunes and offering you viable results that you are going to love. The significant functionality of this application is that it tries to unprotect the audiobook and music from various stores including iTunes. Here is how you can convert the audiobook into mp3 format:
The first step involves installing the app and then importing the audiobooks from iTunes. After this task is done, you need to select the audiobooks you want to convert.
The next step is selecting the output file as MP3 and then beginning the conversation procedure. You should then wait until the process is complete.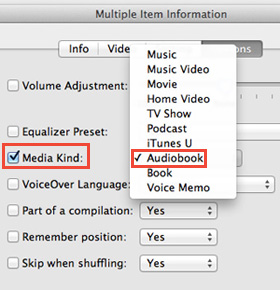 You might need: Want to get your iBooks from an iPhone to an iPad? Here are 5 excellent tools for your reference.
Part 3: How to Transfer iTunes Backup Files to Android Devices
The users who need to transfer their backed up data from iTunes backup to their new Android gadgets for whatsoever reasons can accomplish this conveniently by using a third-party application known as Phone Transfer. The app offers a one-click transfer solution to help users transfer their files such as videos, photos, music, call logs, SMS, contacts, notes, calendars and much more from iTunes backup to Android phone, iCloud to phone and phone to phone. Phone Transfer can also help users to backup phone data to computer and retrieve files from computer to phone quickly and comfortably.
Download Phone Transfer and then follow the steps below to see how to use this program to sync iTunes backup file to Android device.
Steps to Transfer iTunes Backup to Android Phone with Phone Transfer
Step 1. Install and start up the Phone Transfer
The first step involves downloading and installing the Phone Transfer application on your computer. Afterward, launch it, and you should remember to select "Restore from Backups" > "from iTunes backup file" options from the primary interface before going to the next window.
Step 2. Connect your Android phone to the computer
The next step is connecting your phone to the computer with a USB cable. On your Android phone, remember to enable the debugging mode beforehand. The Phone Transfer will then detect the android device automatically.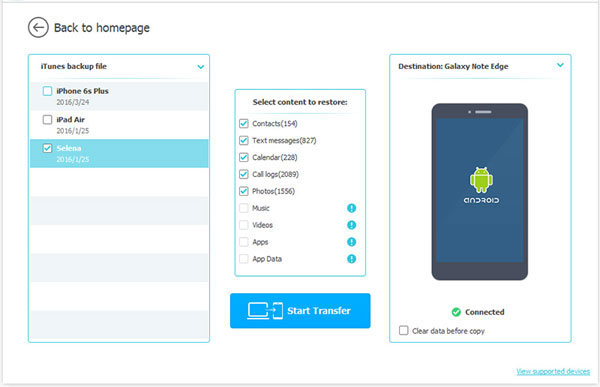 Step 3. Transfer iTunes backup to the Android device
After the application detects your phone, you can see the entire iTunes backups shown on the left panel while your phone is shown on the right panel. Select the file types that you need to transfer to your Android phone and click on the "Start Copy" button.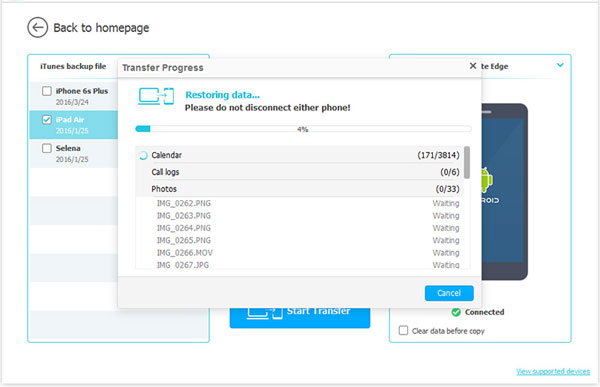 Words in the End:
Data transfer between iOS and Android devices has always been a hot topic. In this article, you should learn how to use iTunes Books for Android apps to transfer audio books from iTunes to Android devices. Now you can easily enjoy your favorite iTunes audio books on your Android device. Also, don't forget to share this article with your friends.
Related Articles:
Move SMS Messages between BlackBerry and Samsung
Transfer Contacts between Nokia and Google Nexus 5
Data Transfer from Android to iPhone