Easy Way to Transfer Media Files between Samsung Devices
Smartphones are known to go outdated soon. A product launched today gets eliminated by introduction of superior models and new technology. Samsung phones are constantly coming out with new features and function, such as the newest Samsung Galaxy S7/S7 Edge. We want to replace the old phone and get a new Samsung phone but there is a problem.
All the data on your old Samsung is at a risk of being lost. You will need all your messages, contacts, apps, music, videos, etc on the new phone. Android gives some options to use Google drive to create backups and restore them on new Samsung phone. But those take time and do not work for all types of data. It also requires internet connection and downloading the files.
A convenient way of moving files from Samsung to Samsung phone is by using the software we are going to discuss below.
Know More about Coolmuster Mobile Transfer:
> Phone to phone transfer has never been as simple as with this software. Almost all type of phone data like contacts, videos, music, apps etc can be seamlessly moved from old phone to new phone or any device. It can even transfer between iOS phones and Android phones.
> This software is a risk-free way to transfer content between different operating systems. You can select the data and do the moving without any quality loss of the files.
> Buying a new phone or mishaps like virus attack, damaged phones can pose threats of data loss. Using Coolmuster you can backup your important data, contacts, photos, music, videos etc on Mac or Windows. When you do lose your data, the backup files on computer can be simply used to restore the content.
> The programs supports multiple devices including most Android phones from different manufacturers like HTC, LG, Samsung, Motorola, etc. It also works with Blackberry and Symbian.
> It is very simple to use and offers step by step wizard. It can work by itself without support from any third party program.
User Guide on Media Files Transfer between Samsung Devices
Here is how you can transfer all data between two phones:
Step 1 - After the software is installed, launch it. Then take the two Samsung mobiles and use the USB cable to establish connection with the computer. The interface will display different modes of transfer for your Samsung phone.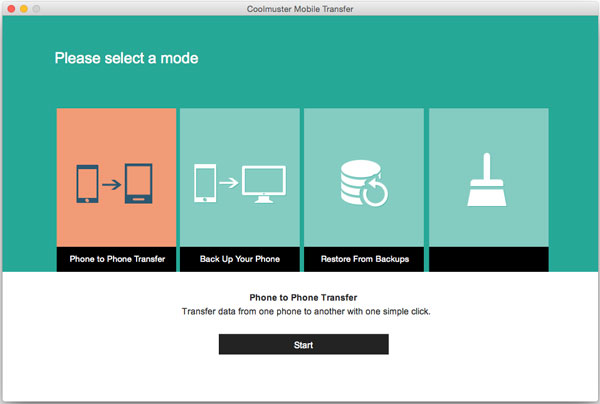 Step 2 - Select the Phone to Phone Transfer option which is the first from the left. This will open an interface where your two phones will be listed on two sides. All the files that can be moved like music, photos, videos, contacts, apps, etc will be listed.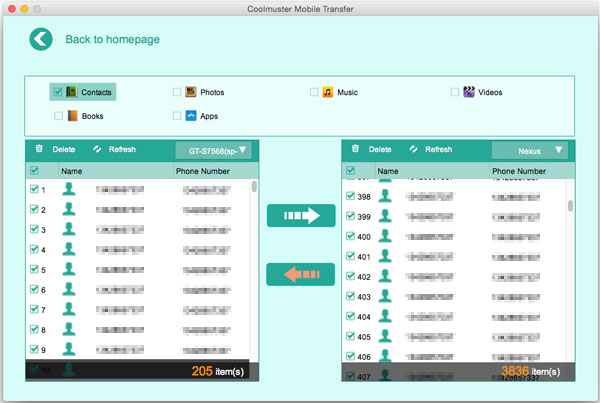 Step 3 - You can transfer everything or select each content type from the top. Under each content type, you can again choose specific files or all of them. After that press the right or left arrow, depending on the source and the destination Samsung device. Now you will be prompted to confirm your action by a pop up window. Click on OK and the files automatically begin to transfer from Samsung to Samsung phone.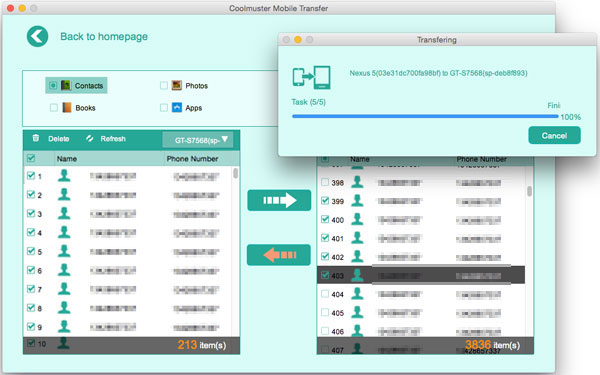 These simple tips will ensure that you can transfer all the data you need between your Samsung phones in no time. It is fast and it is easy, and all you need is a few clicks to get the job done.
Alternative Way to Transfer Media Files from Samsung to Samsung
Another effective and safe method to transfer photos, videos and music files from one Samsung to another Samsung device is using the well-known Coolmuster Android Assistant or Android Assistant for Mac. It is famous for its easy and sleek design and enables you to transfer not only media files, but also contacts and text messages from Android to computer, computer to Android, and even Android to Android. The following steps will show you how to use the Android Assistant to transfer media files between two Samsung devices.
Step 1: Install the Android Assistant after you download it on your computer. Launch it to get ready.
Step 2: Connect your two Samsung devices to the computer simultaneously via USB cables.
Step 3: Navigate to the source Samsung phone and choose "Music", "Photos" and "Videos" from left sidebar. Select the detailed files you want to transfer and click "Export" button from top menu to save them on your computer.
Step 4: Point to the target Samsung device and choose "Music", "Photos" and "Videos" from left sidebar as well, then, click "Import" button from top menu, and transfer the exported music, pictures and video files above to your new Samsung phone.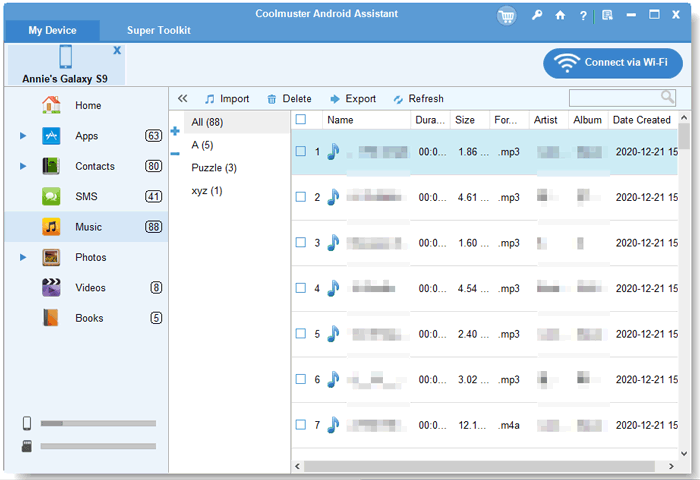 Related Articles:
Whether to Update to LG G5 or Samsung Galaxy S7
Tips to Share Ebooks from Android to iPhone
Add a comment