Move Google Nexus Photos/Videos/Music to Another Nexus
Get a new Google Nexus 6 and want to transfer your favorite photos, videos and audio files from your old Nexus 5 to the new Nexus 6? You can follow many differnet ways to do so. For example, you can transfer these files from old Nexus 5 to computer and then copy them to your new Nexus 6. Similarly, you can first backup your media files from your old Nexus 5 to the cloud and then download them again to the other phone. But those will mean that you will lose a lot of your time. Add to it the fact that you will be using up a lot of data too that can be better used. Today, we will recommend you with an outstanding phone to phone data transferring program to help you achieve the media transfer easily and quickly.
To transfer photos, videos and music files from Nexus 5 to Nexus 6 effortlessly, we strongly suggest you try the "Phone to Phone Transfer" mode in Coolmuster Mobile Transfer or Coolmuster Mobile Transfer for Mac. It has been designed with this usage in mind, so people can cut down on the time quite dramatically when used and the apprehension. In addition to transferring media files, contacts, SMS, apps and more between two Google Nexus devices in one click, it also provides backup & restore feature. Therefore, if a problem does occur during the transfer process, manual or automatic; no data will actually be lost because you can perform a back up and restoration process beforehand.
Coolmuster Mobile Transfer makes it possible for you to transfer everything between Android and Android, Android and iOS, Android and Symbian and iOS and Symbian. Now, the following part of this passage will show you the tutorial on using the Mobile Transfer to move media files from your old Nexus device to the new Nexus on Mac. Windows users can pick up the Windows version of Mobile Transfer and follow the similar steps.
How to Transfer Videos/Songs/Pictures from Nexus 5 to Nexus 6?
Step 1. Connect Nexus 5 & Nexus 6 to the computer
Download and install Coolmuster Mobile Transfer on your computer. Connect the two Google Nexus devices to the computer via USB cables. Then, launch Mobile Transfer and you will be popped up with its primary interface, like the picture below: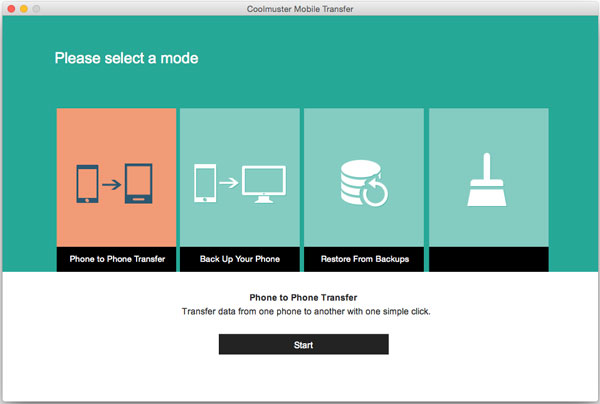 Step 2. Choose phone to phone transfer
From the program interface, you can see Mobile Transfer contains multiple functions. Here, you should choose the "Phone to Phone transfer" option and you will see the the Nexus 5 and Nexus 6 are displayed side by side.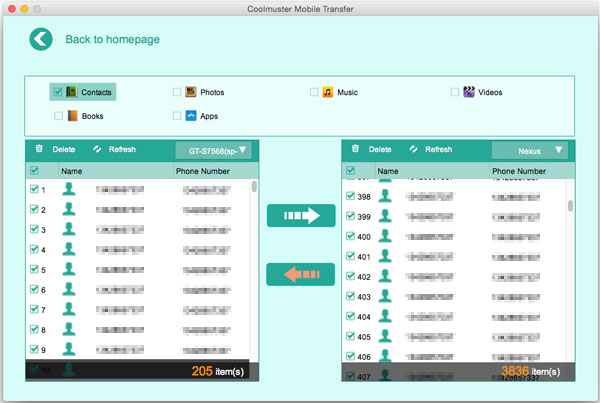 Step 3. Move Nexus photos, videos & music to another Nexus
As the screenshot above tells, several file types are transferrable. If you only want to transfer media files, please only check the "Photos", "Videos" and "Music" options, then click the left or right arrow to begin the transfer. In the pop-up progress bar, you can check out the progress of data transfer.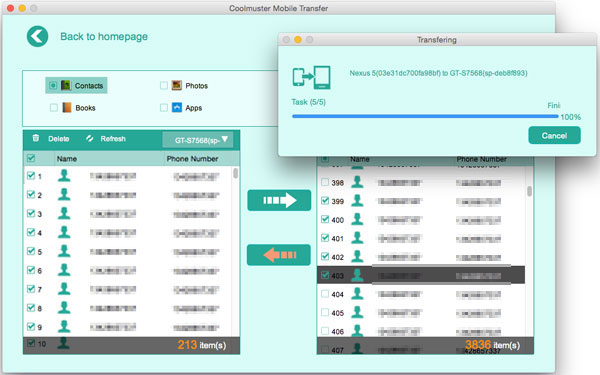 Related Articles:
How to Transfer Photos from Samsung to Samsung