All of the apps available on Android have an Apple version, so you will not have to go without your favorite games and features for long after you making a switch from Android to Apple iPhone. Well, apps from the Android store will not function correctly under iOS, so if you want to transfer Android apps to iPhone, you need to search for iOS versions in the Apple App Store. This should not take you long, so there is no need to mourn over lost widgets. The key to a successful switch is the use of third party tools which are only concerned with making a transfer as simple and straightforward as possible. There is no need for complexity here, not if you want to make a straight switch.
What is the best tool to helps porting Android apps to iPhone?
As aforementioned, we have to find an additional program to realize the apps transferring from Android device to iPhone. To save you from endless trial and error, we'd like to recommend the Move to iOS, which is the newly released Android to iOS transferring software introduced by Apple company to help you enjoy a whole host of new apps in no time. With the help of the Move to iOS app, contacts, memos, calendars, photos, videos, music, and more can be swiftly and easily moved from an Android device to an iPad, or iPhone. In just three steps, you can start enjoying your phone in precisely the way that you want.
Move to iOS works on all iOS and Android phones, such as iPhone, iPad, Samsung, HTC, LG, Motorola, Sony, etc. Apart from the powerful function and wide compatibility, Move to iOS app is also extremely easy to use. Just read the following guide to see how easy it is to transfer apps from Android device to iPhone with the help of Move to iOS. Before that, you need to click the button below to download the software for free.

Tutorial Tells to Port All Apps from Android Phone/Tablet to iPhone
Step 1. Download the Move to iOS app on your Android device
Step Two: Choose your Android apps and transfer them over Wi-Fi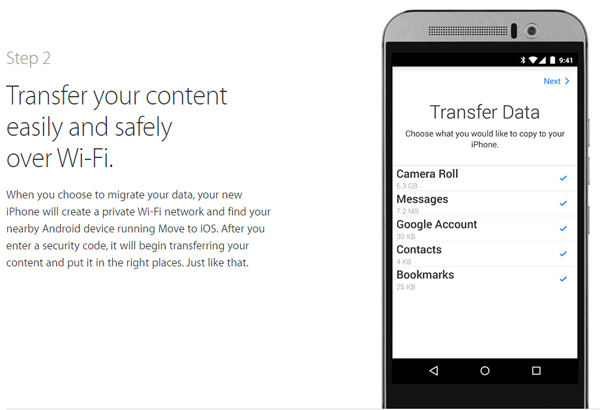 Step Three: Get started with your new iPhone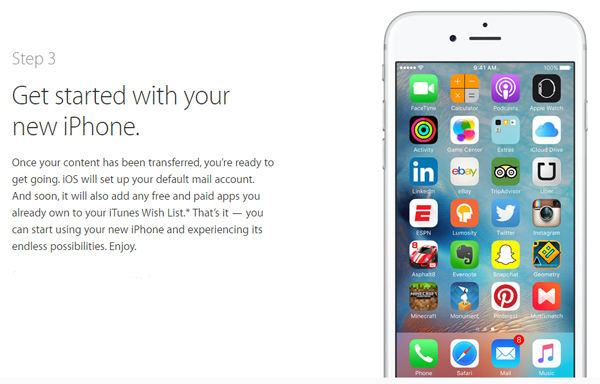 It does not matter if you are upgrading devices, switching carriers, or just want to transfer photos and videos from your phone to a friend, the Move to iOS app makes it easy. With this third party app, you can move almost everything from an Android device to an iOS system, without losing a single piece of data on the way.

Related Articles:
Transfer SMS from BlackBerry to Samsung Galaxy S5
Copy Music from iPod to Android
Transfer Contacts from iPhone to Android [Full Guide]