How to Restore Windows Phone from iCloud?
iCloud is used for several different reasons. One of the more notable and beneficial is being able to access information that is stored on a platform from anywhere. Therefore, if the person leaves their android device at home accidentally, they can still have access to their contacts and text messages from wherever they via iCloud so that they can continue their daily activities with real time info. You just want to transfer the data contains within the iCloud backup to your newly purchased Windows phone. But the problem arises when you have no idea about how to restore from iCloud to Windows phone.
Read More:
Sync iCloud Calendar to Android Phones/Tablets
Share Android Photos with Your Friends
Efficient Tool to Help Restoring Windows Phone from iCloud
Here in this article, we have an easy yet professional tutorial on how we can restore all the data to Windows phone from the iCloud backup. The tool you will need is the iCloud to Windows Phone Transfer. We know some people hate to download third-party tool because it is a time-consuming process and there are also chances of losing important data if the tool is not professional enough. This iCloud to Windows Phone Transfer works great with any device and any platform with 1 click only.
It is an easy-to-use tool that can easily restore from iCloud to Windows phone data without any data loss. It empowers you with the abilities to:
- Transfer contacts, SMS, photos, videos, calendar, music and apps between Android and iPhone/iPad.
- Backup phone data to computer and restore data to your device with one click.
- Easy to use and fast to complete.
- Works perfectly with all Android, iOS, BlackBerry and Symbian devices.
How to Use This Tool to Restore Windows Phone from iCloud?
Step 1. Sign in with your iCloud Account. Download, install and launch the iCloud to Windows Phone Transfer on your computer. Connect your device via USB cable to the computer.
Step 2. Click on Restore from Backups and choose iCloud backup to start downloading the backup. This will take few minutes.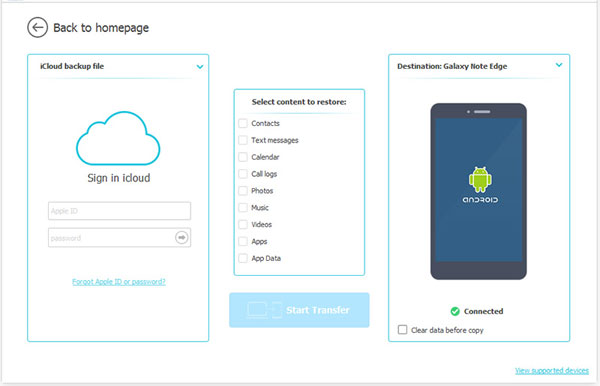 Step 3. Finally, you can start to restore iCloud backup to your Windows phone by clicking on the Start Transfer. Then, wait until the backup is finished.