Samsung Galaxy S7 or Google Nexus 6P?
As we know, Samsung Galaxy S7 has just launched, which is absolutely good news for those Samsung fans since Samsung has gone big with this one. Running on Android Marshmallow, the pricing has been kept competitive by Samsung and the phone comes with a mammoth 4 GB of RAM.
Let's learn more about this Samsung Galaxy S7:
> Corning Glass 4 Panel screen and a 12 MP rear camera with OIS that promises DSLR-like quality images.
> Quad-core 2.6 GHz Mongoose + quad-core 1.6 GHz Cortex-A53 version on the processor front can power all your needs.
> Samsung Pay allows one to make payments at stores through one click.
> The fingerprint sensors and a battery as high as 3600 mAH ensures that you have a phone you will love.
And speaking of Samsung Galaxy S7, Nexus 6P has to be mentioned, which is an offering by Google that you simply cannot miss out on. The phone also runs on Android Marshmallow and was released last year but is as good as the Galaxy S7 and comes with a huge 5.7 inches display. It is a phone worth buying if you are looking to buy one of the bigger sized smart phones. Here are some of other features of Nexus 6P:
1. The Nexus 6P has a 12.3 MP camera with laser auto focus that allows you to take razor sharp images.
2. It also features a 8M front camera, perfect for taking selfies.
3. Add to it that it also sports an Octa core processor, quad core each of Cortex-A53 and Cortex-A57 and you know you've a powerful device.
4. There is a good 3 GB of RAM powering the device.
Let's say you finally update your phone to the newest Samsung Galaxy S7. Or maybe a Nexus 6P. While both the phones are an absolute delight, it can be really troublesome for you to move your data from your old phone to the new one. What do you do to ensure that moving all the old data including your apps and contacts and even your media files to your new phone isn't troublesome? Try out a software like the Coolmuster Mobile Transfer (for Windows) or Coolmuster Mobile Transfer for Mac, which can help you to transfer all data as want, including videos, contacts, app and even music to your new phone in just a few clicks. You do not have to worry about transferring all files individually and you can use your new device just like the old one. Moreover, this software can be compatible with multiple phones, such as Android phone and iPhone. With it, you are free to share files from Android phone to iPhone as wanted and needed!
Use Coolmuster Mobile Transfer to Transfer Files from Old phone to the New One
Step 1 - Open your computer and take two USB Cables. Attach the two phones to the computer through the two USB Cables and open the installed software.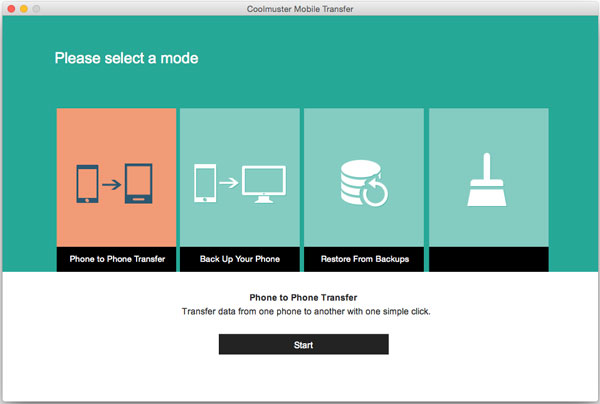 Step 2 - Just click on "Phone to Phone Transfer" and you can see a new window where you can select all that you need to copy from the old phone to the new one. You can even select for instance, the media files you want to copy or the contacts you need in your new phone. Select all that you need to copy, from apps to eBooks to music and videos.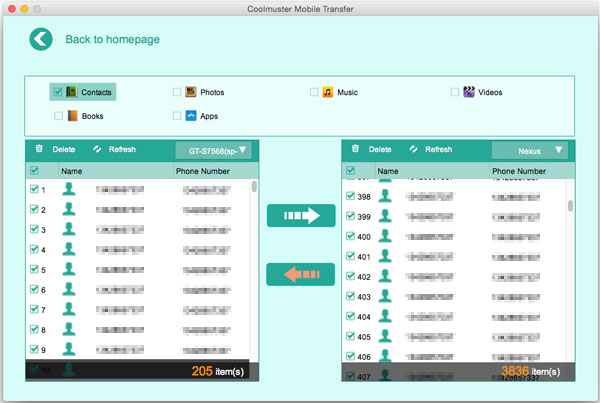 Step 3 - Just click on the left or right arrow to begin the transfer and wait for it to complete. It really doesn't take a long time for the transfer to complete so don't worry.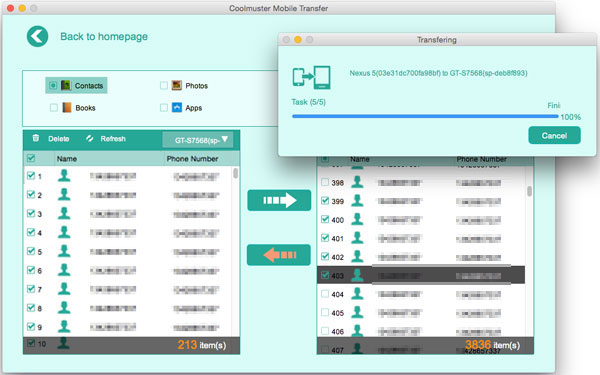 And now, you're set to use your new phones with all the data and settings of your old one!
Related Articles:
How to Transfer Messages between Samsung and HTC
Tips to Share Messages between Samsung and iPhone
Add a comment