One Click to Save Old Files to the New LG G5
As Samsung brands its new product - Samsung Galaxy S7, the newest device of LG company soon will be available to the public. The LG G5 is a radically different beast to its predecessors. Now, let's see together the alluring features of it:
1 - Appearance & Battery
The phone's body is made of metal, a first for LG's G Series, but with a twist, a nice change from the plastic the company usually uses. It is not a heavy metal, nor is it coarse or heavily textured. It is smaller and easier to hold thanks to its soft curves that make it comfortable to hold. In terms of battery, this phone features on a removable battery. This feature is accomplished by the addition of a cap at the bottom that can be removed to unveil the battery, microSD slot, and LG's unique new magic slot making it among the first mainstream Smartphone to incorporate and support modular components. Though the new phone does not offer wireless charging, you do get Quick Charge 3.0 allowing you to charge from 0% to 80% in just 35 minutes.
2. LG G5 Display
The LG G5 features a 5.3-inch QHD display with 2560 x 1440-pixel resolution, 554ppi that offers uni-body design. The display is always on and provides information such as the time, date and notifications without having to power on the display, a technology that saves you battery in the end. LG will never compromise with performance. LG G5 also possesses a 2.15 GHz Snapdragon 820 processor with 4GB RAM, 32GB of storage and Adreno 530 GPU, enough to perform considerably high multi tasking.
3. LG G5 Camera
As to the cameras, LG has introduced a bunch of serious updates to the G5's camera setup. It has 8 MP HD snapper front camera while at the back it has a 16 Megapixels camera having advanced touch focus and LED flash. The G5's field of vision is 135 degrees, wider than the human eye. It will operate as a standard camera and stills at the same time you can record video.
And like Samsung Galaxy S7 and S7 Edge, this LG G5 also runs Android Marshmallow, which is the latest version of the mobile OS. Maybe now you plan to buy the newest LG phone. And no doubt it is fabulous when we upgrade our Smartphone's and get a more fantastic Android phone. But after getting the new LG G5 phone, you surely need transfer many files on your old phone to your new LG G5. However, the disappointment comes from trying to move data from your old phone to your new phone. But this Coolmuster Mobile Transfer (for Windows) or Coolmuster Mobile Transfer for Mac has a great ability to transfer files such as contacts, apps, photos, videos, music, calendar, call logs and SMS between old phone and the new LG G5, with just a click. And this software has a wide range of compatibility, which is able to support different OS phones like Android phone and iPhone, so you are free to share files between Android phones and iOS devices if needed!
User Guide to Transfer Old Data to New LG G5
First of all, make sure to download the right version of this software on your Windows or Mac computer and then open it on the computer with double clicks. Then connect your phones to the computer via the USB cords. Choose the mode of Phone to Phone Transfer to continue the process.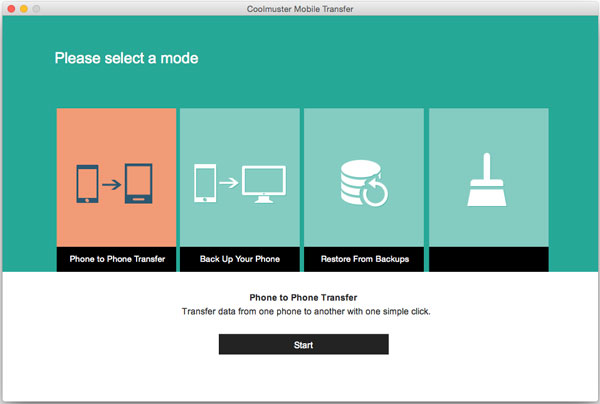 Then you will see the below interface where all file folders of the two devices are displayed on the top panel. You can enter the tabs to choose the files you want to transfer from old phone to the new phone.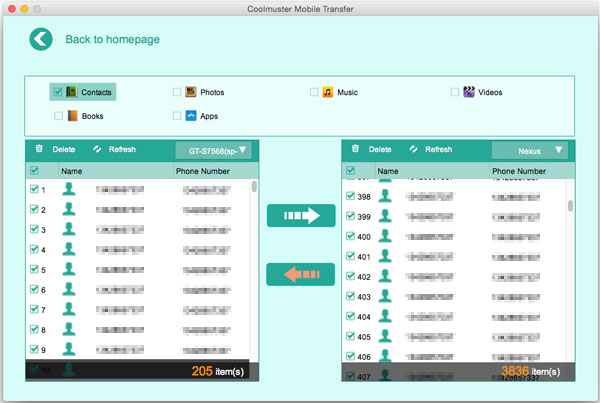 After selecting the wanted files, click on the left or right arrow direction to begin the file transfer from one phone to another. Then on the pop-up window, you need click on OK option to confirm your action.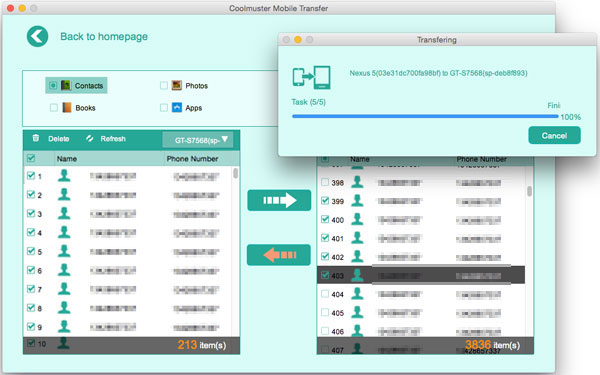 Now, you can truly enjoy your new LG G5 device with all files saved!
Related Articles:
How to Sync Media Files between LG and HTC
Tips to Share Ebooks from Android to iPhone
Add a comment