How to Share Apps between Two Google Nexus Phones?
"I purchased Nexus 6 in November. My question is that I have a broken display Nexus 4 (half of screen works) and repairs at this point are as much as the original price of the unit. So I'm wanting to transfer info (movies, pictures, text files and a few paid apps) from my old Nexus 4 to the new Nexus 6. I'm not the most technical person, but can mutter through with good instructions. What apps would each phone need and what hardware is needed. Or is this even possible? Thanking you in advance for your replies."
Google has made giant steps in the phone business by making and developing ultra-welcomed Nexus series. At times, people consider migrating with their valuable files from an old phone to a new one. Transferring files, such as apps, between two Nexus phones to some extent, helps in creating a backup for future purposes. This assists individuals who are prone to losing important files and apps and in the event of a loss, one can restore their app with ease. Another reason for app transfer between two phones may be the need to erase data permanently from the old phone. This aids in privacy protection.
To share apps between two Google Nexus phones, you need help from a professional apps transfer. The following section will depict the app - Coolmuster Mobile Transfer (Windows) or Coolmuster Mobile Transfer for Mac. As its name implies, it is specially designed to move stuffs between mobile phones and tablets. You can enjoy an easy way to transfer files, such as apps, contacts, SMS, photos, videos, music and more from old Nexus to new Nexus, and vice versa. In addition, the app supports all kinds of device brands. Now, let's explore how Coolmuster Mobile Transfer performs.
Note: Before using this Mobile Transfer, make sure your target phone has enough space to save the transferred apps. If the phone's memory gets full and apps cannot be accommodated. This may lead to performance issues in the phone. You can clean your phone to solve this problem.
Steps: How to Copy Apps from Old Nexus 3/4 to A New Nexus 5/6?
Step 1. Connect both phones to your computer
To start with, make sure the old and new Nexus phones are connected to your computer with USB cables. Then get prepared for the Mobile Transfer by downloading and running it on the computer. A primary interface of the program will pop up.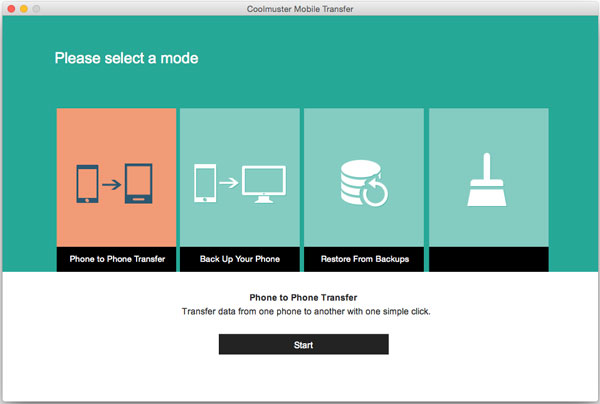 Step 2: Enter "Phone to Phone Transfer" window
Select "Phone to Phone Transfer" among the four available modes and you will see the program detects the two connected and devices. And all files that can be transferred, for example, Music, Contacts, Apps, Photos, etc. are displayed on the above.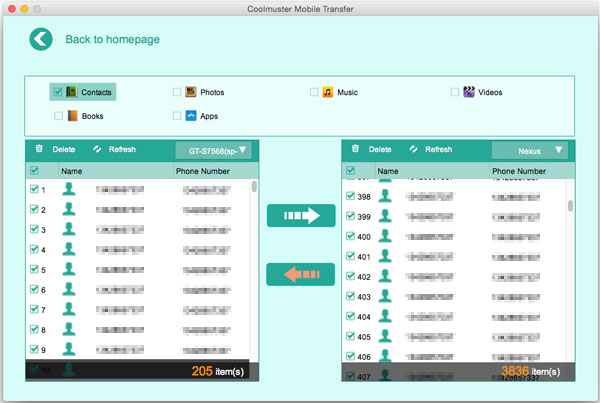 Step 3. Share apps between two Nexus phones
If you only need to transfer apps, just select the "Apps" and uncheck other items. Preview and choose the apps you want to export and start the transfer by clicking the left or right arrow. Check the process from the pop-up progress bar.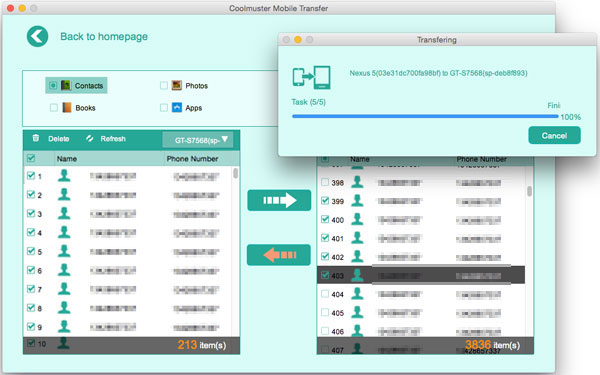 Please note that for those using Mobile Transfer trial version in transferring their files, some may not be transferable in the long run. The trial version lacks vital features available in the full version. For example, when using the trial version, only the first five items can be processed. The full version allows the full processing of all files.
Related Articles:
How to Transfer Photos from Android to iPad