How to Share Calendar between iPhone and Symbian?
There are lots of reasons why having two mobile phones is really useful. You might have a personal phone and a work phone. You might use one phone for friends and one for family. You might simply need to use the one device to back up the other, or vice versa. If you are lucky enough to own a Nokia and an iPhone, for example, you are probably going to need to learn how to transfer data between the two devices. If you use Symbian for work and iOS for leisure, it is handy to know how to share calendars between the two operating systems safely and efficiently. This negates the need for time consuming and fussy afternoons spent copying out every memo and calendar note.
Fortunately, the iPhone to Nokia Transfer tool can help you learn how to achieve this. It is a third party app which promises to make between device transfers as simple and as easy as possible. These days, it is not uncommon to own two phones, so there is a real need for innovative software solutions which can reduce the process to a couple of quick clicks and a near instant result. The tool can do this and it is compatible with almost any kind of file. You can use it to transfer photos, contact, call logs, music files, calendar data, and much more. Plus, it is 100% secure – this software guarantees to keep your data safe from prying eyes and get it to the destination device unaltered.
To get to grips with this software and find how to share calendars between iPhone 6S/6S Plus/6/6 Plus/5S/5C/5/4S and Symbian Nokia, take a look at this handy three step guide to the iPhone to Nokia Transfer tool.
Example: Copy Calendar between Symbian Nokia and iPhone 6S/6 Plus/5S/5
Step 1: Install and launch the program
Firstly, download and install iPhone to Nokia Transfer on your computer no matter you use Windows or Mac. Then, launch it and you will see the following window.
Tips: To transfer files from or to iPhone, you need to install iTunes on your computer beforehand.
Step 2: Connect iPhone and Nokia phone on computer
After launching Mobile Transfer, you will be asked to connect your Symbian and iPhone to the computer with USB cables simultaneously. Then, the program will detect the two phones instantly.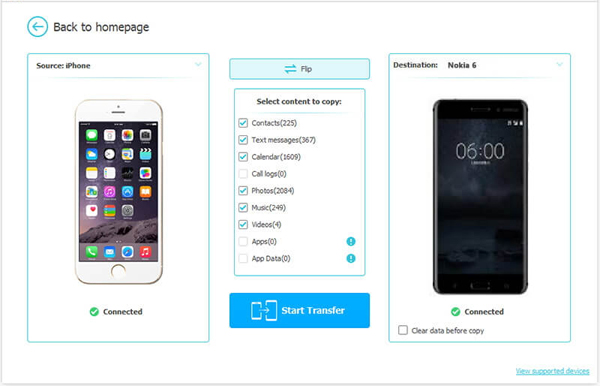 Step 3: Share calendar between iPhone and Nokia
Lastly, mark "Calendar" and hit on "Start Transfer" to begin the transferring process from your iPhone to Nokia, or vice versa.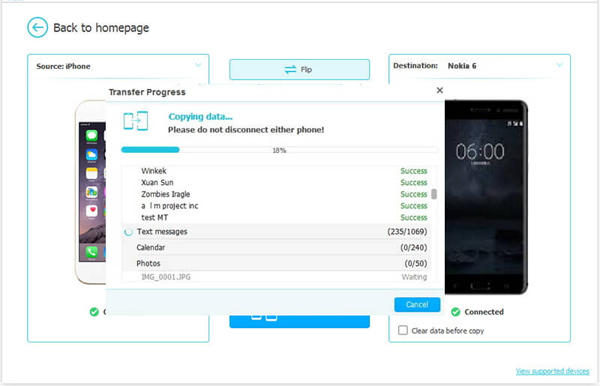 The method above applies to all the other file types like contacts, SMS, videos, photos and more. Just pick up your smartphones and have a try with the application.
Related Articles:
How to Copy Music from Android to Android