Share Photos between ZTE Phones and iPhone
If you have decided that it is time to switch from your old ZTE phone to your new iPhone, there comes the accompanying problem of transferring data from the ZTE phone to iPhone. You simply cannot think of switching phones without backing up your data because there may be very important or precious information in your phone that you cannot afford to lose. This includes your photos as well. Photos may include some memories or even important snapshots that you will need.
But ZTE phone and iPhone are running different operating systems, which makes the photos transfer a little bit difficult. Luckily, with the help of the ZTE to iPhone Transfer, moving data from your Android ZTE phone to your iOS iPhone is very simple.
Main features of the ZTE to iPhone Transfer:
* It is an app which allows the easy transfer of data from one phone to another, no matter what the operating system of the two phones is.
* Whether you have an Android or an iPhone, you no longer have to worry about data loss.
* You can selectively transfer any type of data, whether they are photos, contacts, music, text messages, apps or videos, between between ZTE Blade/Skate/Axon/V5 Max and iPhone 7/7 Plus/6/6S/5/5S easily.
To transfer photos from ZTE phones to iPhone is a method to backup your ZTE pictures, actually you can also transfer ZTE data to computer for backup. And if unfortunately you have lost your precious photos on your ZTE phones, we also have guide showing you how to recover deleted photos from ZTE phones. Now, we are going to show you how to transfer photos between ZTE and iPhone in details, with the help of ZTE to iPhone Transfer.
How to Copy Pictures between iPhone and ZTE Nubia/Blade/Skate/Axon?
Step 1. Connecting the two smartphones
Connect your two phones: ZTE phone and iPhone to your PC or Mac machine simultaneously using USB cables. Launch the recommended transfer softawre and the primary interface of the program will show as below:
Step 2: Select the Phone to Phone Transfer option
Next, you should select the Phone to Phone Transfer option from the program interface to enter the phone transferring window. Then, you can see the two mobile phones are displayed side by side on the interface.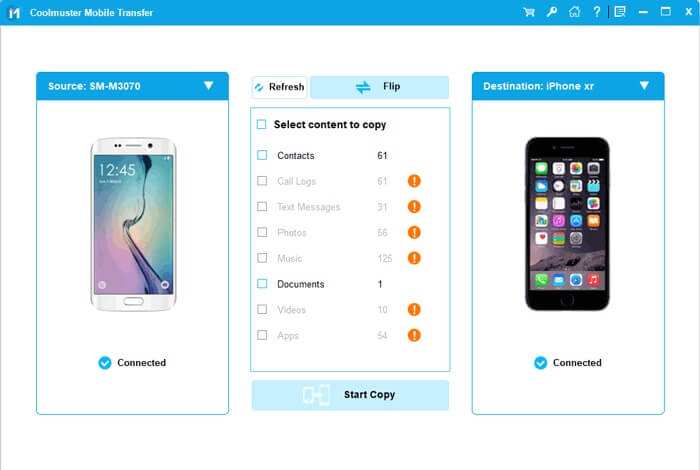 Step 3. Share photos between ZTE and iPhone
Select whatever you want to transfer, "Photos" as example - tick off "Photos" category, make other file types unchecked, and then click the Start Transfer button, then, the photos transfer between ZTE and iPhone will start in an instant!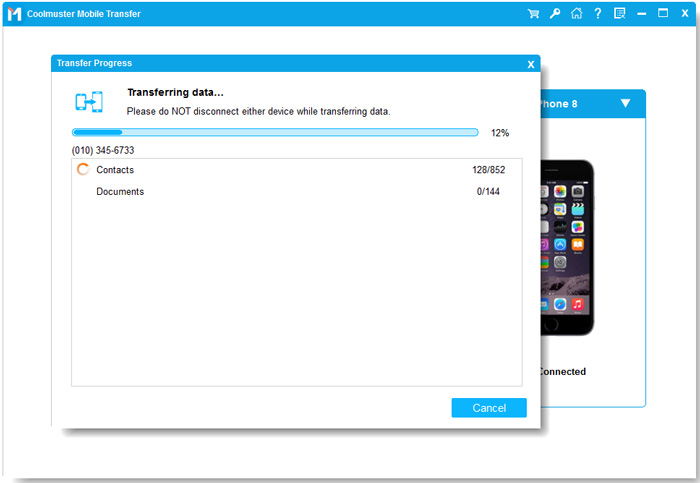 Thus, not only photos, but all sorts of data can be easily transferred from your ZTE phone to your iPhone.
Related Articles:
Copy Data between two HTC One/Desire HD/Wildfire
Add a comment