Two Ways to Transfer SMS Messages between Samsung and Sony
You have your favorite messages stored on your smart phone. However, if you are are thinking to buy a new phone, the question you would be facing is how can you transfer the old messages to the new phone? In the days of the yesteryear, you could have saved those messages on your SIM card and then ported it to the new phone. However, that method can only save a certain amount of your messages. How do you ensure that you can transfer SMS successfully between the two phones?
SMS is one of the fastest and easiest ways to communicate with one another as it gets sent immediately. Several people are used to saving important messages in the form of an SMS to be used later. However, many a times, one needs to transfer all the SMS stored in his one phone, for example a Samsung device to another one (in this case we take it to be Sony) and then back to the Samsung device for several reasons. However, transferring SMS's from one phone to another, both being from different manufacturers can be a problem with no compatibility between them and one starts looking for software's to do the job.
Bonus Articles:
Easy Way to Update Samsung Galaxy S6 to Galaxy S7/S7 Edge
How Can I Easily Save Old Data to New LG G5 Phone?
Reasons for transferring SMS between Samsung and Sony:
1. When a person who has been using a Samsung phone switches over to a Sony one, it is imperative for him to have all his SMS's, contacts and media files in the new phone.
2. If a Samsung phone gets infected by a virus or gets damaged physically, the user must change his handset to another one, maybe Sony, to keep all his important messages at his disposal.
2 Ways to Transfer SMS and Other Data from Samsung to Sony Devices
Way 1 - Coolmuster Android Assistant
If you are looking for a one-stop solution for all your data transferring needs from one device to another then this tool is just the managing software that you need to start using. Being fully capable of dealing with any kind of media in Android devices be it SMS, apps, images, videos or audio files, this software helps to keep them all in one place that too in an organized manner in your home or office computer.
In just three easy steps, you will be able to share and transfer messages from your old Samsung smart phone to your new Sony smart phone. It's easy and only requires a few clicks.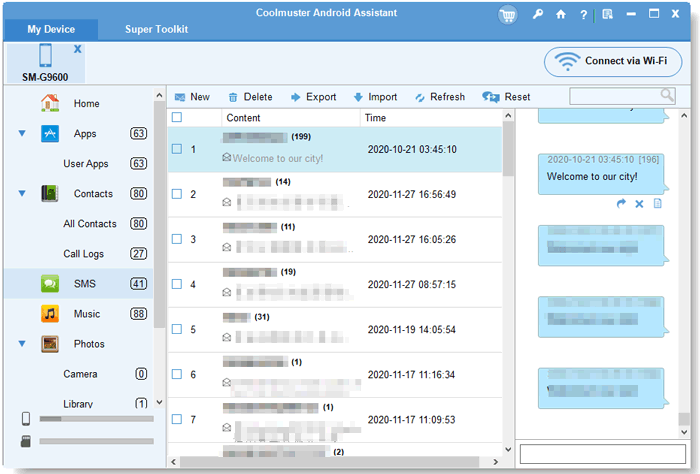 Steps to use it:
Step 1 – Connect the Samsung device to the computer and transfer all the SMS's and relevant data to it.
Step 2 – The Android Assistant saves all the data in a secure place in an organized manner on your computer.
Step 3 – Now connect the Sony device to the same computer and export all the data including the SMS to it at the click of a button!
Way 2 - Samsung to Sony Transfer
Being the more recommended amongst the two methods, this software is used to transfer data of all types from an old phone to a new one even from different manufacturers! For example, you are free to share media files between Android phone and iPhone device without any difficulty. As an useful tool that causes no damage to the devices, it transfers all that you need in the device of your choice.
Use Samsung to Sony Transfer to Share Messages between Samsung and Sony:
Step 1 – Launch the installed software on the computer and simultaneously connect both the old and new phone to the computer via the USB cords.
Step 2 – Click on "Phone to Phone Transfer" mode to continue the process.
Step 3 – Select all the data including SMS that you wish to transfer to the new phone from the top line. Then hit the Start Transfer button to go on.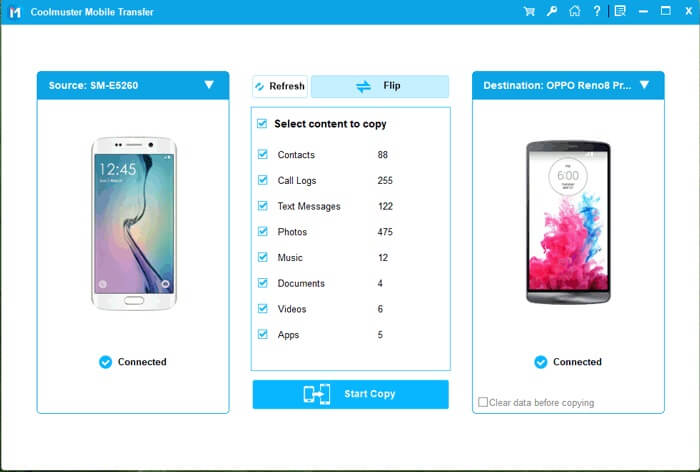 So, now you can choose either way to begin the SMS transfer between Samsung and Sony devices if needed!
Related Articles:
Transfer Media files from Android to iPhone
How to Erase Text Messages from HTC Hero
Add a comment