How Do I Sync Android Calendar with iPhone?
There is more than one reason why an iPhone or an Android user might wish to sync their data. For most, it is all about things like music and video files, which can be near impossible to transfer from one device to another without the loss of some files. It is also possible that you might have more than one device, and be rocking an Android and an iPhone at the same time. During the use of the two phones, you will inevitably aspire to share files between them. For example, you have so many important calendar in your Android mobile phone which remind you with several important schedules, and now you want to copy them to your iPhone because you just want to give away your Android phone.
If you have spent far too much time trying to work out to sync Android calendars with iPhone, without having to sit down and transfer the files one by one, it is time to get acquainted with the Apple's Move to iOS. This third party app is designed to facilitate the fast and safe transfer of data from Android to iPhone. It is easy to use, has a very friendly interface, and the entire transfer and syncing process takes just minutes. In fact, there are very few apps available online which can make syncing Android calendars with iPhone as simple as this one can. So, if you are tired of third party apps making promises which they cannot deliver, put your faith in the Move to iOS app.
We should tell you that in addition to calendar, Move to iOS can also transfer photos, videos, music, contacts, text messages, call history and more from Android to iOS. Just download the app on your Android device and then read the following guide to see how the software finish the calendar syncing process from Android to iPhone.

Guide on Syncing Android Phone Calendar with iPhone by Using Move to iOS App
Step 1. Download the Move to iOS app on your Android device
Step Two: Choose your Android calendar and transfer them over Wi-Fi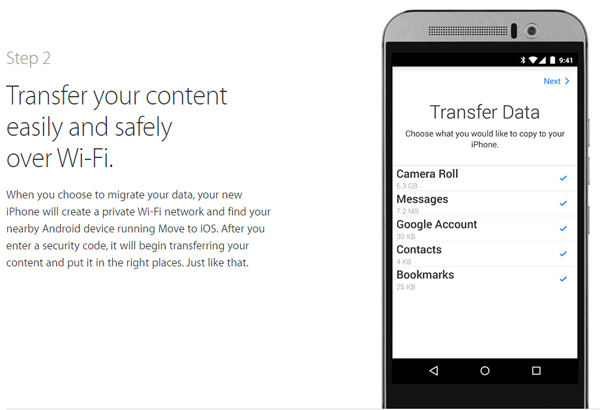 Step Three: Get started with your new iPhone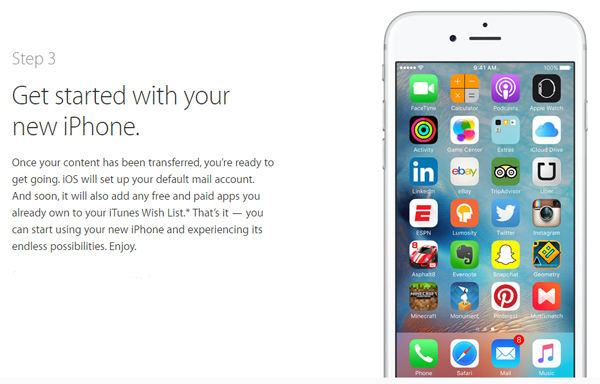 For device upgrades, new carriers, and the swift transfer of data files (photos, videos, contacts, memos, SMS messages, calendars, etc.) from the Android to the iPhone, there is no better tool than the Move to iOS app. With this piece of software, you can move and sync reams of valuable data at the click of a button, and not have to worry about losing your afternoon to the process whilst you are at it.

Related Articles:
Copy Contacts between Samsung and iPhone