How to Transfer Contacts (Phone Numbers) between Nokia and HTC?
More troublesome issues are found due to smaller memory space is appeared on the command prompt windows coming from Nokia or HTC mobile phone. However, as you know, models take up very little space in mobile phone memory. A cell phone can hold thousands of apps. But in practical, smaller phone memory is due to preset software and default apps before they leave factory. Limited mobile phone space is one of the reasons to let phone users do the data transfer. There is another reason that people just change into a new phone and need to move all files to the new device from his old mobile. Files are located in both the phone's external SD card and internal memory space. Contacts and text messages are generally saved in the internal memory space, as well as in the SIM card. You can simply take out the SIM card from Nokia mobile phone and insert it into the new HTC phone. But your just find that most of the contacts are left in the internal memory space that makes the contacts transfer between Nokia and HTC phones a little bit difficult.
Don't panic! There is some solution that will work. Professional mobile phone transfer software can visit both the external and internal memory space of a phone and help you extract the data from there. Nokia to HTC Transfer is such kind of phone to phone data transferring program, which is able to transfer the contacts between Nokia and HTC in a matter of minutes. Moreover, Nokia to HTC Transfer also allows you to copy and transfer other files, such as text messages, videos, call logs, music, photos, apps, etc. from one phone to another, not limited to Nokia and HTC mobile phones. You can accomplish the data transfer process with one click only. Detailed contact information will be perfectly kept after the transfer, namely, phone numbers, company name, job title, email address and more.
Following is the step-by-step tutorial showing you how to copy and sync contact phone numbers between an Nokia phone and an HTC One/Desire/Hero/Wildfire/Evo. Before that, you can click the download button as below to get the free trial version of the software. Just experience its functions for free before you decide to purchase it.
Instructions to Copy Contacts between Nokia Phone and HTC One/Desire
Step 1. Open the program on computer after installation
After installing the Phone Transfer on your computer, open it and you will come to the primary window like the below picture shows. Choose "Phone to Phone Transfer" and click "Start" to go to the phone transferring window.
Step 2. Connect Nokia and HTC to computer
Follow on, connect both your HTC phone and Nokia phone to the computer with two USB cables. Your both phones will be displayed as "Source" and "Destination" in the window. You can tap the "Flip" button if you want to change the places.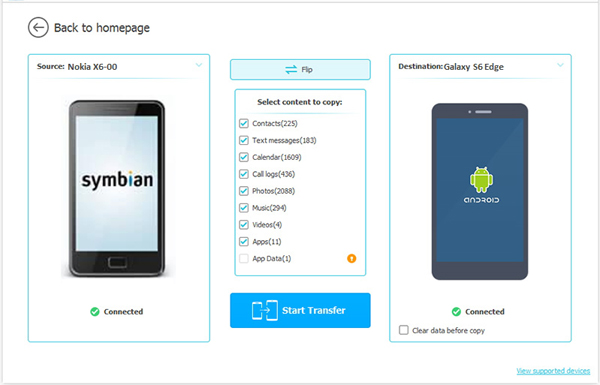 Step 3: Transfer phone numbers between Nokia and HTC
As you can see, all the transferable contents are listed on the window like Contacts, Text Messages, Photos, Videos, Music, and so forth. To transfer contacts only, you just need to select the "Contacts" and click "Start Transfer" to begin the transfer.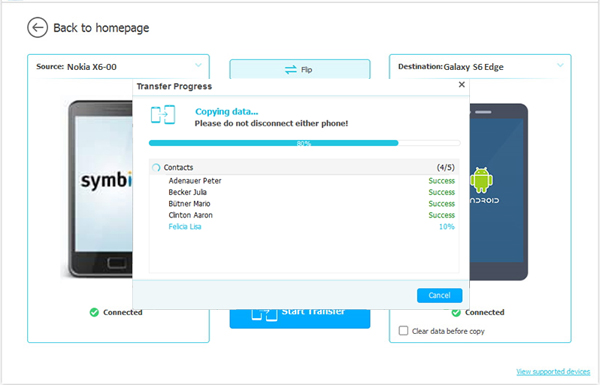 Multiple contacts can be transferring between different mobile phone at one time. The transfer tool can handle the transferring process individually. What you need to note is keeping the two phones well connected with the computer.
Related Articles:
Copy Contacts between Samsung and iPhone