Simple Way to Sync Media Files from iPad to Android Phone
It is one of the major problems are Apple user would agree with. While you have have your favorite song or video on your iPhone or iPad, you cannot transfer it freely to any non-iOS device. This can be frustrating if you want to listen to your favorite song on some other device. Unfortunately, most of the methods that allow you to transfer data from an iOS device to say an Android one, are quiet complex and lengthy. Fortunately, this software can help you with all your queries.
Sharing media files using iPad to Android Transfer:
Transferring data between different operating systems has always been a cause of worry for many users. The lack of Bluetooth compatibility makes it an even more troublesome task. Whether you're giving up on your Android smart phone for a high-end Apple product or vice versa, we understand the need for holding on to your favorite movies, or the playlist you've created after months of labor. This professional software helps you do exactly that. It can deal with all sorts of media files, including photos, contacts, apps, music, videos, and ebooks.
The Advantages You Can't Miss:
Also, you can save on a lot of space as the app allows you to selectively move the files that you need. All you need is a Mac and two USB cables, and you're good to go. The interface is extremely simple and convenient to make sure you have a comfortable experience.
In addition to that, the app serves the purpose of backing up your iPad's data on your computer. You can restore all of it if you ever lose your valuable files. The data transfer is completely risk free so you don't need to worry about anything going wrong with your device. This iPad to Android Transfer software supports all generation of iPads and iPhones, all versions of Android, Symbian as well as Blackberry. So you are totally free to transfer files between these two devices as you wanted and needed. With this software, transferring your data will be easier than ever.
Articles You Might Want to Know:
How to Transfer Photos between Two Android Phones
Steps to Transfer Media Files from iPad to Android Phone/Tablet
Here is how you can go about transferring all your data from your iPad to another Android phone or tablet, in easy steps:
Step 1: Download the software from the above mentioned link and run it through the desktop icon. Connect your iPad and Android phone/tablet to the computer using two USB cables.
Step 2: On the interface, select the "Phone to Phone Transfer" option. The next window will display your two devices and a list of all the files. The file types will include eBooks, Music, Apps, Photos, Bookmarks, Contacts etc. From the top line, check the file type you want to transfer. For instance, if you only wish to share your favorite Music to your new Android phone, go to the "Music" tab.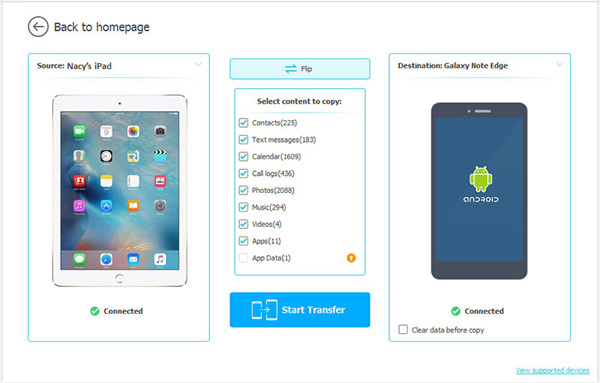 Step 3: Click on Start Transfer button to transfer your files. A prompt dialog box will appear. Click on "OK" and your file transfer will begin. A progress bar will display the amount of data that has been successfully moved.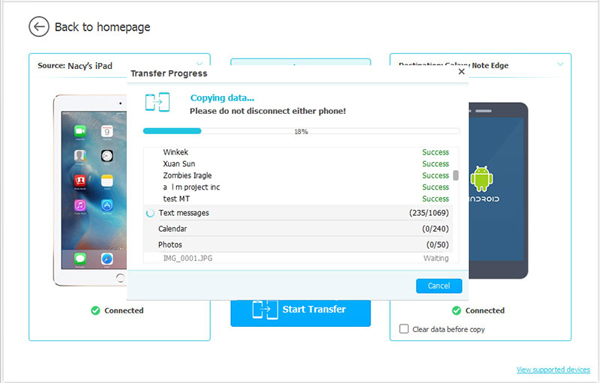 While Apple does have a confined system that discourages you from sharing media and data across non Apple devices, you can use iPad to Android Transfer to do it easily.
Related Articles:
Best Alternative to Samsung Smart Switch
Transfer Media Files between Samsung Devices
Add a comment