How to Sync Media Files from Phone to Tablet?
You are not content to watch movies, listen to music and view photos on your mobile phone since the screen is too small, and eager to move these amazing media files to tablet so that you can enjoy them with its bigger screen. If you are boring to sync media files via traditional way: connect your phone to computer with USB cable and copy files from the phone to the computer, then, connect your tablet to the same computer and then sync the transferred files from computer to the tablet. Here comes another two ways, using Bluetooth and professional mobile transfer.
Way 1: Transfer Photos/Videos/Music from Phone to Tablet Using Mobile Transfer
Way 2: How to Sync Media Files from Phone to Tablet Using Bluetooth
Way 1: Transfer Photos/Videos/Music from Phone to Tablet Using Mobile Transfer
First of all, we recommend the new and innovatory solution - Switch media files, including large size files, from phone to tablet directly, with the help from third-party application - Coolmuster Mobile Transfer. It is specially designed for mobile device users to share data between two portable devices, no matter mobile phones or tablets. It comes with several amazing features, apart from transferring data from one device to another, it can also help users to back up the content from a phone to computer and restore them at any time.
Therefore, if you encounter with a problem during the transferring process, no data will be lost because Mobile transfer will keep the backup of your phone data well. It also has a Mac version named Coolmuster Mobile Transfer for Mac that is designed for Mac OS users. Overall file types like contacts, text messages, music, videos, apps, photos and more can be transferred.
Learn more:
* How Do I Sync Android Calendar with iPhone?
* How to Transfer Contacts from Samsung to Samsung?
Coolmuster Mobile Transfer is compatible with Apple, HTC, Samsung, Nokia, Motorola, LG, HTC and ZTE devices. And it is extremely handy to use. The following 3-step guide will show you how to copy photos, videos, songs and other media files from a phone to a tablet.
Step 1. Connect the two devices and launch program
Once you have installed the Mobile Transfer, you should launch it from the desktop and then connect the two devices, phone and tablet, to the same computer via two USB cables.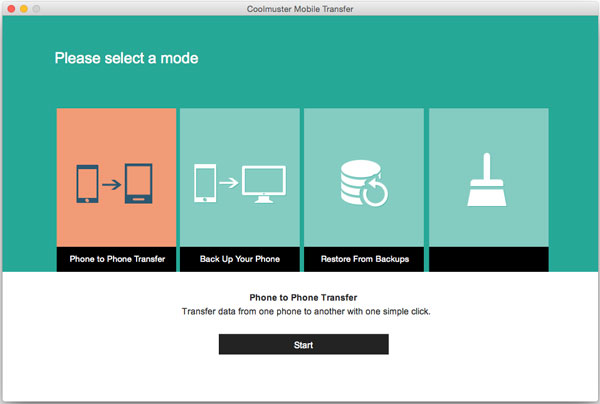 Step 2. Choose "Phone to Phone Transfer"
Click on the option that says "Phone to Phone Transfer" from the main interface. Once the two devices are connected successfully, they will be displayed on the program interface left and right panels. Different categories of your phone data will be shown here, too.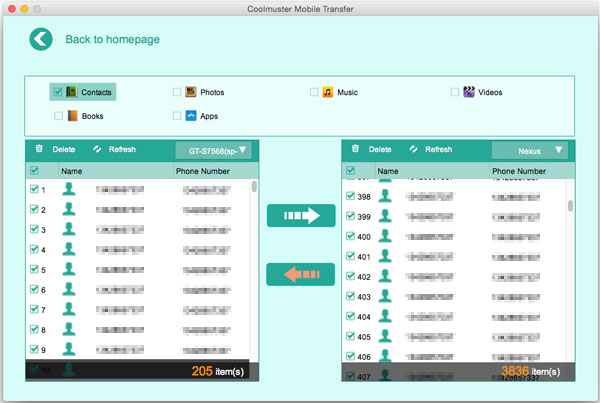 Step 3: Sync media files from phone to tablet
Select your wanted media files, such as "Photos", "Videos" and "Music", and then click on the transfer icon to begin the media transfer process from phone to tablet. Once the transfer process is complete, exit the application as you like.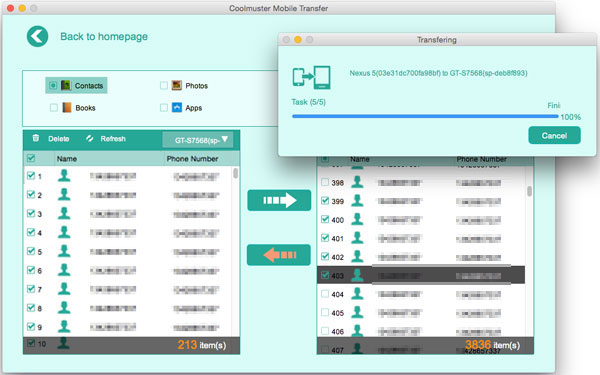 Way 2: How to Sync Media Files from Phone to Tablet Using Bluetooth
If you don't want to install third-party software, there's actually one of the easiest ways to transfer media files from your phone to your tablet. This method is to use Bluetooth. Bluetooth is a direct way and does not require you to install any other software to transfer data between a phone and tablet, but it also has its drawbacks. For example, transferring files via Bluetooth is very slow. Once you need to send more than 50 MB of files, you may need to spend a long time or even hours to finish it.
If you still want to try using Bluetooth to transfer music, videos and photos from your phone to your tablet, you can refer to the following detailed steps:
1. Go to the Settings or Quick Settings panel for your phone and tablet, tap the Bluetooth button and turn it on, make sure your device is visible to all devices.
2. Click "Search for Devices" on your phone to find out the target device you want (here is the tablet ) and pair the device.
3. At this point, you will receive a piece of code on the tablet, you only need to accept it and then the two devices will be connected successfully.
4. At this time, you are ready to go to the phone to find the media files you want to transfer, and then click OK to send them out. These selected photos, music and videos will be successfully transferred to the tablet via Bluetooth.
Words in the End:
Using either of the two methods above, you can successfully transfer your media files from your phone to your tablet. However, if you have the need to transfer large files between two devices quickly and easily, it is no doubt that Coolmuster Mobile Transfer is pretty better than Bluetooth. Certainly, if you have any other good ideas in transferring data between two devices, you can leave your suggestions in the comment area below.
Related Articles:
Transfer Contacts between Android and iPhone
Sync Android Phone with Tablet